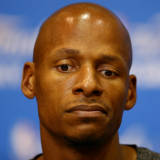 Ray Allen says he was the victim of a catfishing scheme online in which a man posed as several women, and the former NBA star has filed legal documents seeking to make sure the man does not share Allen's private information with anyone.According to court documents obtained by TMZ, Allen says he interacted with whom he believed were women in "various online forums" and shared private...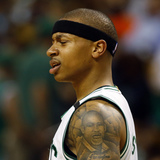 Former Boston Celtics star Ray Allen wasn't happy with fans who burnt Isaiah Thomas' jersey after the point guard was traded to Cleveland. Allen, whose former teammates in Beantown didn't invite him to the reunion because he left, posted his opinion on Instagram and made a sound point.He screenshotted Caron Butler's post, pointing out that Thomas played for Boston the day after his...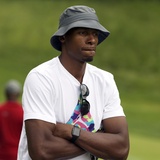 President Donald Trump introduced a new policy banning transgender individuals from serving in the U.S. military on Wednesday, and at least one former athlete is not a fan.Ray Allen posted a scathing critique of Trump's policy on Instagram, calling it "idiotic" and daring those who disagree to unfollow him. Allen is far from the first person in the NBA world to rip Trump. It's fair...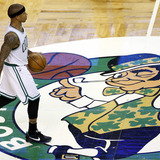 Ray Allen took time out of his day Thursday to respond to social media haters, mostly Boston Celtics fans, who issued vitriolic comments on an Instagram post that was published in honor of his 42nd birthday.Allen of course spurned a contract offer from Boston in 2012 to sign a three-year deal with the Miami Heat, something that was seen as traitorous by Celtics fans. And the fact...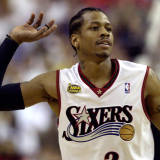 If it wasn't for a case of bursitis in Allen Iverson's right elbow, the arm sleeve might not have ever been the fashion phenomenon that it became. In 2001, with Iverson dealing with elbow pain, Philadelphia 76ers trainer Lenny Currier decided to improvise and cut up a sleeve to lessen the pain Iverson was feeling in his shooting arm. In his arm sleeve debut, Iverson scored 51 points...
Walter Ray Allen Jr. officially announced his retirement via the Players' Tribune. In 18 seasons, Allen attained one of the most successful careers in NBA history. Known for his propensity to be a knock-down shooter, he was much more than that. During his time with the Milwaukee Bucks, Seattle SuperSonics, Boston Celtics and Miami Heat, he was a two-time NBA champion, 10-time NBA...
Ray Allen is still interested in playing in the NBA next season, and the 41-year-old says the perception that he would only want to join the Golden State Warriors or Cleveland Cavaliers is wrong. In an interview with Dom Amore the Hartford Courant, Allen reiterated that he would not return to the NBA after two seasons off to play for a team that is in rebuilding mode. "My decision...
Ray Allen is reportedly considering an NBA comeback. According to ESPN's Chris Broussard, Allen's representatives recently reached out to the Golden State Warriors to gauge the team's interest in adding the 40-year-old sharpshooter to their incredibly loaded roster. The Warriors are said to be unsure if they want to sign Allen. Broussard also notes that Allen is not completely...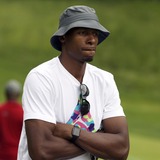 Like the Golden State Warriors need any more shooting. According to Alex Kennedy of Basketball Insiders, the Warriors—who just snagged Kevin Durant away from the Oklahoma City Thunder—are likely to gauge Ray Allen's interest in coming out of retirement and joining the NBA's super team. The Warriors have pushed for a Ray Allen comeback since 2014. Ray has stayed in shape. His...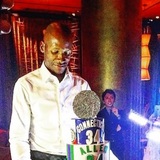 By Jason Rowan Ray Allen celebrates his 40th birthday on Monday and as part of an apparent 24-hour stint in Las Vegas to celebrate reaching the big 4-0, the Hall of Famer was presented with a five-tiered birthday cake that celebrated each and every stop in his stellar basketball career. From his superstar run at UConn to a journeyman NBA career that saw him enjoy successful runs...
MORE STORIES >>
NBA News

Delivered to your inbox

You'll also receive Yardbarker's daily Top 10, featuring the best sports stories from around the web. Customize your newsletter to get articles on your favorite sports and teams. And the best part? It's free!