Serge Ibaka meets with members of the media ahead of Tuesday's game against Miami.
First its DeMar on the block, and then its Serge Ibaka with the two handed slam.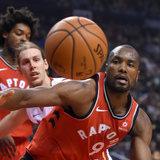 A shoving match between James Johnson and Serge Ibaka progressed into something bigger, which led to both players being ejected.The two were seen getting into it during the third quarter of the game, when the Raptors were attempting to inbound the ball. Ibaka tried to get open and got tangled up with Johnson, which led to shoves, and then punches. Both players were ejected for their...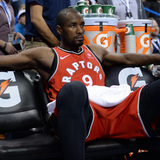 Serge Ibaka and James Johnson were ejected from Tuesday's Miami Heat-Toronto Raptors game after trading punches.The two were fighting for position as the Raptors were getting ready to inbound the ball early in the third quarter. Take a look: Johnson had four points and three rebounds in 14 minutes prior to being ejected. Ibaka had 11 points and five rebounds in 22 minutes.This is...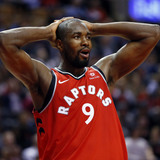 The Raptors have suspended forward Serge Ibaka for one game due to a violation of team rules, the team announced in a press release on Friday (via Twitter). Ibaka's suspension is the result of an altercation with a Raptors staff member after a game against the Thunder on Dec. 27."Both parties have apologized. We've discussed this internally as a team, and we won't be discussing it...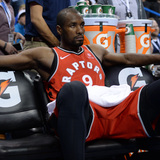 Serge Ibaka was suspended one game by the Toronto Raptors for an altercation with a staff member after the team's game against Oklahoma City on Wednesday.The team announced the news in a press release on Friday. Ibaka will sit out Friday's game against the Hawks as punishment: Ibaka was suspended one game last season for an altercation with Robin Lopez.Ibaka, 28, is averaging six...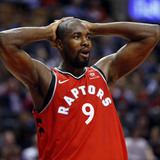 Serge Ibaka celebrated a block in the most appropriate way possible in Tuesday's game against the Suns.Ibaka rejected Alex Len at the rim, and then capped it off by doing Dikembe Mutombo's finger wag gesture.Mutombo, who was sitting courtside at Air Canada Centre for the game, seemed to really enjoy the sequence of events, judging by his reaction. Not a bad Mutombo impression by Ibaka there.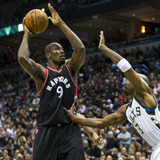 Serge Ibaka responded to critics of his listed age and addressed stereotypes about Africans in a statement he shared via social media.Earlier this week, there were rumblings some around the NBA believe Ibaka is older than his listed age of 27 years old and that it could impact how free agency unfolds for him. This is a sentiment that is often brought up regarding players born in...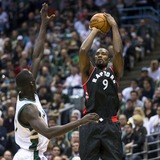 An odd wrinkle may be complicating Serge Ibaka's free agency this summer.In an appearance on Bleacher Report's "The Full 48" podcast earlier this week, ESPN's Zach Lowe said that some NBA teams apparently believe the three-time All-Defensive First Teamer may actually be older than he is listed."Look, as uncomfortable as it is to say that, the league, not the league office, teams...
Serge Ibaka was slated to be an unrestricted free agent this offseason, but the Toronto Raptors are trying to prevent the power forward from hitting the open market.Via Steve Kyler of Basketball Insiders: Most in NBA circles believe that Ibaka made it clear to the Magic the only team he wanted to land with was Toronto, and it's likely why other teams in the hunt for him passed on...
MORE STORIES >>
Raptors News

Delivered to your inbox

You'll also receive Yardbarker's daily Top 10, featuring the best sports stories from around the web. Customize your newsletter to get articles on your favorite sports and teams. And the best part? It's free!