Found September 30, 2013 on The Roosevelts:
PLAYERS:
Bill Belichick
,
Marvin Lewis
,
Tom Coughlin
,
Andy Reid
,
Rex Ryan
,
Jason Garrett
,
Mike Shanahan
,
Leslie Frazier
,
Brett Favre
,
Christian Ponder
,
Cam Newton
,
Ron Rivera
,
Perry Fewell
,
Kevin Gilbride
,
Eli Manning
,
Hue Jackson
,
Carl Nicks
,
Vincent Jackson
,
Dashon Goldson
,
Darrelle Revis
,
Robert Griffin III
TEAMS:
New England Patriots
,
Cincinnati Bengals
,
New York Giants
,
Kansas City Chiefs
,
Dallas Cowboys
,
Washington Redskins
,
Minnesota Vikings
,
Carolina Panthers
,
Oakland Raiders
,
Tampa Bay Buccaneers
,
New York Jets
,
Millikin Big Blue
,
Pittsburgh Panthers
Social media and the advent of instantaneous communication have made it more difficult for coaches. There are seldom coaches that have an elongated tenure with a certain team due to an over reactive media and a "win-now" culture from fans. Bill Belichick and Marvin Lewis– the coaches of the New England Patriots and the Cincinnati Bengals, respectively– are currently the longest tenured Head Coaches in the NFL. And, with their teams both expected to perform favorably in the 2013 NFL Season, their jobs appear to be secure. However, the aforementioned coaches are two abnormalities in a business where everyone is only as good as their most recent performances. And, with six teams that still haven't tasted victory, it is safe to say that there are several coaches who are on the proverbial—and league-wide dreaded—"Hot Seat". 10. Tom Coughlin (New York Giants) The rabid and dedicated fan base of the New York Giants always seems to call for the firing of Coughlin every year when things go awry. But, this is Coughlin's tenth year as Big Blue's Head Coach. And—despite his two Super Bowl runs with the team—the Giants under him have only have one season where they exceeded ten wins; that season was in 2008, when—after winning the NFC East—the 12-4 New York Giants put up an embarrassing effort against their Philadelphia rivals. Sitting at 0-3, it is still possible for Coughlin to save the teams dismal looking 2013 campaign. But, like Andy Reid in Philly, sometimes a great coach just needs to move on after an historic tenure with a team. Status: Getting warm…. 9. Rex Ryan (New York Jets) A hot seat that has been surprisingly cool for the past few weeks, the New York Jets have been out-performing their Big Blue counterparts—a twist that nobody expected. With a new regime taking over Gang Green, it seems like the new GM might want to supplant Ryan with a coach of his choosing. But, the Jets are 2-2 and their offense—surprisingly. Moreover, the Jet's defense currently ranks in the top 10 in all major areas: points allowed, rush yards allowed, pass yards allowed, and total yards allowed. In contrast, Ryan is in a contract year. And, his mixed run with the Jets—a run laden with circus-like incidents—may not be enough to convince the new regime to strike up a new deal. Status: Cooling down, but still hot 8. Jason Garrett (Dallas Cowboys) Similar to Ryan, Garrett entered the season with a dubious level of job security. However, that level of pressure has slightly subsided in the wake of an impressive start. With the Dallas Cowboys, the expectations are always high at the beginning of each season—making it difficult for any employee of the organization to function. With Jerry Jones' big personality taking up every aspect of the organization, the Cowboys have placed their championship hopes in a quarterback that has only won a single playoff game and an unproven Head Coach. With a good rush defense and a high-scoring offense, the Cowboys are on the top of their division. But, with a Super Bowl-or-Bust mentality, anything short of at least of a deep postseason run will probably spell a pink slip for Garrett. Status: Of dubious temperatures, but presumably warm 7. Mike Shanahan (Washington Redskins) With a cartoon-like offseason featuring an oft-denied–but obviously present—feud between Shanahan and Robert Griffin III, the Redskins entered the season as the defending champion of the NFC (L)East. Now, after a start that makes their 2012 season seem like an abnormality in an overall streak of Snyder-induced mediocrity, Shanahan—despite his laudable resume—appears to be on a seat that is slightly warmer than previously addressed. However, with a team that is improving every week, the 'Skins could still turn it around. If Griffin III reassumes his rookie form, then Shanahan will be fine. But, if the loss column keeps accumulating, then a firing can be expected after 2013's conclusion. Status: Heat level rising 6. Leslie Frazier (Minnesota Vikings) The Vikings were a surprise team in 2012. And, after recovering from a failed Donavan McNabb experiment and a disastrous final season with Brett Favre, the Vikings turned to their 2011 first round draft pick; Christian Ponder. Ponder's selection was met with boos. Such reception was understandable considering that the first round quarterbacks in the 2011 draft—save for Cam Newton—appear to be generally disappointing with Ponder, Blaine Gabbert, and Jake Locker. The lattermost of the aforementioned list has shown glimmers of improvement recently, but those few games will need to be built upon in order to convince doubters. In digression, the Vikings have been painfully close to victory many times this season—only to have it taken from them in the final seconds. After going all-in during the 2013 NFL Draft, the Vikings expressed a compete-now mentality. And, now that they haven't been winning in a competitive NFC North division, Frazier's job status has to be brought into question. Status: Getting warm quickly… 5. Ron Rivera (Carolina Panthers) They beat the Giants, and that doesn't say much. The man who drafted Cam Newton first overall in 2011, Rivera has—thus far– failed to turn his young quarterback's cosmic talents into wins. If the Panthers fall under the .500 mark again, then the Panthers coaching slot may be vacant after the sixteenth game of 2013. Status: One win won't fix it, still hot 4. Perry Fewell (New York Giants) The defensive coordinator for the Giants entered the season under pressure after failing to solve many problems that the Giants have been experiencing on the defensive side of the ball. It must be said that Fewell doesn't have many viable pieces to work with—a defense that is devoid of linebacker talent and ravaged by injuries. But, the reputed Giants pass rush has been abysmal this season. And the Giants are on pace to be among the teams selecting in the top 10 of the 2014 NFL Draft. The Giants are an organization that only fires coaches as a last resort—models of consistency. But, if the defense's poor numbers persist, there many not be many other options. Status: Hotter than Ace Ventura in a Rhino 3. Kevin Gilbride (New York Giants) Call this article an underhanded analysis of the three major coaches on the Giants, but the only two coordinators are on this list are of Big Blue allegiance for a reason. Currently unable to protect anything, Eli Manning was sacked six times in the first half of an abysmal performance against the Carolina Panthers. In addition, after going scoreless in the aforementioned game and boasting a historically bad rushing attack, the responsibility is on Gilbride. It may be unfair, but it's easier to fire one coach than it is eleven players. Through three games, the Giants rank 27th in scoring, 19th in total yards, and dead last in rushing yards. The only saving grace? They rank 6th in passing. Status: Hotter than Ace Ventura in a rhino, after the fan breaks 2. Dennis Allen (Oakland Raiders) The Oakland Raiders were looking good in spurts under Hue Jackson—a coach who was fired after he did the seemingly impossible, which was to bring the Raiders within one game of playoff contention. With Jackson being fired after one season as Head Coach—a season where the Raiders were competitive and went 8-8—it is safe to say that Allen would be in danger after going 4-12 during his first season and appearing to be on track for equal levels of poorness 2013. Status: Thermally increasing, already hot 1. Greg Schiano (Tampa Bay Bucs) Carl Nicks, Vincent Jackson, Dashon Goldson, and Darrelle Revis. All of which were prized free agent signings that were expected to thrust the upstart Buccaneers into the NFL's elite. But, Revis and Schiano don't seem to see eye-to-eye, and the latter appears to be alienating players at an alarming rate. He came into the league with a lofty mentality—pulling that infamous last kneel-down play against the Giants in 2012. And, now that the Bucs are accumulating losses in a highly embarrassing fashion, Schiano may be fired as a result of failing to maximize the potential of an underachieving roster. Status: Might as well be on fire
Original Story:
http://www.rsvlts.com/2013/09/30/10-n...
THE BACKYARD
BEST OF MAXIM
NFL News

Delivered to your inbox

You'll also receive Yardbarker's daily Top 10, featuring the best sports stories from around the web. Customize your newsletter to get articles on your favorite sports and teams. And the best part? It's free!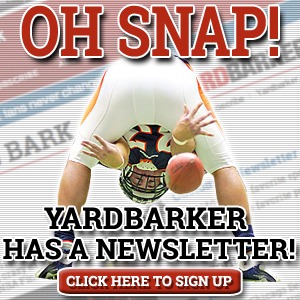 Latest Rumors
The Backyard

Today's Best Stuff

For Bloggers

Join the Yardbarker Network for more promotion, traffic, and money.

Company Info

Help

What is Yardbarker?

Yardbarker is the largest network of sports blogs and pro athlete blogs on the web. This site is the hub of the Yardbarker Network, where our editors and algorithms curate the best sports content from our network and beyond.