Found January 07, 2013 on Turn On The Jets:
PLAYERS:
Rex Ryan
,
Woody Johnson
,
Dustin Keller
,
Shonn Greene
,
Delanie Walker
,
Bryan Thomas
,
Bart Scott
,
Calvin Pace
,
David Harris
,
Manny Lawson
,
Anthony Spencer
,
LaRon Landry
,
Doug Marrone
,
Chad Pennington
,
Mike Devito
,
Mike Tannenbaum
,
Quinton Coples
,
Muhammad Wilkerson
,
Stephen Hill
,
Demario Davis
,
Antonio Allen
TEAMS:
New York Jets
,
New York Knicks
,
San Francisco 49ers
,
Dallas Cowboys
,
Miami Dolphins
,
Syracuse Orange
,
Georgia Tech Yellow Jackets
The 12 packs do not stop here at Turn On The Jets. Every week, this space will now be used for a collection of 12 weekly off-season thoughts on the New York Jets (This will normally run on Fridays, not Mondays). Some exciting things to look forward to in the coming weeks  Draft coverage led by Chris Gross and newly hired Frank Giasone and Zev Sibony Weekly film breakdowns from new addition Steve Bateman A complete site redesign launching on February 1st and the beginning of Turn On The Knicks Your regular terrific content from Mike Donnelly, Chris Celletti, TJ Rosenthal and Rob Celletti A TOJ Podcast starting up in the early Spring On to the 12 pack… 1. The hiring of Tom Gamble as the New York Jets General Manager is not official yet and many are beginning to panic since he is interviewing with San Diego, while the Jets still interview Marc Ross and Scott Cohen. We remain confident in Bassett's report and think the outline he provided this morning is a sensible explanation. Nothing is 100% until the contract is signed but it would take a major turn of events for this not to go through. The Jets must interview Ross today to comply with the Rooney Rule and need to get their act together for the season ending press conference tomorrow, while Gamble is posturing for further leverage knowing he is team's top choice. If he isn't officially hired by Wednesday night/Thursday morning…then it is time to panic (although ending up with Ross wouldn't be a disaster at all). 2. Tomorrow's press conference should be an interesting one to say the least. Expect an angry, vindictive New York media coming hard after Rex Ryan and Woody Johnson. What is the over/under on tattoo and Tebow questions? Do not look for too many answers of note coming out of either Johnson or Rex. The entire organization is in flux until the GM hiring becomes official. 3. I have been banging this drum pretty loudly on Twitter the past few weeks but a few cost effective upgrades for the Jets on offense could be letting Dustin Keller and Shonn Greene walk and replacing them with Delanie Walker and Chris Ivory, respectively. You can get familiar with the entire free agent list right here. (Note that Ivory is going to be a Restricted Free Agent this off-season, not Unrestricted). 4. It is hard not to look forward to the complete house cleaning of the Jets linebacker position, which outside of quarterback is the biggest disaster on the team. Bryan Thomas, Bart Scott and Calvin Pace will all be let go, with Thomas and Scott likely retiring. Pace could probably find a taker on a minimum contract from a team who plays 3-4 but at this point, he is strictly a 2 down linebacker. David Harris will be back but remains one of the most overpaid players in the league and is coming off a career worst season. It is going to take an aggressive approach in the draft and free agency to fix this mess. There will be some intriguing options likely available at #9 and the list of available linebackers in free agency is deep this season (Paul Kruger, Conner Barwin, Antwan Barnes, Manny Lawson, Anthony Spencer, Victor Butler). 5. LaRon Landry is going to be a tough player to bring back in 2013. He was a good fit in Rex Ryan's defense as an in the box safety and earned himself a trip to the Pro-Bowl. However, he has limitations in coverage and is likely going to be seeking a contract out of the Jets budget. Paying 3 million per year for Landry is one thing, paying 7 million a year for him? Probably not a wise move, particularly with so much money already tied up in the secondary. 6. Plenty of superlatives being thrown out for Buffalo's hire of Doug Marrone. Somehow I don't think we'd be hearing so many if Woody Johnson made the decision to hire a college coach who went 25-25 at Syracuse. This isn't to say Marrone will be a bad coach but it is interesting how heavily he is being praised already with such an unproven record. Similar to the Jets, Buffalo won't be going anywhere until they find a quarterback. 7. The Jets will likely be looking at 4-6 new starters on each of the football in 2013. We haven't seen roster turnover like that since between the 2005 and 2006 season. Similar to now, that team was expected to be entering a long rebuilding phase. However they surprised everybody by going 10-6 thanks primarily to Chad Pennington putting together a steady year at quarterback, a strong draft and a few savvy low-cost free agent signings/trade acquisitions. Nothing wrong with looking for a silver lining, right? 8. The Jets need to find a way to bring Mike DeVito back. Mike Tannenbaum allowed too many players like DeVito to leave over the years and it caught up to him. DeVito is a versatile, blue-collar player who is essential to the Jets defensive line rotation. He is also one of the leaders in the locker room and one of the team's most high character guys. Besides, if he walks…you know he is ending up in New England. 9. Whoever is in charge of Gameday Operations for Jets games – No more C-List celebrities leading awkward J-E-T-S chants before the game. No more special teams being called out as starters. No more fireworks and poorly timed music being blared. Thank you. 10. Quinton Coples led the Jets this season with 5.5 sacks, despite only playing in 47% of the team's snaps. It was quietly a very strong year for Coples, who will only get better as his technique improves and playing time increases. I was as critical about the pick as anybody but he proved his critics wrong and could be a double-digit sack guy next year playing alongside Muhammad Wilkerson and improved outside linebackers. 11. As for the other rookies, it is easy to be down on Stephen Hill's future after a disappointing rookie year but we knew he was far from a finished product coming out of Georgia Tech. Shame on the Jets for forcing him into the starting line-up with no capable veterans at split end to help ease him in. Hill has the physical skills but still needs to improve his hands and route-running. He can be an consistently explosive player in this league, it is just going to take time. Demario Davis didn't get much of a shot this year, so it will be interesting to see how he fits in the new GM's plans. Antonio Allen has potential going forward as a situational player and special teamer. 12. Words I never want to hear again associated with the Jets: Wildcat, Process, (Insert Number Here) is eligible, Ground and/or Pound, TEBOW, Pump fake.
Original Story:
http://turnonthejets.com/2013/01/12-p...
THE BACKYARD
BEST OF MAXIM
RELATED ARTICLES
Even when the Jets aren't playing, the team manages to remain a main topic of conversation in New York by keeping its name in the city's papers, even if the news of the day has absolutely nothing to do with actual football. Just last week, a photo published by the New York Daily News of head coach Rex Ryan sunning himself while on a vacation on Prairie Island in the Bahamas...
When the New York Jets fired quarterbacks coach Matt Cavanaugh on Monday, the seeds were planted for the removal of offensive coordinator Tony Sparano. If Cavanaugh was responsible for Mark Sanchez's personnel development, Sparano was the man who assembled the blueprint for the entire unit's disaster. Please Click Here To Read This Story The post Tony Sparano is fired by the...
The 6-10 New York Jets have clearly flown off course. The new Jets GM, whoever finally ends up with the job, will be walking into a laundry list of issues the minute those Florham Park doors open. Steering the overall product on the field back to Super Bowl contender status won't be easy. The following are the keys to the foundation. Questions that the new head honcho upstairs...
When the trade was announced last Spring that would bring Tim Tebow to the New York Jets, many were left scratching their heads. Had the team lost all confidence in Mark Sanchez? Did Rex and Woody fall in love with Tebow after he led a comeback win against the stout Jets defense? Was it a ploy to sell PSLs? The answer to all those questions might actually be a resounding yes. But...
Rex Ryan continues to leave an indelible mark on the New York Jets. But the head coach also took time at the team's news conference on Tuesday to address his much-discussed tattoo of his wife wearing a Sanchez jersey, something photographers documented while he was in the Bahamas. The coach said he has had it on his right arm for nearly three years, and was able to joke about...
Several teams had worse years than the Jets, but I don't think anyone had a weirder year. Turned into a circus in the offseason by the media, the Jets lived up to the hype. Neither Mark Sanchez nor Tim Tebow led a touchdown drive all pre-season, but after a blowout win over the Bills week 1 and another win against the Dolphins week 3, this time in overtime, the Jets stood at 2...
Rex Ryan covered up his tacky tattoo of his wife clad only in a Mark Sanchez jersey with an even less subtle "I heart me" T-shirt. Yesterday, the New York Jets head coach was spotted at the same Bahamas resort wearing the faded black tee shielding the public from the infamous ink on his right arm. At least this fashion miscue can be removed without a laser. It's...
Unlike most Jets fans, I wasn't aghast when the Jets didn't fire head coach Rex Ryan. I said all along that this trainwreck wasn't his fault. The Jets started making the right moves when they fired general manager Mike Tannenbaum. Now offensive coordinator Tony Sparano has gotten the axe. It shouldn't surprise anyone.Sparano, a friend of Ryans, was hired as OC when...
The New York Jets continued the overhaul of their offensive coaching staff with the firing of coordinator Tony Sparano on Tuesday, according to multiple reports. The move comes on the heels of quarterbacks coach Matt Cavanaugh being told Monday that his contract will not be renewed when it expires in a few weeks, as first reported by The New York Daily News. Sparano, the former...
NFL News

Delivered to your inbox

You'll also receive Yardbarker's daily Top 10, featuring the best sports stories from around the web. Customize your newsletter to get articles on your favorite sports and teams. And the best part? It's free!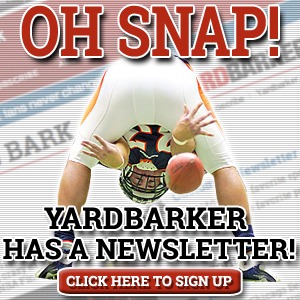 Latest Rumors
Best of Yardbarker

Today's Best Stuff

For Bloggers

Join the Yardbarker Network for more promotion, traffic, and money.

Company Info

Help

What is Yardbarker?

Yardbarker is the largest network of sports blogs and pro athlete blogs on the web. This site is the hub of the Yardbarker Network, where our editors and algorithms curate the best sports content from our network and beyond.