Found November 27, 2012 on Midwest Sports Fans:
While I was at Thanksgiving with my family Thursday, quite a controversial play happened in the Houston Texans-Detroit Lions game. You've probably seen and heard plenty about the play by now: Houston's Justin Forsett ran for an 81-yard touchdown, despite it being clear that his knee and elbow had touched down during the play. Detroit head coach Jim Schwartz then threw a challenge flag, only NFL rules stipulate that all scoring plays get challenged anyway. So, since Schwartz threw the flag and essentially created a duplicitous request for a review, everything is cool, right? WRONG. Photo by Robin Buckson/Detroit News via detroitnews.com   The NFL rules also stipulate that if a coach throws a challenge flag on a play that is automatically challenged, the review is negated and the play stands as originally called. On top of that, the offending challenger gets flagged for a 15-yard unsportmanlike conduct penalty. This is a perfect example of the rules getting in the way of common sense. You would think that the idea would be to get the call right, but the NFL seems more concerned with players and coaches doing things "their way," whether that way makes sense for the spirit of competition or the enjoyment of the fans. 13 Sports Rules That Should Be Changed Right Now That debacle got me thinking about other rules in sports that are outdated, ineffective, unfair, or just plain stupid. What follows is a list of the most egregious examples I could think of with help from my colleagues here at MSF. If I forgot a terrible rule, let me know in the comments or on Twitter. I mainly only watch the four major sports (yes, I'm including hockey, but its classification as a "major" sport is tenuous, at best), so it's possible I missed some stupid ones in other sports. 1. Throwing a Challenge Flag on an Automatically Reviewed Play (NFL) Why not kick this off with the aforementioned rule that potentially cost the Lions the game on Thanksgiving? I kind of already covered why this rule is stupid, but let me sum it up like this: with this rule, the NFL is basically saying "Sure, the referees may have missed the call, but we told you not to throw a challenge flag because we already planned on reviewing the play anyway. But you didn't listen, so forget getting the call right, we're going to let the ruling stand as incorrectly called and back your team up 15 yards on the next play. DON'T MESS WITH ROGER GOODELL." 2. The "Restricted Area" (NBA & NCAA Basketball) The "restricted area" is the arc 4 feet in front of the basket (3 feet in college) which is marked by a painted arc. If an offensive player creates contact inside this area, the call is automatically a blocking foul, regardless of whether the defender has established correct position to take a charge. In theory, this rule is in place to limit collisions under the basket and open up play near the rim (read: dunks). I'm not a fan of flopping, which is often the result of guys trying to get a charge call, but I do think that good defense should be rewarded. If a player establishes the correct defensive position and the offensive players crashes into him, it should be a foul on the ball handler, regardless of where the contact occurs. Photo by Neil Enns/Storm Photos via stormbasketball.com The other problem is that referees consistently struggle to get the calls correct, even with the circle. I think that except for very obvious contact by either player, a no-call would be best in many of these situations. Many NBA players take advantage of this rule, crashing into defenders under the basket to draw contact and two free throws. My favorite NBA team is the Spurs, but even I admit that Tony Parker (and Manu Ginobili, in his younger days) abuses this rule as much as anyone not named LeBron or Dwyane. 3. Offsetting Technical/Personal Fouls (NBA, NFL & NCAA Basketball & Football) We've all seen this a hundred times: a guy takes a cheap shot or roughs up another player, that player responds physically or verbally, and the official rings up both guys for technical fouls (basketball) or personal fouls (football). I know that the heat of battle makes it tough to see every little ticky-tack push and shove during games, but I think the officials should decide who they think was the instigator or agressor in every such situation and levy the violation against that one player. Offsetting double fouls are a cop-out and nothing more than the official saying "Hey guys, I don't care who started it or whose fault this whole thing is, knock it off." 4. The Designated Hitter (MLB) I prefer the National League's way of having no designated hitter, but frankly I don't care whether baseball has a DH or not, as long as both leagues' rules are the same. Doesn't it seem really stupid that we have completely different methodologies in the same sports league, and that the layout of teams is such that the conflicting methodologies must collide to determine the champion of the sport? It's downright absurd to me that teams manage and play all season (with the exception of interleague road games) by a certain standard and then are forced to change when the games mean the most. Sorry, Edgar Martinez, but if it were up to me your primary position wouldn't exist. Photo via 90feetofperfection.com I prefer the N.L.'s take because it places an emphasis on smarter in-game managing (which, let's be honest, still doesn't seem that difficult) and each team has 9 players, just as the game has always dictated. The designated hitter, to me, would be like having a guy come off the bench to shoot free throws when a poor shooter gets fouled in basketball. Whether MLB decides to go the A.L. or N.L. route, however, I don't care. Just make it the same in both leagues. 5. Stoppage Time (Soccer) Soccer's biggest allure is its free-flowing nature. Having a clock that never stops allows the viewer to be engaged for the full 90 minutes. Plus, it's impressive the endurance that the players exhibit without having built-in rest breaks like every other sport. What seems really dumb to me (and MSF's Josh Tinley, who pointed this out), though, is allowing the referee to arbitrarily add time at the end of the match to make up for all the time that the action was stopped for injuries, out of bounds, penalties, etc. Wouldn't it be easier to just stop time if something is going to take an extended amount of time to resolve (say more than 1 minute)? This would mainly be helpful for injuries (flops notwithstanding), in which players might legitimately need a few minutes to get off the field and receive medical attention. Then, the time could still be added at the end in a specific amount as recorded by a timekeeper during the pause in the action. This would eliminate the players and fans having no real idea when a game is going end and might heighten the excitement in close games where a last minute score could make the difference. Granted, I'm far from a knowledgable soccer fan, but this seems obvious to me. ***** You've seen the five most egregious sports rules that should be changed immediately. Now learn about 8 more that should also be changed right now, including: The dumbest, most dangerous rule in hockey Two NBA rules that make zero sense at all (and have swung entire playoff series!) The NCAA Basketball rule with reasoning that basically contradicts what we know to be true about the sport. Click continue to read on! The post 13 Sports Rules In Need of Immediate Change appeared first on Midwest Sports Fans.
Original Story:
http://feedproxy.google.com/~r/Midwes...
THE BACKYARD
BEST OF MAXIM
RELATED ARTICLES
It's been a long year for Detroit Lions general manager Martin Mayhew. He has seen his draft class get ridiculed, his head coach cost the team points, and his star defensive tackle drive around town recklessly on a regular basis. The media has loved it, but Mayhew hasn't. The most recent debacle occurred in the Lions' last game against the Houston Texans.  Playing on Thanksgiving...
ALLEN PARK, Mich. -- Receiver Titus Youngs absence from the Detroit Lions for disciplinary reasons has entered its second week, raising more questions about his future with the club. Young, who was held out of last weeks game, didnt attend Tuesdays practice. It remains unclear when, or if, he will return to the team. Not here today, but well reevaluate that as we go, coach Jim...
Lions head coach Jim Schwartz said that WR Titus Young is "potentially" done for the season after the wideout missed practice on Tuesday, per Anwar Richardson. "It's more of when he gets back with the team, if he gets back with the team," said Schwartz. Young has had an attitude issue for the last few months or so in Detroit, starting when he fought Louis Delmas during...
BETTER LATE THAN NEVER
Commissioner Goodell said it's a possibility the controversial challenge rule that reared its ugly head during the Texans-Lions game could be changed for the playoffs.
As frustrated as Chargers and Lions fans might be, they have nothing to play for at this point. The Patriots have a little more at stake here with seeding. Right now, the Patriots would not have a top two seed and and would miss out on a first round bye. Obviously, as the Giants and Packers have shown - that's not a guaranteed trip to the Super Bowl. Still, with a team as beat...
How odd was it on Thanksgiving when Justin Forsett was awarded a touchdown on a play where his knee and arm were clearly down due to technicality most people didn't even know about? Apparently, I never realized the extent to which coaches needlessly throwing challenge flags on scoring plays was ruining the game. If you really want to stop coaches from wrongly throwing challenge...
NFL News

Delivered to your inbox

You'll also receive Yardbarker's daily Top 10, featuring the best sports stories from around the web. Customize your newsletter to get articles on your favorite sports and teams. And the best part? It's free!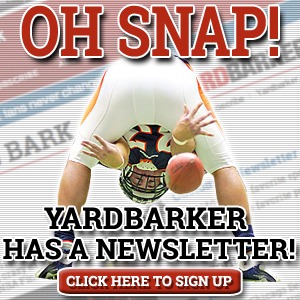 Latest Rumors
Best of Yardbarker

Today's Best Stuff

For Bloggers

Join the Yardbarker Network for more promotion, traffic, and money.

Company Info

Help

What is Yardbarker?

Yardbarker is the largest network of sports blogs and pro athlete blogs on the web. This site is the hub of the Yardbarker Network, where our editors and algorithms curate the best sports content from our network and beyond.