Found April 08, 2013 on Purple Jesus Diaries:
Leading up to this month's draft, Purple Jesus Diaries will take time analyzing potential draft targets for the Minnesota Vikings. With our cutting edge video technology, long hours spent scouting literally DOZENS of college players from our couch, and insight from Vikings meathead CapitalJsCorner, we're give you details you never even dreamed of from prospects that could help the Vikings in 2013. Based on the team needs established in our offensive and defensive team reviews, we present to you the 2013 Who Ya Gonna Draft? feature ... Who? Jamar Taylor, CB from Boise State, is an interesting prospect. He had a nice little career out in Idaho, and then went to the NFL combine and went HULK on the tests. He was a top performer in the 40 yard dash (4.39 seconds), did 22 bench press reps with one arm (allegedly), clocked a 4.06 seconds in the shuttle run. That means he goes side to side super swell! I'd guess normally people would look at Boise State prospects and be like, "What, him? Is he funny?" and I'd tell them to go eat a mayon-egg. But the fact is Chris Pederson, coach at Boise, is a god damn stud, and if he can get guys to play well for his college team, they're cool for my professional team. And remember when we really wanted to draft that other corner out of Boise, Kyle Wilson I think it was? Well, maybe this is like comeuppance for that or something. I don't know. Capital Js Take: Jamar Taylor is projected to go in the late first or early 2nd round. He'd likely be a 2nd round pick if not for an excellent combine in which he was among the top performers in the 40, bench press, and 20 yard shuttle. He has experience in zone and man schemes, but lacks consistency in run support. He has all the physical tools, but just needs to put it all together. NFL.com Notes: As before, let's do a little GOOD! and BAD! news for Jamar Taylor here. First, the good news from NFL.com: Not afraid to get physical with receivers, often redirects their routes with strong hands. Very good straight-line speed. Works well in press-bail coverage. Fluid hips, smooth in turns and out of the back pedal. Shows the athletic ability to make plays on the football in contested situations. Will stick his nose in the run game when he is able to set the edge. And now the BAD, BOOOOO!!! Recovery speed is questionable. Poor technique in press coverage. Gives up too much ground on outside breaking routes. Can be fooled by play action, jumps up to allow free receivers behind him. Must bring in more difficult interceptions where he needs to uses his hands away from his frame. Inconsistent tackler in space, can break down to wrap legs but also gives weak cut efforts. What does it mean to "Stick his nose in the run game"? Do they mean he's not very good at it but he sure gives his all? Or is it more he does just enough to make it look like he's trying but never actually accomplishes anything? He just puts an arm out as a guy is running by? It makes no sense. So? Inevitably, a cornerback that may be of interest to the Vikings who is 5'11" is going to have comparisons drawn to Antoine Winfield, and frankly, that's insulting to Winfield. Jamar Taylor may have some potential, and the Vikings are certainly thin at cornerback right now, but you have to ask, is this the right guy? I think traditionally you always think of the NFC North as being the pass happy league with big bodied receives, but - what - there's Calvin Johnson and Brandon Marshall? And Jay Cutler is awful? We have Chris Cook who is supposed to cover those guys, so do the Vikings have to invest their cornerback selection into another big fella, or can they just take someone who can cover his zone and beat someone up? I like that Taylor here is strong, isn't afraid to "get his nose" into stuff (buttholes, maybe?), so I'm sure he'd be fine. BUUUUUUTTTTTTTT, I highly doubt we draft him. Which is unfortunate, because he would make an AMAZING Shirtless Vikings. And, uh, owner of a "Banana Stand." [follow]
Original Story:
http://www.purplejesusdiaries.com/201...
THE BACKYARD
BEST OF MAXIM
RELATED ARTICLES
GAYS IN THE NFL
Gay rights activist Chris Kluwe says closeted players may be reluctant to out themselves because they think it could negatively affect the teams they play on.
Minnesota Vikings head coach Leslie Frazier has told free agent cornerback Antoine Winfield that he wants him back. "We're all human," Frazier said, per TwinCities.com. "We all like to know we're wanted. I've tried to make that clear to him. I'll let him know, 'If you've got any questions, you know how to reach me.' " Frazier says they'll look at picking iup...
After finishing 6-10 in 2010 and 3-13 in 2011, the Minnesota Vikings surprised the world in 2012 by finishing second in the NFC North and qualifying for a Wild Card berth. Although their postseason appearance ended in disappointment, the season was almost universally considered a resounding success. This year, general manager Rick Spielman finds himself [...]The post Best and Worst...
On Oct. 6, 2005, several members of the Minnesota Vikings, including Fred Smoot, Daunte Culpepper, Bryant McKinnie and Kevin Williams made a trip to Lake Minnetonka for some bye week relaxation. What initially was supposed to be a leisurely cruise around one of Minnesota's most famous bodies of water on a party boat devolved into a night of booze-fueled, raunchy sex romp that ultimately...
The Minnesota Vikings lost middle linebacker Jasper Brinkley to free agency, and linebackers coach Mike Singletary told Ben Goessling of The St. Paul Pioneer Press that it's "no secret" the team will be targeting someone to fill the position as the offseason continues. At this point, the Vikings have a hole in the middle of their defense in between linebackers Chad Greenway...
Minnesota Vikings coach Leslie Frazier is holding out hope that veteran cornerback Antoine Winfield will return to the team. Winfield was arguably the team's best defensive back in 2012, but his $7.25 million salary for 2013 was too much for the Vikings to carry. However, Frazier wants Winfield to return and isn't shy about saying it. "We're all human," Frazier...
Leading up to this month's draft, Purple Jesus Diaries will take time analyzing potential draft targets for the Minnesota Vikings. With our cutting edge video technology, long hours spent scouting literally DOZENS of college players from our couch, and insight from Vikings meathead CapitalJsCorner, we're give you details you never even dreamed of from prospects that could...
The Miami Dolphins are not the only ones changing their look up for next season. The Minnesota Vikings are  going to be wearing new duds as well. Unlike the Dolphins, they are hoping that they can keep the whole show under wraps till they unveil the whole thing at their Draft Party April 25. However, to satisfy the vultures that want to/have to know now what the new uniforms...
Hank Baskett, the former NFL receiver and husband of model Kendra Wilkinson, is being sued over his involvement in a California gym. According to TMZ, Baskett is a co-owner of "Performance Gaines" gym, which is also owned by Baskett's trainer, Travelle Gaines. The two are being sued by two men who claim they invested six figures into the gym before Baskett's name was attached...
Free Agent CB Antoine Winfield will visit with the Seahawks We've learned this AM via Profootballtalk.com + Sean Jensen of the Chicago Sun Times that DB Antoine Winfield is expected to meet with the Seahawks this week. Former #Vikings CB Antoine Winfield is expected to visit the Seahawks early next week, according to a source.— Sean Jensen (@seankjensen) April 7, 2013...
The NFL draft is only 18 days away and one more "Spielman Special" could complete the overhaul of the roster that began when Brett Favre retired. The majority of the Vikings are entering or in the prime of their career, leaving a near-term future full of hope.
NFL News

Delivered to your inbox

You'll also receive Yardbarker's daily Top 10, featuring the best sports stories from around the web. Customize your newsletter to get articles on your favorite sports and teams. And the best part? It's free!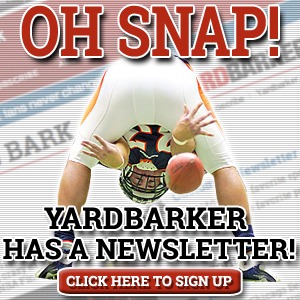 Latest Rumors
Best of Yardbarker

Today's Best Stuff

For Bloggers

Join the Yardbarker Network for more promotion, traffic, and money.

Company Info

Help

What is Yardbarker?

Yardbarker is the largest network of sports blogs and pro athlete blogs on the web. This site is the hub of the Yardbarker Network, where our editors and algorithms curate the best sports content from our network and beyond.