Found September 18, 2012 on Busted Coverage:
If you weren't watching the game, you've probably heard by now. Peyton Manning threw three interceptions in the first quarter of last nights game against the Atlanta Falcons. This is something Peyton hasn't done since 2007  and something nobody saw coming after his strong showing against the Steelers last week. The Broncos ended up making a fourth quarter push, but couldn't overcome the slow start, losing 27-21. You think Twitter let Peyton get away with this performance? No chance in hell…they went crazy. The going gets tougher from here for Peyton and the Broncos. They get the Texans next week and if Peyton doesn't get his act together, you could be seeing another f-bomb filled Twitter post for him next week. [Broncos-Falcons Box Score - Fox Sports]
Filed under: Football, NFL
Original Story:
http://bustedcoverage.com/2012/09/18/...
THE BACKYARD
BEST OF MAXIM
RELATED ARTICLES
If Peyton Manning is sore, he's not saying. If his confidence is waning, he'd be the last to let anyone know. Back on the practice field following his first loss as a Denver Bronco, Manning wouldn't offer much Wednesday when asked if the hits he took against Atlanta had any lasting impact. ''I don't really get into that,'' Manning said. ''...
The best way for the Houston Texans to defend Peyton Manning in Denver on Sunday may be to keep him off the field. The Texans (2-0) dominated possession with a punishing running game in last week's 27-7 victory over Jacksonville. Sure, the defense played well again, holding the Jaguars to nine first downs and 117 total yards. But thanks to the well-executed ball-control game...
STELLAR CRAFTSMANSHIP
I understand the economy is rough, but converting an old Peyton Manning Colts jersey into an Andrew Luck jersey isn't a very good luck, as you see from the picture above. It would have been better to just wear the Manning jersey and not alter it, or buy a Luck jersey. Who converts a Manning jersey to a Luck jersey? #ThisRedneck @nflrt twitter.com/AndrewLucksHea… — Andrew...
Peyton Manning's second game with the Denver Broncos looked nothing like his first. Manning threw interceptions on Denver's first three possessions, and the Broncos could not recover from the poor start in a 27-21 loss to the Atlanta Falcons on Monday night. In a 3-hour, 27-minute game marred by questionable decisions from replacement officials and long clock stoppages...
Each Tuesday during the 2012 fantasy football season Mike Harmon and John Halpin hop on the internet to talk all things football in their weekly Fantasy 15 podcast. This week Harmon and Halpin recap the latest referee shortfalls, Peyton Manning's ineffectiveness and Michael Turner, boom or bust. >> Listen to Fantasy 15 for September 18 >> Listen to Fantasy 15...
Denver had a late second half rally to get with in a one possession game, but at the end of the game, the unspeakable, horrendous, first half play of the Broncos was too much for Manning and the team to overcome.  As always, when the day is over we have to have a winner and a loser and yes, a hero and a zero.Let's start with the zero today.  It would be easiest to point the finger...
After a weekend full of exciting football matchups, I was excited to watch the Monday night game featuring the meeting of two undefeated teams, the Denver Broncos visiting the Atlanta Falcons. Ok, the league has only played one week, but Denver was impressive in beating Pittsburgh 31 to 19 at home on September 9 in the Sunday night game while Atlanta used a dominant second half in...
Michael Turner's DUI arrest last night after his Falcons beat Peyton Manning and the Denver Broncos treated fans to another soothing yet empty team statement that tells nothing. Most NFL franchises have the routine down pat. For those that don't, This Given Sunday shares this template of what to say when the fertilizer hits the ventilator. The [insert team name...
Last week I noted the poor job the Pittsburgh Steelers did in their opener against the Denver Broncos at tackling the catch as they allowed 126 total YAC in that game. Now of course it did not help that Broncos wide receiver Demaryius Thomas had 70 of those yards on the 1 yard screen pass from quarterback Peyton Manning that ended in a touchdown 70 yards later, but you just can&...
Week 2 of the 2012 NFL season is in the books and here are the second set of TOX stats for season along with the year to date numbers for all 32 teams at the bottom. For the second week in a row teams with a +2 TOX stat went 9-1 overall and that brings the year to date number to 18-2 (90%). Teams with a +1 TOX stat went 3-2 in week 2 and that brings that year to date number to 6...
Week 3 QB Rankings Cam Newton tops our list this week after he set a career high in rushing yards last week. Superman (SuperCam) looks near impossible to stop when he decides to run it in the red zone and with the emergence of Brandon LaFell, owners can now be confident that Newton has two legit receivers to throw to. I have RGIII ranked high following week two's matchup with the...
Falcons News

Delivered to your inbox

You'll also receive Yardbarker's daily Top 10, featuring the best sports stories from around the web. Customize your newsletter to get articles on your favorite sports and teams. And the best part? It's free!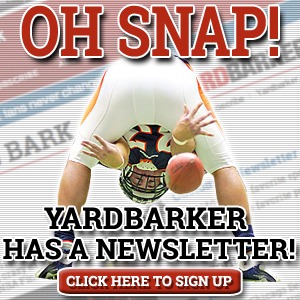 Latest Rumors
Best of Yardbarker

Today's Best Stuff

For Bloggers

Join the Yardbarker Network for more promotion, traffic, and money.

Company Info

Help

What is Yardbarker?

Yardbarker is the largest network of sports blogs and pro athlete blogs on the web. This site is the hub of the Yardbarker Network, where our editors and algorithms curate the best sports content from our network and beyond.