Found August 07, 2012 on Turn On The Jets:
Mike Donnelly will be leading our fantasy football coverage all season. Make sure to check out part 1 of this article here and to follow him all season on Twitter. Today he finishes the breakdown of the 8 key steps to having a perfect fantasy football league -
GET YOUR TURN ON THE JETS VINTAGE JETS T-SHIRT NOW. PRE-SEASON OPENER IS 3 DAYS AWAY!
5. Appoint a strong Commissioner. Terms like "jerk", "inflexible", and "know-it-all" may seem like unflattering things to be called. But in the fantasy land, those are exactly the qualities you want in your Commission of the PFL. I take them as as compliment now. Oh you want to fight me tomorrow? That means I'm doing a good job. The rules have to be iron-clad, everyone has to obey them, and there can be no shenanigans. No unfair trades, no collusion, no getting around the waiver rules. Otherwise you end up in a league where a team falls out of it and tries to help their buddy in exchange for a few bucks, or there's one guy who tries to cheat his way through waivers, etc. Those are not things you need in a PFL.
To become a good Commissioner you need to do a few things: First, put in the scoring system I showed you above. Second, implement a waiver system in which every team owner has 100 dollars to bid on free agents for the season. They put their bids in after the games on Sunday, and have until Wednesday night to do so. At that point, the highest bidder gets the free agent. After the waiver process ends, pickups are free Thursday through kickoff of the first game of the week. Very simple, fair, and efficient. Trust me on this. Third, make sure everybody pays at the draft or very shortly after. No exceptions. Fourth, draw up an iron clad league Constitution that clearly states all the rules and ins and outs of the league — Things such as Playoff rules, scoring tie breakers, trade rules, etc all need to be included here. That way any time an incident arises you can just point to the Constitution. Any questions or problems with these rules need to be brought up at the draft. Which is why you need to…
6. Have a live, IN PERSON draft. Besides being a great excuse to spend a Saturday with your friends drinking beer, eating pizza, and having fun, it also helps clear up any issues anybody might have with the league. Things just get done so much easier in person.
Besides that, it also gives you good insight into what all the other team owners are thinking or trying to do. Sometimes you can look across the table and just know who the other guy is hoping falls to him. That's when you announce it to the group and blow up his spot. Nothing is more fun. Except maybe when a guy reaches for a player and you can string off a couple of thinly-veiled insults. Some of my favorites include: "We're in the 10th round already?" when a guy makes a bad pick in the 5th round; "Is that last year's draft guide you are using?" when someone takes a washed up player; "HA! Good one, who are you really picking?";  "Someone needs to stop drinking";  or "Awesome! That just means one more actually good player will fall to me". Plus, did I mention it's a good excuse to get together with 11 of your friends to drink beer and let loose for a few hours? I did, but one more time: It's an excuse to get together with 11 of your closest friends and have an excuse to drink beer and have fun.
7. Have thick skin. I touched on this above, but it's worth repeating and making it's own rule. You have to remember: the things written about you, the pictures posted about you, the derogatory polls made about you, and whatever else are all in good fun. Plus they are probably hilarious, and you'd love it if they were about your friend instead of you. Then, you should strive to give it back to that person just as good without being a jerk about it.
In my PFL there are no less than 3 articles written with photoshopped pictures about a league member written per week. Plus at least a poll or two. And the polls don't typically ask "Who is going to win this week's matchup" if you catch my drift. They are far more personal and much more likely to include someone's girlfriend and farm animals. That's what makes it fun. If you get upset because someone asked "What's in worse position – Joe's team or the Kardashian family?" or called you the "Dungeon Master" because your team is absolute crap, well, you just aren't going to make it over 16+ weeks. I will make a comment about anything you do. I will insult your free agent pick up; I will say you got fleeced in the big trade you made just to make you mad; I'll laugh about the girl you hooked up with last night and post a picture of it that I secretly took; I'll offer you some terribly unfair trades just to make you mad; I'll make my team name something about you. I expect you to do the same, just be funny about it. Deal with it.
8. Finally, check your league at least once a day. This should go without saying, but if you aren't doing this, you are really missing out. How are you getting through the work day? How are you getting through those hour-long phone calls with your girlfriend without scrolling through the top free agent defenses and their match-ups for the next 3 weeks? If someone offers you a trade and you don't reply one way or another, or even say you are thinking about it, you should be excommunicated. There is no reason for that. A trade offer should not sit for any longer than 3 days. On top of doing it so you have a better chance of winning and staying a step ahead of your competition, in the PFL there is always something going on to entertain you whether it's an article, a poll, a post on the message board, a picture, etc. Just check once a day, and you'll be glad you did.
Keep in mind, fantasy football only lasts 4 months of the year. We have to cherish these times and get the most out of it that we possibly can. These 8 steps will surely help put you on the path to having a Perfect Fantasy League, but it's up to you to make it happen. Just know that there are some people out there that have seen the light. It is possible. Come and join us and spread the word.
Original Story:
http://turnonthejets.com/2012/08/part-2/
THE BACKYARD
BEST OF MAXIM
RELATED ARTICLES
TJ Rosenthal is back with his weekly No Huddle, talking on a number of different issues surrounding the New York Jets as they prepare for their first pre-season game. Make sure to follow on TJ on Twitter - BUY YOUR TOJ SHIRT NOW As we head into week one of the preseason schedule we take a look back on the past seven days in Jets nation. Never a dull moment around here - Curtis...
10) Clearly hates God, Jebus, and Flyover Country9) Doesn't want Tebow to break his non-existent Jets records8) Like everyone else in the greater New York region, can't see enough of Greg McElroy and Matt Simms (um, the other, non-Sanchez, QBs on the roster)7) Ready to get to the next failed coach in the Jets' history6) Bothered by how much Shirtless Tebow turned him...
A disagreement between running back Joe McKnight and safety D'Anton Lynn, the son of the Jets running backs coach, let to a brawl at the New York Jets practice on Monday in Cortland, N.Y. The incident began, according to the New York Daily News, after Lynn, an undrafted rookie, pushed McKnight out of bounds. McKnight threw the ball at Lynn's facemask and rushed toward...
RB Shonn Greene Shonn Greene is an interesting case. He's not a particularly talented back, but he's shown he's capable of carrying a load and moving the chains and the Jets are really thin at running back behind him. They are their best when they are run heavy and unless another one of their backs steps up this season, the Jets might not see the franchise tag value for running...
AP Photo Earlier today, former New York Jets quarterback Boomer Esiason said the Jets should cut quarterback Tim Tebow, during an airing of his show on WFAN in New York. Tebow was asked what he thought about Esiason's comments. "I've heard nothing but great things about Mr. Esiason," Tebow said, per NFL.com. "I wish him nothing but the best in his announcing. God bless...
Mark Sanchez (Cummings/AP) is he is right leader for the Jets? Another fight, you're kidding right? Sadly, no, the New York Jets once again lost their cool and another fight happened. Even though head coach Rex Ryan had a forceful speech with them. Is this a reason to be concerned with? Or, just a bunch of men ready to hit someone else? It may be both reasons, but the fact is the...
Off the heals of a Jets Brawl in yesterday's practice, it seems like the Jets players didn't get the message and were at it again.  This time Rex made them pay.  How?  Running.   SethWalder Second time team was yelled at for fighting today. 8/7/12 9:57 AM   SethWalder Keller and Cro got into it after a 7on7 play. Rex is pissed, and now the...
The Jets camp is doing their best to take the focus off the NFL champs, the Giants. First there was the trade for Tim Tebow and now, a 20-player brawl breaks out in camp and cameras managed to capture some of it.Per ProFootball Talk, the fight started between two running backs, one of which is [...]
For the second day in a row, the New Jersey Jets training camp had to be stopped multiple times to break up scuffles between players. Yesterday, it was that underachiever Joe McKnight throwing balls at people after plays. Today, TE Dustin Keller and CB Antonio Cromartie went at it causing Rex Ryan to stop practice
It gets stranger day after day in New York. With each growing day it appears as if the drama is piling on at Jets camp. Jets back to practice now after about 10 laps and another stern lecture from Rex Ryan. Another day another drama with this bunch — Jason La Canfora (@JasonLaCanfora) August 7, 2012 More Woody Johnson on Tebow coverage: "I knew there would be...
AP Photo According to Ed Bouchette of the Pittsburgh post-Gazette, the reason free agent wide receiver Plaxico Burress is still available is because he's asking for too much money. It looks like the Steelers were looking into acquiring Burress as a replacement for Mike Wallace, but Bouchette said that he wants "too much money." The reason Burress is likely asking for too...
Keeping up with your favorite team can be an all-consuming task. We're here to help indulge that need to follow all aspects of the NFL on Twitter...
Jets News

Delivered to your inbox

You'll also receive Yardbarker's daily Top 10, featuring the best sports stories from around the web. Customize your newsletter to get articles on your favorite sports and teams. And the best part? It's free!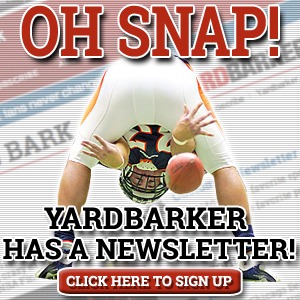 Latest Rumors
Best of Yardbarker

Today's Best Stuff

For Bloggers

Join the Yardbarker Network for more promotion, traffic, and money.

Company Info

Help

What is Yardbarker?

Yardbarker is the largest network of sports blogs and pro athlete blogs on the web. This site is the hub of the Yardbarker Network, where our editors and algorithms curate the best sports content from our network and beyond.