Found May 31, 2012 on Football Nation:
PLAYERS:
Adrian Peterson
,
Jerome Harrison
,
Corey Dillon
,
Emmitt Smith
,
Walter Payton
,
Miles Austin
,
Plaxico Burress
,
Chad Ochocinco
,
Lee Evans
,
Matthew Stafford
,
Tom Brady
,
Dan Marino
,
Drew Brees
,
Ben Roethlisberger
,
Steve McNair
,
DeAngelo Hall
,
Jay Cutler
,
Trent Green
,
Dave Krieg
,
Osi Umenyiora
,
Vonnie Holliday
,
Drew Bledsoe
TEAMS:
Seattle Seahawks
,
Detroit Lions
,
Dallas Cowboys
,
New England Patriots
,
Jacksonville Jaguars
,
New Orleans Saints
,
Pittsburgh Steelers
,
Washington Redskins
,
Chicago Bears
,
New York Giants
,
Arizona Cardinals
During this MLB season, fans have witnessed several rather rare feats on the field, including a perfect game and a 4-homer game.  Either of these accomplishments, and many more (a triple play or four stolen bases in a game, etc.), have the potential to occur during any given game.  The possibility is there, but it's difficult to achieve.   Football has many rare accomplishments as well, and some plateaus still waiting to be reached (such as 600 yards passing in a game).   Here are some of those rare feats from the NFL gridiron, taken in context of how recently they have occurred.   250-YARD RUSHING GAMES Accomplished:  12 times in NFL history The Record:  296 (Adrian Peterson, 2007)   Perhaps surprisingly, eight of the top 10 individual-game totals have occurred since 2000, including the top four on the list (Peterson; Jamal Lewis, 295; Jerome Harrison, 286; Corey Dillon, 278).   Unlike the 500-yard passing list, one player has accomplished this feat more than once; O.J. Simpson...
Original Story:
http://www.footballnation.com/content...
THE BACKYARD
BEST OF MAXIM
RELATED ARTICLES
The Seahawks are having a 3 way competition for quarterback between mediocre incumbent starter Tarvaris Jackson, free agent acquisition Matt Flynn, and 3rd round rookie Russell Wilson. Flynn is currently the leader in the clubhouse thanks to his strong play in camp and the 10 million guaranteed he got this offseason. Wilson has also gotten a lot of praise from the coaching staff...
Chris Clemons has been noticeably absent from Seahawks' OTAs and according to ESPN Seattle's Brock Huard, this is an "abundantly clear" sign that Clemons is seeking a new contract and could hold out into mandatory minicamps. Clemons is owed 4.5 million in the final year of his contract, which makes him highly underpaid. Clemons has surprisingly emerged as one of the better...
Four in camp…who wins? The Seattle Seahawks went all out in hopes for a legitimate starting quarterback this off-season. Picking up the talented Matt Flynn in free agency, and drafting hopeful stud Russell Wilson in the 3rd round of this years draft. Both were brought in to challenge incumbent starter Tarvaris Jackson for his job. Which I think will ultimately result in Jackson's...
                                                                             Photo Credit: Getty ImagesThis is Chris Brown's first article as a member of the SeaTown Sports staff. We are excited to have Chris join the team!Last week, Seattle and Tampa Bay agreed to terms on a trade which sent Kellen Winslow to the Seahawks for a conditional...
The Seattle Seahawks have confirmed they will hold a tryout for Brain Banks, the former California high school football star who was freed from prison after serving five years for a rape case in which he was falsely accused. The former Long Beach Poly linebacker had a verbal agreement for a full scholarship to USC before a childhood friend falsely accused Banks, now 26, of attacking...
We learned today via Mike Sando's ESPN NFC West blog that WR Golden Tate has a broken hand and is not practicing. The team said they expect Tate to return for training camp. The Hawks brass have high expectations for Tate in 2012, the missed time is costly in the short term, especially since the lockout prevented him from practicing last offseason as well. Per PFT he's...
Getty Images With a new season and a feeling of being revived, Seattle Seahawks linebacker Leroy Hill has admitted that he's ready to take on the role of being a leader so the younger guys have someone to look up to. "I've never really had to do that; I usually just came in and played my position since there was always a leader," Hill said. "This year, the guys are looking...
Ever wonder how Pete Carroll really got USC back "on top"? Porn shoot for film called "******** Girl 32" shot at USC's home field. latimes.com/news/local/la-…— Scott Enyeart (@ScottEnyeart) May 30, 2012 "The video also shows the stadium's signature tunnel, which the Trojan team charges through at the start of games"— Scott Enyeart...
The Seattle Seahawks have confirmed they will hold a tryout for former high school football star Brian Banks, who was exonerated in a California rape case in which he was falsely accused. Seahawks coach Pete Carroll did not speak following the Seahawks' offseason workout on Wednesday, but the team confirmed that Banks will work out for the team on June 7. The 26-year-old Banks...
Brian Banks will get a crack at the NFL, even if it's simply a tryout. The Seattle Seahawks confirmed Wednesday they will hold a tryout for Banks, a former high school football star who was exonerated last week in a California rape case in which he was falsely accused. Seattle coach Pete Carroll did not speak following the Seahawks' offseason workout on Wednesday, but the...
Per a tweet from Adam Schefter at ESPN Redskins, Chiefs, Seahawks amongst the teams interested in recently-exonerated LB Brian Banks, via @ReillyRickis.gd/uSWMYi— Adam Schefter (@AdamSchefter) May 30, 2012 We've learned that Pete Carroll and John Schneider are trying to bring in troubled Brian Banks. Don't know his story? Click here. (Redemption of Brian Banks...
SEATTLE – The University of Washington announced the inductees to the 2012 Husky Hall of Fame class today. Inductees include Chet Crile (men's tennis, 1990-'93), Dave Hoffmann (football, 1989-'92), Giuliana Mendiola (women's basketball, 2001-'04), Lawyer Milloy (football and baseball, 1993-'95), Tiffany Simpson (women's gymnastics, 1996-'98, 2000), and O.D. Vincent...
NFL News

Delivered to your inbox

You'll also receive Yardbarker's daily Top 10, featuring the best sports stories from around the web. Customize your newsletter to get articles on your favorite sports and teams. And the best part? It's free!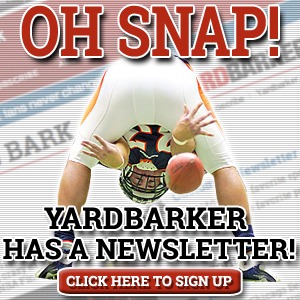 Latest Rumors
Best of Yardbarker

Today's Best Stuff

For Bloggers

Join the Yardbarker Network for more promotion, traffic, and money.

Company Info

Help

What is Yardbarker?

Yardbarker is the largest network of sports blogs and pro athlete blogs on the web. This site is the hub of the Yardbarker Network, where our editors and algorithms curate the best sports content from our network and beyond.