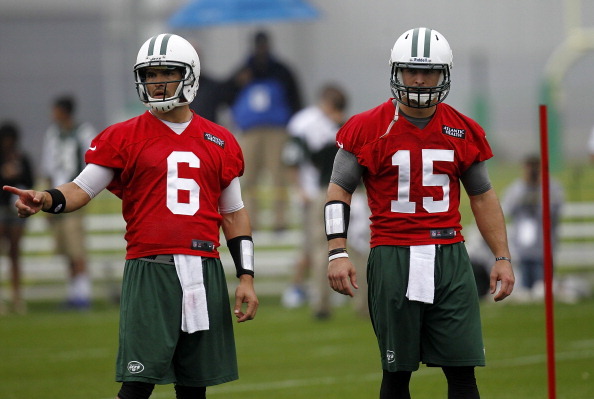 Earlier in the day, the Jets wrapped up their full-squad OTA practice, with all eyes glued to the Mark Sanchez-Tim Tebow "battle," still in its infancy stage. I say infancy because it's not too compelling when it's still May and the players are in shorts, but the media — and thus the world — got its first look at both quarterbacks in action, so we'll take what we can get. Anywho, Sanchez ended up faring much better, according to the beat writers, completing more passes than his much-discussed counterpart, who tossed two picks. To no one's surprise, there were a blitzkrieg of reporters surrounding Jets HQ, hyping up the competition with much hyperbole and fervor. Things were relatively calm until Sanchez's agent, Brian Murphy, chimed in, primping up his client while simultaneously setting the Twitter-verse ablaze. No offense media, but of course Sanchez is going to out perform Tim T. Mark is a franchise quarterback and Tim is a great athlete. — Brian Murphy (@A1Murph) May 24, ...
MORE FROM YARDBARKER
NFL News

Delivered to your inbox

You'll also receive Yardbarker's daily Top 10, featuring the best sports stories from around the web. Customize your newsletter to get articles on your favorite sports and teams. And the best part? It's free!