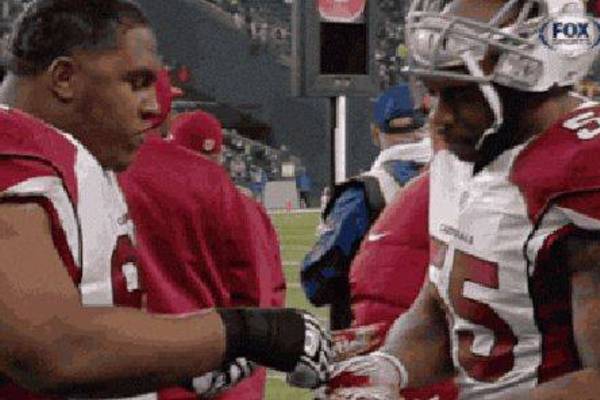 The Seattle Seahawks are one of the clear favorites for the Super Bowl this season, but you wouldn't know it by the way the Arizona Cardinals man-handled the them today. Cardinals quarterback Carson Palmer did his best to try and give the 'Hawks the game with four interceptions, but the Arizona defense was as stingy as a fat kid with candy on the sideline.Oh, wait...From Bleacher ReportThat analogy clearly doesn't work so how about:- as stingy as a pretty boy with his gel? - a drunk dude with his beer?- a crackhead with his coke?- my wife with--never mind.Anyway--so the defense was pretty damn tough holding Russell Wilson to just 11 completions (27 attempts) for 108 yards, one touchdown, and an interception. Marshawyn Lynch--the man that made Skittles on the sideline cool-- gained only 71 yards on 19 carries.Bruce Arians definitely appears to have done it again and revived a franchise. It just sucks that the Cardinals could still find themselves on the outside looking in thanks to l...
Read the rest of this story...
MORE FROM YARDBARKER

NFL News

Delivered to your inbox

You'll also receive Yardbarker's daily Top 10, featuring the best sports stories from around the web. Customize your newsletter to get articles on your favorite sports and teams. And the best part? It's free!