Found April 05, 2012 on Midwest Sports Fans:
Via The United States of Football comes the video below, which features audio of Gregg Williams' rather disturbing pregame speech before the New Orleans Saints playoff game last year against the San Francisco 49ers. The audio was recorded by Sean Pamphilon, who is working on a documentary about Steve Gleason. Pamphilon was understandably disturbed by the audio and passed it along to Michael Silver of Yahoo, who wrote about it today. This should go without saying, but the language is VERY NSFW, so be careful where you listen. I've posted a few excerpts below in case you can't listen. —– From Silver's article:
"We've got to do everything in the world to make sure we kill Frank Gore's head," Williams told the players. "We want him running sideways. We want his head sideways." Then, referencing backup halfback Kendall Hunter, Williams continued: "Little 32, we want to knock the [expletive] out of him. He has no idea what he's in for. When he's on the sideline, we've gotta turn that [expletive] over, turn their coaches over, turn the spectators over. Go and get that [expletive] on the sidelines." … "We need to find out in the first two series of the game, the little wide receiver, No. 10, about his concussion," Williams said to the Saints' defenders. "We need to [expletive] put a lick on him, move him to decide. He needs to decide." Then Williams continued that theme in reference to Crabtree, the 10th overall pick of the 2009 NFL draft: "We need to decide whether Crabtree wants to be a fake-ass prima donna or he wants to be a tough guy. We need to find that out, and he becomes human when you [expletive] take out that outside ACL."
Read the entire piece by Silver as he recounts how Pamphilon describes the scene and how disturbed he was by it. It's rather chilling. All I will add is…Gregg Williams, you are one sick and twisted dude. I realize football is a brutal sport and by its nature can breed personalities like this; but my goodness is this over the line and unnecessary. And don't tell me it's just football. I grew up in football locker rooms. Some really questionable stuff goes on in there. But not this. This is barely above barbarism. It's malevolence and malice towards one's fellow man. Even in football, that's uncalled for. Williams, currently on an indefinite suspension, should probably polish his non-football resume. I don't think he'll be coaching anywhere other than as a nondescript assistant at a small college or high school. Not with this out there. Thank goodness baseball is back today since college basketball just ended. I need a non-NFL sport to focus my attention on. The NFL is really turning off this offseason.
Original Story:
http://www.midwestsportsfans.com/2012...
THE BACKYARD
BEST OF MAXIM
RELATED ARTICLES
If true, this may be the worst example of how insane Gregg Williams really is. If true, there is no way Williams will ever coach in the NFL again. Yahoo! Sports' Jason Cole has added the latest layer to the Bountygate story, and this time there is some pretty damning audio evidence of how psychotic the former New Orleans defensive coordinator really is. The story reveals that...
Former Tampa Buccaneers legend Warren Sapp has once again cast his opinion regarding the New Orleans Saints ongoing soap opera. In an interview with The Contra Costa Times, Sapp responded to the audio tape that surfaced yesterday of former Saints DC Gregg Williams more or less demanding that his players maim certain 49ers prior to a NFC Wild Card playoff game last season. To read...
When the NFL released coaching discipline for Bountygate, it stated that Gregg Williams would be able to appeal his "indefinite" suspension after one year. After hearing audio of one of Williams' speeches to Saints defenders, his suspension needs to be definite and everlasting.
The whole Gregg Williams tape thing has me thinking about football when I should be enjoying golf or baseball (You win, ESPN & Derek Medlin. I give up.) As you may have heard, football is a violent game. It is so violent, in fact, that long-term participation in the sport is all but guaranteed to cause serious health problems in later years. Even short-term participation (lets...
I've never played in the NFL, and I stopped playing football in high school, but I'd be a fool to believe the Saints are the only people to do this. Are they being turned into a... [[ Read More ]]
(source feed provided no summary content for this entry)
As if the regular season matchup between the San Francisco 49ers and the New Orleans Saints did not have enough built-in drama, the pregame speech by Gregg Williams before last season's playoff matchup may be the ultimate bulletin board material, months before players even take the field. Recently released recordings made during a documentary of
When we hear a comment, regardless of its importance, context is everything, and sometimes it takes the passage of time to bring to light the true context behind things players and coaches say. As we all know by now, Gregg Williams was slammed with an indefinite suspension last month by NFL commissioner Roger Goodell. The penalty is the most severe punishment ever handed down to...
There is no way to defend Gregg Williams now, no way to hear those words on tape and not acknowledge that the former defensive coordinator of the New Orleans Saints crossed lines in ways that not only deserved, but demanded significant punishment. Whatever you thought of Bountygate before -- and the notion that everyone in the NFL operates this way has been a persistent undercurrent...
As a vilifed group showed up to beg for a reduced sentence, the brainchild of their crime stared down more evidence that he should never again be paid to coach football on any level. Gregg Williams ought to be banned for life. New Orleans Saints coach Sean Payton visited the NFL's mothership Thursday, to appeal to the compassionate side of his judge, jury and arbitrator—commissioner...
Former NFL linebacker Antonio Pierce played under former New Orleans Saints defensive coordinator Gregg Williams when they were both a part of the Washington Redskins organization in 2004. Pierce, who now works for ESPN, sat down with Rachel Nichols and gave his thoughts on the Saints bounty scandal and talked about his time with Williams. After listening to the audio of Williams'...
NFL News

Delivered to your inbox

You'll also receive Yardbarker's daily Top 10, featuring the best sports stories from around the web. Customize your newsletter to get articles on your favorite sports and teams. And the best part? It's free!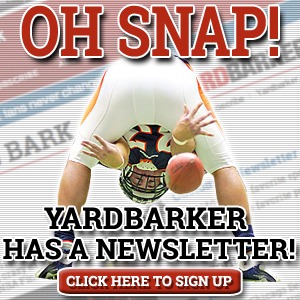 Latest Rumors
Best of Yardbarker

Today's Best Stuff

For Bloggers

Join the Yardbarker Network for more promotion, traffic, and money.

Company Info

Help

What is Yardbarker?

Yardbarker is the largest network of sports blogs and pro athlete blogs on the web. This site is the hub of the Yardbarker Network, where our editors and algorithms curate the best sports content from our network and beyond.