Found January 21, 2013 on NESN.com:
FOXBORO, Mass. — Ray Lewis may be rolling through the final weeks of his NFL career before retirement this offseason, but don't expect the same from Bill Belichick. Belichick, who will turn 61 in April, just finished his 38th season in the NFL and is the longest-tenured coach in the league, with 13 seasons in New England. But that doesn't mean he's planning on going anywhere. "Yeah, I'll be here," Belichick said when asked about his future during Monday's end-of-season news conference. Belichick, who was criticized for his surly demeanor after the Patriots' loss in Sunday's AFC Championship Game, even gave a rare nod to others' perception of him. "You'll have to deal with me again next year. I know it's disappointing for a lot of you," Belichick said. "Until I'm told otherwise, I plan on being here." There was some speculation that the return of former offensive assistant Brian Daboll could signal the end of either Belichick or offensive coordinator Josh McDaniels. But th
Original Story:
http://nesn.com/2013/01/bill-belichic...
THE BACKYARD
BEST OF MAXIM
RELATED ARTICLES
It almost seems like more has been made of what took place off the field following the AFC Championship game Sunday rather than what happened on the field during the game. Much has been made of Bill Belichick denying an interview to CBS following the game, and instead the Patriots having Devin McCourty speak to them. Many have called Belichick a "sore loser" and heavily criticized...
Another season has ended with a crushing defeat for the Patriots. And while Bill Belichick was certainly upset following Sunday's AFC Championship loss to the Ravens, he was his usual self while addressing the media. What that means is that Belichick provided succinct — and rather uninteresting — answers to a variety of questions, while making it clear that the Ravens are a...
Bill Belichick was understandably disappointed with the Patriots' performance on Sunday, and his frustration got the best of him after the game. Belichick, who was somewhat defensive and succinct in his postgame news conference, skipped out on an interview with CBS following Sunday's AFC Championship loss, which Shannon Sharpe called "unacceptable." Sharpe said that you can't...
Shannon Sharpe of CBS ripped Bill Belichick last night for being a "poor sport." After the game there is always an interview with the losing coach, an interview that Belichick did not do. So, Sharpe decides he needs to give his much-sought-out-for(sarcasm) opinion. Heres what he said: "There's something to be said about being gracious in defeat," Sharpe...
Shannon Sharpe apparently wasn't too happy last night when Patriots coach Bill Belichick didn't do a post game interview with CBS.  Honestly I'm not getting the big buzz about this.  Who wants to hear from a losing coach anyway?  What's he gonna say?  Umm we sucked tonight, they were better, we'll try again next year.  Oh, thanks coach.  Boring as hell. ...
There are actual football games, and then there are the games that people play within those football games. For the Patriots, that means questions about how Bill Belichick does (or doesn't) talk after games, and whether his speedy postgame handshakes are in some way a slight. Shannon Sharpe was all worked up Sunday evening when Belichick declined an interview after the Patriots'...
With everyone saying Bill Belichick and Tom Brady were sore losers, I was glad to see this headline. Belichick caused a stir last night when he didn't interview with CBS, a customary thing to do after a game, win or lose. As a result of this, Bill was labeled as unprofessional and a sore loser. I think John Harbaugh has the biggest say in whether or not Bill is classy or not...
After declining an interview following the Patriots loss to the Ravens yesterday, CBS analyst Shannon Sharp called Bill Belichick out. Sharp called him a "sore loser" and said that the he makes it "real easy for you to root against the Patriots." Well, here we are a day later and fellow CBS analyst Boomer Esiason essentially reiterated what his colleague had...
Watching Bill Belichick address the media is something that's rivaled only by watching paint dry, but apparently there are quite a few people with a strong desire to watch paint dry nowadays. Brian Billick isn't one of them. Billick, an NFL analyst who spent nine seasons coaching the Ravens from 1999 to 2007, doesn't see what all the fuss is about when it comes to Belichick's...
The Baltimore Ravens are moving onto the Super Bowl after beating the New England Patriots 28-13 on Sunday.  Patriots coach Bill Belichick and quarterback Tom Brady responded to questions after the game.  Transcript provided by Patriots.com. Bill Belichick: BB: Obviously a 
Will this be the last NFL game for Ray Lewis, or with Bill Belichick and Tom Brady get to another Super Bowl. The guys in Vegas have New England at more than a touchdown favorite, but the line has been moving in Baltimore's direction. The other hot pick seems to be San Francisco, as they are now a 3.5 to 4 point favorite on the road against Atlanta, as everyone seems to be jumping...
Ravens safety Ed Reed says he had a conversation with Tom Brady over the quarterback sliding high on him during the AFC title game.
NFL News

Delivered to your inbox

You'll also receive Yardbarker's daily Top 10, featuring the best sports stories from around the web. Customize your newsletter to get articles on your favorite sports and teams. And the best part? It's free!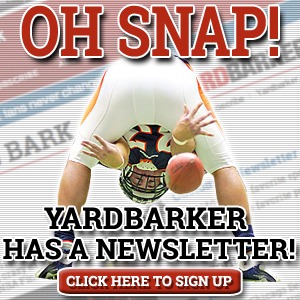 Latest Rumors
Best of Yardbarker

Today's Best Stuff

For Bloggers

Join the Yardbarker Network for more promotion, traffic, and money.

Company Info

Help

What is Yardbarker?

Yardbarker is the largest network of sports blogs and pro athlete blogs on the web. This site is the hub of the Yardbarker Network, where our editors and algorithms curate the best sports content from our network and beyond.