Found December 03, 2012 on The Other Paper:
It's hard to know exactly how the Kansas City Chiefs players should have felt after the bizarre murder-suicide by teammate Jovan Belcher.  But it might be even harder to put it into words. Somehow, Chiefs quarterback Brady Quinn took a few moments after the teams victory Sunday to try and put the whole thing into perspective and did a superb job in his heartfelt press conference. His simple message during this surreal and difficult situation — be more attentive to the people who are sitting in the room with you more than interacting with the ones that aren't. "When you ask someone how they are doing, do you really mean it?" he asked.  "When you answer someone back how are you doing, are you really telling the truth? "We live in a society of social networks ... and that's fine, but we have contact with our work associates, our family, our friends, and it seems like half the time we are preoccupied with our phone and other things going on instead of the actual relationships that we have right in front of us." Words to live for in a time of expanding Twitter,  Facebook and other Internet relationships. Would a sensitive hand have prevented the Belcher tragedy?  Who knows.  But Quinn's profound words remind us that relationships are based on more than how many "followers' you have.
Original Story:
http://ihatelupica.blogspot.com/2012/...
THE BACKYARD
BEST OF MAXIM
RELATED ARTICLES
FAREWELL TO ARMS
In the wake of Kansas City Chiefs linebacker Jovan Belcher's Saturday morning murder-suicide -- sportscasters (and sportswriters) have decided to put their own thoughts on gun control front and... Full story at Bob's Blitz ~ http://www.bobsblitz.com
The families of Kansas City Chiefs linebacker Jovan Belcher and of the girlfriend he shot and killed before killing himself spoke out Monday, two days after the tragic incidents. Belcher's family says it is having difficulty dealing with the "inconceivable tragedy." Police say Belcher shot and killed Kasandra Perkins on Saturday at their Kansas City home before driving...
Former Kansas City Chiefs fullback Tony Richardson said he was "shocked" when he found out that linebacker Jovan Belcher shot his girlfriend to death and then drove to the team's facility and killed himself. He was one of several who reacted to Saturday's tragedy in Kansas City. "People think, how can a young man with the world in front of him, making good...
Chiefs linebacker Jovan Belcher and his girlfriend briefly lived apart before he killed her and then committed suicide in front of his coach and general manager, a friend of the woman said Sunday. But Brianne York, 21, said that Belcher and his girlfriend, 22-year-old Kasandra M. Perkins, had gotten back together by Thanksgiving. When she learned Saturday that Belcher had fatally...
The burning embers of the Twin Towers had a way of being invoked when a particularly dicey part of the Patriot Act needed selling 11 years ago. This was the smart play. Watering down constitutional rights is not easily undertaken. So scaring Americans and then using that fear to explain why this egregious assault on their rights is for their own good is genius. This is exactly why...
Jason La Canfora of CBSSports.com reports that Kansas City Chiefs four-year veteran linebacker Jovan Belcher (25) was the unidentified player who shot his girlfriend around 8AM CT then drove to Arrowhead Stadium and committed suicide. Chief LB Jovian Belcher was involved in a shooting involving at least one other person outside the team's facility today, [...]
Jovan Belcher's arrival at Arrowhead Stadium shortly after the Kansas City Chiefs linebacker allegedly killed his girlfriend Saturday morning was predictable, a sports psychologist said. The troubled player was retreating to a familiar haven before taking his own life. How the Chiefs organization will now cope with this horrific murder-suicide won't be so easy to analyze...
by John Viril— I know I write a Kansas City Royals blog, but Jovan Belcher's tragic suicide today at Arrowhead Stadium cuts beyond any topic limits. I cannot help but think about the place of sports in our society and what role, if any, that his profession might have had in the terrible events that occurred this morning. I'd like to think that sports had nothing to do with...
KANSAS CITY, Mo. At some point, they had to return to football. They had to think about football. The Chiefs knew that. This is their job, their passion, their obligation. The nightmarish events of the previous 24 hours when teammate Jovan Belcher murdered his girlfriend, then took his own life had to be stored away, and the focus had to return. Football is simply a game, but...
The apparent murder-suicide of Kansas City Chiefs linebacker Jovan Belcher, 25, is one of a series of untimely deaths for current or former NFL players in recent years: - In July 2012, Tennessee Titans receiver O.J. Murdock, 25, was found in his car in front of his Florida high school with what appeared to be self-inflicted gunshot wounds. - In May 2012, Junior Seau, 43, shot himself...
It appears Sunday's game between Kansas City and Carolina will be played as scheduled even in the aftermath of the murder/suicide involving Chiefs middle linebacker Jovan Belcher. FOXSports.com NFL Insider Jay Glazer reported that the league has "full plans" of playing the game at 1 p.m. ET Sunday at Arrowhead Stadium. The Charlotte Observer reported that the Panthers...
Matt Rury might be "The Ladies Man", but he is more than just a pretty face.  Rury and Chamberlain have some serious thoughts on the Kansas City Chiefs linebacker Jovan Belcher and his murder/suicide.  They've also got less serious thoughts on the other people included in the heading, and perhaps Rury will romance a few [...]
Chiefs News

Delivered to your inbox

You'll also receive Yardbarker's daily Top 10, featuring the best sports stories from around the web. Customize your newsletter to get articles on your favorite sports and teams. And the best part? It's free!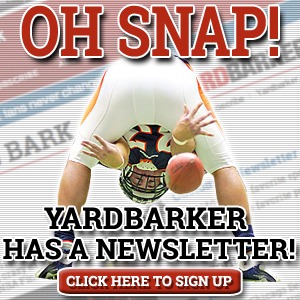 Latest Rumors
Best of Yardbarker

Today's Best Stuff

For Bloggers

Join the Yardbarker Network for more promotion, traffic, and money.

Company Info

Help

What is Yardbarker?

Yardbarker is the largest network of sports blogs and pro athlete blogs on the web. This site is the hub of the Yardbarker Network, where our editors and algorithms curate the best sports content from our network and beyond.