Found December 11, 2012 on Down and Distance:
Paul Tagliabue has lifted all suspensions related to the Saints bounty scandal. (Credit: Associated Press) Four players that played for the New Orleans Saints had been previously suspended by commissioner Roger Goodell for their roles in the Saints pay-for-injury scandal led by former defensive coordinator Gregg Williams. Now after fighting for a fair and open appeal, current Saints Jonathan Vilma, Will Smith and former Saints Anthony Hargrove and Scott Fujita will not miss any games at all. Former NFL commissioner Paul Tagliabue, Goodell's predecessor who was assigned to rule on the player suspensions, vacated all player suspensions related to New Orleans' bounty system today. Goodell had initially suspended Vilma for the entire 2012 season, while Smith was suspended four games, Hargrove eight games, and Fujita three games. Hargrove and Fujita successfully fought their rulings to lower their suspensions to two games and one game, respectively. League spokesman Greg Aiello released this statement from Tagliabue. "Unlike Saints' broad organizational misconduct, player appeals involve sharply focused issues of alleged individual player misconduct in several different aspects … My affirmation of Commissioner Goodell's findings could certainly justify the issuance of fines. However, this entire case has been contaminated by the coaches and others in the Saints' organization." The ramifications of Tagliabue's decisions are enormous. Beyond the fact that he concurred with Goodell's collected evidence, Tagliabue essentially said that the evidence was not enough to warrant more than fines. The greater part of the blame in Tagliabue's eyes was rooted in the coaches and organization. Head coach Sean Payton was suspended for the 2012 season and former defensive coordinator and bounty ringleader Gregg Williams was suspended indefinitely. General manager Mickey Loomis was suspended eight games, and assistant coach Joe Vitt was suspended six games. The league could potentially fight back against Tagliabue's ruling, as Goodell has done everything in his power since succeeding Tagliabue in 2006 to make player safety the utmost priority. But in the wake of Kansas City's Jovan Belcher's murder-suicide two weeks ago and Dallas' Josh Brent's intoxicated manslaughter of temmate Jerry Brown this past weekend, the league doesn't need another issue on its plate at this point in time. Mike Garofalo of USA Today also reported that for the first time today, the players' attorneys were allowed to review every document that Goodell and the league had collected throughout the bounty probe. The documents totaled almost 50,000 pages. For the Saints organization, and for NFL fans everywhere, a collective sigh can now be issued that the bounty investigation is (hopefully) done with for good. Follow us on Twitter @DownandDistance Down and Distance Columnist - Joe Ray @jpray_SKThe post Breaking: Paul Tagliabue lifts all Saints player suspensions appeared first on DOWN & DISTANCE.
Original Story:
http://sports-kings.com/downanddistan...
THE BACKYARD
BEST OF MAXIM
RELATED ARTICLES
OPEN SEASON
NFL commissioner Roger Goodell says the team is considering expanding the NFL playoffs from 12 teams to possibly more.
During his press conference at the NFL owner's meetings, commissioner Roger Goodell told the media that they're going to look into possibly expanding the playoffs from 12 teams to possibly 14 or 16. Goodell just said at his presser that the league will look at expanding the playoffs to 14 or 16 teams. — Albert Breer (@AlbertBreer) December 12, 2012 This is certainly one of...
LONG NIGHTMARE IS OVER
Former NFL commissioner Paul Tagliabue has vacated the suspensions and fines imposed upon Saints players as a result of the NFL's Bountygate investigation.
Jon Vilma urged a federal judge Friday to reject NFL Commissioner Roger Goodell's motion to dismiss the defamation lawsuit filed against him by the Saints linebacker. Vilma's request to U.S. District Judge Ginger Berrigan argues Goodell acted with ''reckless disregard for the truth'' when basing initial allegations about Vilma upon one fired Saints assistant...
(Doug Pensinger/Getty Images) Big Pete on the commissioner's plans to expand the playoffs…  Today, Roger Goodell said that they are discussing the expansion of the NFL playoffs to either 14 or 16 teams. While I don't know what is going through his brain, lets take a quick look at how this impacts the playoff structure as we know it. As it stands, 6 teams in each conference...
NFL Commissioner Roger Goodell met with the director of Mothers Against Drunk Drivers the night before Wednesday's owners meetings in the Dallas area, where a Cowboys player was charged with intoxication manslaughter in a weekend crash that killed a teammate. Goodell also spoke Tuesday with players union boss DeMaurice Smith over issues of drinking and driving. The commissioner...
(Eds: With AP Photos.) By JIM LITKE AP Sports Columnist ''Round up the usual suspects.'' Funny how that line near the end of ''Casablanca'' provides a fitting epitaph for Bountygate, too. Like Capt. Renault in the film classic, former NFL Commissioner Paul Tagliabue was presented with a crime and empowered as both judge and jury. He considered the...
After the December Special League Meeting on Wednesday, Roger Goodell had some remarks that were certain to get the attention of every NFL fan everywhere.  Following the meeting to determine issues to present to the Competition Committee, Goodell spoke about possibly expanding the playoff field.  According to Goodell, this topic has come before the Competition [...]
Today Sports Business Journal released their annual list of the most influential executives in sports and ESPN President John Skipper topped the list ahead of NFL commissioner Roger Goodell: Those major pro sports commissioners may be in the news much more than a largely anonymous figure like John Skipper, but ESPN is worth more than all those major pro sports league....
I'll be honest, I was shocked that former NFL Commissioner Paul Tagliabue vacated the suspensions of four former and current New Orleans Saints players. The players must have felt the same way, because when it was announced last month by current commissioner Roger Goodell that Tagliabue would hear their appeal, they fought to have him to recuse himself. Lucky for them he didn't...
The NFL has been accused in the past of trying to turn the game into flag football. Does it really want to now lend credence to that by getting rid of an exciting, but sometimes dangerous, part of the game? Reports have been flying this week that the NFL's competition committee would look at the possibility of eliminating kickoffs in the name of player safety. In a recent Time...
Former NFL commissioner Paul Tagliabue has issued a ruling regarding the the player suspension appeals in the New Orleans Saints' bounty case. After current commissioner Roger Goodell recused himself from the situation, Tagliabue maintained that the League's findings against Anthony Hargrove, Will Smith, and Jonathan Vilma were factual but rescinded the suspensions set fourth upon [...]
NFL News

Delivered to your inbox

You'll also receive Yardbarker's daily Top 10, featuring the best sports stories from around the web. Customize your newsletter to get articles on your favorite sports and teams. And the best part? It's free!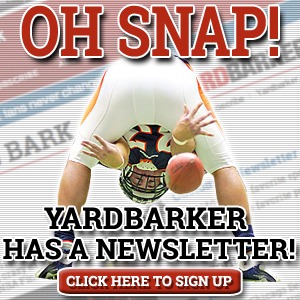 Latest Rumors
Best of Yardbarker

Today's Best Stuff

For Bloggers

Join the Yardbarker Network for more promotion, traffic, and money.

Company Info

Help

What is Yardbarker?

Yardbarker is the largest network of sports blogs and pro athlete blogs on the web. This site is the hub of the Yardbarker Network, where our editors and algorithms curate the best sports content from our network and beyond.