Found January 23, 2013 on Rumors and Rants:
As we've seen in the last month in the wake of certain traumatic national events, it's not too hard to get a conspiracy theory going. But these theories are generally easy to laugh off because they are started by anonymous idiots whose parents should have stuck to masturbation. But this week we've got a conspiracy theory started by two of the greatest wide receivers to ever play the game, Tim Brown and Jerry Rice. Brown asserted over the weekend that Raiders coach Bill Callahan sabotaged Oakland in Super Bowl XXXVII by changing their game plan two days before the game so Jon Gruden and the Buccaneers would win the title. "He hated the Raiders so much that he would sabotage the Super Bowl so his friend can win the Super Bowl," Brown told Sirius XM NFL Radio. OK, some guy who has been hit in the head too many times comes up with a crackpot theory. No biggie. Until he's backed up by the best player in the history of his position. Rice went on ESPN and backed Brown's claim, saying "In ...
Original Story:
http://rumorsandrants.com/2013/01/bro...
THE BACKYARD
BEST OF MAXIM
RELATED ARTICLES
Super Bowl XXXVII was known for being Jon Gruden's old team — the Raiders — against his new team — the Buccaneers. In the public's eye, Gruden couldn't go wrong with the results of the game. Either he built a Super Bowl winner, or he coached a Super Bowl winner. But if Tim Brown's allegations are true, it's possible he really couldn't go wrong with the results of...
It's been ten years since the Tampa Bay Buccaneers faced off against the Oakland Raiders in Super Bowl XXXVII, a game that saw Tampa Bay pick off league MVP Rich Gannon five times, returning three for scores as the Bucs ran away with a 48-21 victory. Jon Gruden was the Raiders' coach from 1998-01 and [...]
Tim Brown caught a lot of long bombs as a receiver for the Oakland Raiders. On Monday, he dropped a bomb on Bill Callahan, his former coach and current Dallas Cowboys offensive coordinator during an interview with SiriusXM NFL Radio. Brown said Callahan essentially threw Super Bowl XXXVII by changing the offensive game plan the Friday before the game. Brown, a Heisman Trophy winner...
A curious story has surfaced on the 10th anniversary of Super Bowl XXXVII, a game that featured the Oakland Raiders taking on the Tampa Bay Buccaneers. The Buccaneers completed dismantled the Raiders 48-21 on their way to the franchise's first World Championship. Did the Oakland Raiders coaching staff sabotage their game plan in order to hand the Super Bowl to the Buccaneers? Former...
Former Oakland coach Bill Callahan has denied allegations made by two of his former players that he ''sabotaged'' the Raiders in their Super Bowl loss to Tampa Bay 10 years ago. Former Raiders receivers Tim Brown and Jerry Rice both said in recent interviews they believe Callahan undermined his own team in the Super Bowl in 2003 because of his close friendship with...
Back when the 2002 season started, Steve and I discussed the prospect of the Buccaneers playing the Raiders in the Super Bowl. You see, that was the season that Jon Gruden was traded to the Bucs. Both teams were pretty talented going into the season, but if the teams played each other in the Super Bowl, that would just be a little too perfect, right? This led to a comparison of the...
Recently former Raiders wide receiver Tim Brown said that his old Raiders head coach sabotaged the team's chances for winning Super Bowl XXXVII. This started a huge media blitz to see if there was any truth to what Brown had said. Tim Brown said, "It's hard to say Callahan sabotaged the Super Bowl. You know, can you really say that? That can be my opinion, but I can't say...
America's Team has decided to shake some things up and put Bill Callahan in charge of play calling, but are they putting a man in charge that sabotaged his own team on the biggest stage of sports? Yes, according to two of the most respected NFL receivers of all time - Tim Brown and Jerry Rice. Earlier today former Raiders receiver Tim Brown said that the new Cowboys play caller...
It seems that the 2002 Raiders aren't exactly seeing eye to eye 10 years after they made, and lost, the Super Bowl. On Monday, Tim Brown told SiriusXM NFL Radio that he believed Bill Callahan sabotaged Super Bowl XXXVII because he didn't like the Raiders' organization, and because he was friends with Jon Gruden, the head coach of the Buccaneers, Oakland's opponent in the...
The Oakland Raiders entered Super Bowl 37 against the Tampa Bay Buccaneers  with one of the best offenses and football and real shot to win that game. The Raiders were subsequently blown out 48-21 that day, and now some 10 years later according to Pro Football Talk, Hall Of Fame finalist Tim Brown is putting former Raiders coach Bill Callahan on blast, and suggesting that his former...
Three days after Tim Brown suggested that former Oakland Raiders coach Bill Callahan sabotaged his team in 2003, preventing them from winning Super Bowl 37, Brown's former teammate, Hall of Fame wide receiver Jerry Rice, supported Brown's comments. On Tuesday, Rice said on ESPN that he was surprised when Callahan changed the team's offensive gameplan three days before...
DALLAS-- Former Heisman trophy winner and NFL star Tim Brown dropped a bombshell of a story Monday on Sirius Radio, but he insists he's not breaking news. Apparently Brown has felt for years that current Dallas Cowboys offensive coordinator Bill Callahan sabotaged Super Bowl XXXVII as head coach of the Oakland Raiders, in part because of his disdain for the organization. During...
NFL News

Delivered to your inbox

You'll also receive Yardbarker's daily Top 10, featuring the best sports stories from around the web. Customize your newsletter to get articles on your favorite sports and teams. And the best part? It's free!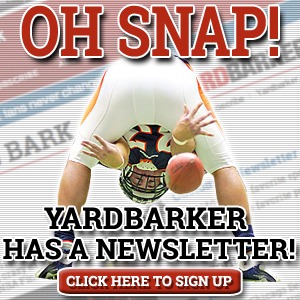 Latest Rumors
Best of Yardbarker

Today's Best Stuff

For Bloggers

Join the Yardbarker Network for more promotion, traffic, and money.

Company Info

Help

What is Yardbarker?

Yardbarker is the largest network of sports blogs and pro athlete blogs on the web. This site is the hub of the Yardbarker Network, where our editors and algorithms curate the best sports content from our network and beyond.