Found April 26, 2013 on Fox Sports Kansas City:
KANSAS CITY, Mo. If Davy Crockett were still alive today and also happened to be 6-foot-7 with a pair of steam shovels for arms he might be Eric Fisher. The No. 1 pick in the NFL Draft grew up in the woods, drove a beat-up old Ford pickup truck, fought off raccoons, sold firewood, once got a chainsaw as a gift from his Mom, and was raised in a log cabin. Well, OK, so maybe we're stretching it on the log cabin' part. "It wasn't really a log cabin," Eric Fisher, the newest Kansas City Chief, said this afternoon after being introduced to the local press corps. "It was an old house, I guess. It used to be a hunting lodge. It was built in 1940. It needs work every now and then. But we live on five acres and, you know, I was always the one doing the work." But the raccoon issues? Oh, yeah. Absolutely true. "There are all kinds of animals running around," Fisher replied with a grin. Yes, the Chiefs' first No. 1 pick overall is a self-avowed country boy in every sense of the term, a walking, hulking George Jones lyric. He was raised by a single mom in suburban Rochester, Mich., surrounded by wide-open spaces some 30 miles north of downtown Detroit. "I don't come from the sticks," Fisher chuckled. "But, you know, we've got a little bit of property. I enjoy that. I couldn't live in a subdivision." When he was of age and wanted his own ride, Fisher had to save up the money to buy a car for himself. So he did odd labor jobs anywhere he could, including a regular maintenance work lawn care, painting, you name it for an elderly couple down the road that happened to own a 20-acre property. Fisher eventually landed a 2002 Ford F-150, used, and ran that baby ragged. "I just sold it a couple months ago," the former Central Michigan star allowed. "But it was close to 200,000 miles. Yeah, I bought it when I was 16." At his core, Fisher is a substance type, crashing a style party. As a boy, Heidi Langegger imparted her son with three core principles: 1. You want anything bad enough, you're going to have to work for it. 2. Nothing's going to come free, and nothing's going to come easy. 3. Saw enough wood, you can make your dreams a reality. "I think two years ago, I bought him a chainsaw, and myself a smaller chainsaw," Fisher's mom recalled. "That's what we do." You saw the wood. You get your hands dirty. You own it. "And I think that's important," Langegger, who's slated to retire in June from a desk job with Volkswagen's warranty department after 33 years of service. "Especially nowadays, a lot of your young people feel that it's just a given and they don't realize all the privileges they are just being given. And I don't think that's in their best interest." It was exactly that mindset that, ironically enough, is going to make her kid very rich, very soon. When Big Ten schools passed on him as a skinny teen, Fisher carried the scar tissue with him and took it out on the rest of the Mid-American Conference. It proved to be the kind of healthy, salty abrasiveness that immediately appealed to Chiefs coach Andy Reid and general manager John Dorsey, who are trying to shake up the culture in a moribund Chiefs' locker room, piece by piece. "That chip ain't going anywhere," Fisher said, referring to the one on his shoulder. "I think that's a big reason why I am where I am. I'll be playing with a chip as a Chief." Sawing wood. After all, it's what they do. You can follow Sean Keeler on Twitter @seankeeler or email him at seanmkeeler@gmail.com
Original Story:
http://www.foxsportskansascity.com/nf...
THE BACKYARD
BEST OF MAXIM
RELATED ARTICLES
Eric Fisher is already making quite an impression in Kansas City. The first overall pick in Thursday night's NFL draft flew into town on Friday, and was met by numerous fans at the airport. He signed autographs and even did a few TV interviews. The whirlwind continued at the Chiefs' practice facility, where he was introduced to the coaching staff and some of his new teammates...
1. Kansas City Chiefs- Eric Fisher, OT, Central Michigan Fisher's draft stock has elevated quiet a bit since the Combine. While I've had Luke Joeckel going first overall, along with many other draft experts, since January, this pick isn't very surprising. While Fisher will be the Left Tackle of the future for the Chiefs, if [...] [[ This is a content summary only. Visit my...
Round One: Eric Fisher, OT, Michigan  I just don't understand why they took Fisher instead of Joeckel. Fisher is less polished and less experienced. When your drafting the first player of the draft, you can't take someone who has a shot at being a bust. It's not like he had a bigger ceiling than Joeckel either. Fisher is still a solid prospect, but he's just...
With the NFL Draft kicking off Thursday night; the top two players came off the board pretty much as the "experts" had predicted with Kansas City Chiefs drafting Eric Fisher, and the Jacksonville Jaguars taking Luke Joeckel.It was the Miami Dolphins that made the first big move when they traded picks with the Oakland Raiders to select linebacker Dion Jordan as the first game...
Here are eight things we gleaned from Round 1 of the NFL Draft, a quirky night of selections that resulted in seven offensive linemen and 10 D-line prospects coming off the board in the first 32 picks: 1. It's easy to feel indifferent about Eric Fisher (Chiefs), Luke Joeckel (Jaguars) and Lane Johnson (Eagles) going 1, 2, 4 To clarify, it's never a bad thing when NFL teams...
On this edition of Out of Bounds, we break down the Chiefs first round selection of Left Tackle, Eric Fisher and what's ahead for KC's offensive line and Branden Albert.
The first round of the NFL draft is in the books. he Kansas City Chiefs had the first overall pick and selected offensive tackle Eric Fisher of Central Michigan – yeah, I've never heard of him either but that's irrelevant now. What else happened during day 1? - Manti Te'o is still chilling waiting to be picked up. - The first seven picks were all lineman - No running backs...
The Kansas City Chiefs drafted Central Michigan tackle Eric Fisher with the first overall pick on Thursday. Luke Joeckel, the No. 2 overall selection, will not soon forget that. Joeckel had been the No. 1 prospect on a number of big boards in the weeks leading up to the NFL draft, but the Chiefs pulled a mild surprise by deciding to choose Fisher over his Texas A&M counterpart...
That smile will fade once Fisher realizes he is playing for the Chiefs. Since the Patriots did not make a pick in round 1, I thought I would rattle off some quick thoughts about how the first round played out from picks 1 to 32. 1. Eric Fisher is more athletic the Luke Joeckel but you can't go wrong with either player. Fisher just put the MAC conference and Central Michigan on...
So last night the 2013 NFL season official kicked off when the Kansas City Chiefs draft Eric Fisher, not Luke Joeckel with the #1 overall draft pick.  From there on out, 8 more offensive lineman were drafted in the 1st round and 18 defensive players, leaving us non IDP fantasy football players with just 5 offensive skill position players to look at.  If you are an IDP player and...
Covering Dixie Like Mildew - The SEC: All your crystal football are belong to us. Last night's NFL Draft was a big night for the SEC. There's nto enought time for the full rundown, but here are some links to some of highlights. First in line. Eric Aldeson explains first year Tennessee head football coach Butch Jones' involvement on former Central Michigan/new...
Eagles News

Delivered to your inbox

You'll also receive Yardbarker's daily Top 10, featuring the best sports stories from around the web. Customize your newsletter to get articles on your favorite sports and teams. And the best part? It's free!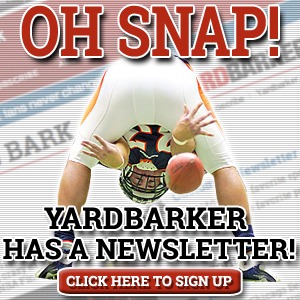 Latest Rumors
The Backyard

Today's Best Stuff

For Bloggers

Join the Yardbarker Network for more promotion, traffic, and money.

Company Info

Help

What is Yardbarker?

Yardbarker is the largest network of sports blogs and pro athlete blogs on the web. This site is the hub of the Yardbarker Network, where our editors and algorithms curate the best sports content from our network and beyond.