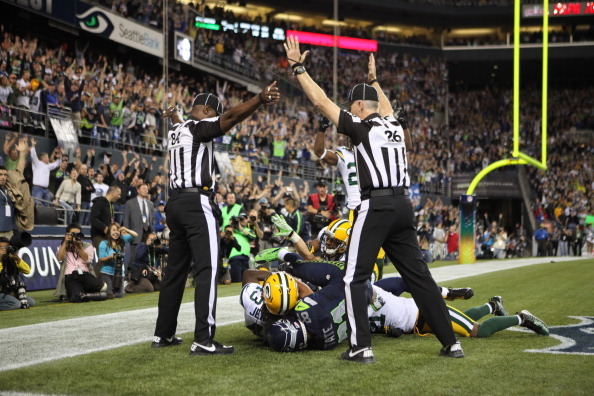 What are the odds of hitting 15-of-15 NFL picks (no spread) in a single week of football? Astronomical. That's why Gino DiFelice of Brantford, Ontario won $725, 274 for his perfect ticket in the Ontario Lottery (Proline). That's right, in Canada you can play NFL games instead of picking numbers. We're not experts on how the picks work, but once the replacement ref signaled touchdown, Gino cashed the huge ticket.
Some of the odd games that Gino had to nail to collect included: Vikings beating 49ers, Jags winning on the road at Indy and the Chiefs beating New Orleans – on the road.
According to Canadian media:
"Every week I do a ticket with my picks, and then I ask my kids (Mia, 12 and Marco, 10) who they like. I do one ticket each with their picks," DiFelice explained.
"The winner was the ticket my daughter consulted me on. The funniest part is, the ticket I made all of the picks myself, I only got four right."
Going into the Monday night game, DiFelice was well aware that one of his tickets was a perfect 14-for-14.
…
"I watched the last 1:48 and that's about it," he said. "I couldn't watch the rest of the game. I had the ticket sealed in an envelope and nobody knew until after the game until I told them.
"When the play was under review I couldn't believe what was happening. When the call was made, I went nuts. I ripped open the envelope to show them. They couldn't believe it."
Looking at the ESPN NFL analyst picks for Week 3, we notice that not a single expert had the Chiefs or Vikings winning. Only Chris Mortensen picked Jacksonville. Only one expert had Tennessee winning at home, as did Gino DiFelice.
Just an idea: ESPN gets Gino to pick games this week while he's hot.
[Ontario man wins $725,274 thanks to botched Packers-Seahawks call]
Filed under: Football
Read the rest of this story...
MORE FROM YARDBARKER

NFL News

Delivered to your inbox

You'll also receive Yardbarker's daily Top 10, featuring the best sports stories from around the web. Customize your newsletter to get articles on your favorite sports and teams. And the best part? It's free!