Found June 06, 2012 on Crystal Ball Run:
Give credit to the powers that be in college football: They won't make the same mistake twice. That's because after all the controversy that surrounded the first LSU-Alabama game during the 2011 season, there will be no such drama in 2012. The SEC's two best teams will play at night, in Baton Rouge, in CBS's game of the week on Saturday, November 3, 2012. And to quote Terrell Owens, it might be time to "Get Ya Popcorn Ready!" CBS made the move official earlier this morning, sending out a press release which highlighted a handful of key dates: CBS Sports kicks off its 12th consecutive season of national coverage of Southeastern Conference Football on Saturday, Sept. 15 (3:30-7:00 PM, ET). In its fourth year of a 15-year agreement with the SEC, CBS Sports continues to be the exclusive national network broadcaster of SEC home football games, including the SEC Championship Game. In showcasing the top conference match-ups in the package, CBS Sports will broadcast the "SEC Game of the Week." The SEC ON CBS schedule features a total of 15 games during the network's 12-week season, highlighted by a rematch of Alabama vs. LSU in prime time on Saturday, Nov. 3 (8:00 PM, ET), as well as the SEC Championship on Saturday, Dec. 1.  CBS Sports kicks off the season on Saturday, Sept. 1 (9:00 AM, ET) with Notre Dame vs. Navy from Aviva Stadium in Dublin, Ireland.  In addition to the SEC, CBS Sports also will broadcast Navy at Air Force for the second consecutive year on Saturday, Oct. 6 (11:30 AM, ET), the annual Army-Navy game on Saturday Dec. 8, and the 78th annual Sun Bowl on Monday, Dec. 31. But really, the story here is that the game that everyone wants to see, will be in the timeslot that everyone wants it in: Under the lights, on the Bayou. No questions asked. No rearranging TV schedules. No putting Verne Lundquist on the night shift without his pre-approval. Alabama and LSU will be played for all of the college football world to see. And as easy as it is to remember all the controversy in the lead-up to last year's BCS National Championship Game between the two schools, it's just as easy to forget that there was plenty of controversy in the lead-up to the first game. At the time, no one could totally figure out when, or on what network the game would be played. For those who don't remember, the gist of the story goes like this: Per contractual agreement, CBS has first selection of the biggest game of the SEC schedule every week of the season. The problem is, that per their contract they are also only allowed one night game per season, a privilege which they gave to an otherwise forgettable Alabama-Florida game in early October. That game turned into a 38-10 laugher that was basically over by the middle of the second quarter. But because the network rolled the dice on Tide-Gators early in the season, by the time LSU-Alabama came around, CBS and the SEC were in a pickle. Everyone wanted the game at night (as opposed to the traditional CBS, 3:30 p.m. EST kickoff), but the network had already used their one night game of the season. Eventually a deal was worked out where CBS got to play the game at night, and ESPN- which usually hosts SEC night games- got "future scheduling considerations." Whatever that means. Regardless, there should be no such controversy in 2012, as CBS has pre-scheduled Alabama and LSU in their one allotted night game. And oh, what a game it will be. On paper, these appear to be far and away the two best teams in the conference, and as fans we could be in for the second "Game of the Century" in as many years in Baton Rouge in early October. LSU returns stars at basically every position except for quarterback, and will likely enter the season no worse than No. 2 in most major polls. With plenty of talent returning in their own right, Alabama should start out the year in the Top 5, and could easily be undefeated when the two get together. As for the rest of CBS's schedule, it appears to be business as usual for the network. The traditional Georgia-Florida "Cocktail Party" has already been written in stone for 3:30 p.m. EST on October 27, and it also appears as though LSU-Arkansas will remain in its spot on the day after Thanksgiving, just like last year. In non-SEC affairs, the most intriguing matchup is definitely a 9 a.m., opening morning game between Notre Dame and Navy from Dublin. All remaining SEC games on CBS will be announced at a later date, as the network usually waits until a week or two beforehand to pick the best possible matchup. For all his articles, opinions and insights into college football, please follow Aaron on Twitter @Aaron_Torres. [Follow]
Original Story:
http://bloguin.com/crystalballrun/201...
THE BACKYARD
BEST OF MAXIM
RELATED ARTICLES
Getty Images Former NFL wide receiver Terrell Owens decided to move on from his long-time agent Drew Rosenhaus and sign Jordan Woy to represent him, in hopes of getting back into the NFL this season. "I am making changes in my life so I can continue my career as a professional football player," Owens said in a statement he released. "I love the game of football and I know...
BAD IDEA TEXTING
According to a court filing, Terrell Owens allegedly sent "several taunting text messages" to a mother of one of his children "regarding his failure to pay child support."
Former undisputed heavyweight champion "Iron" Mike Tyson said unemployed wide receiver Terrell Owens deserves zero compassion for his financial woes during a recent interview on 97.5 The Fanatic in Philadelphia with Mike Missanelli. The 38-year-old Owens, a five-time All-Pro selection … Continue reading →
That former Dallas Cowboys star wide receiver Terrell Owens would be on the verge of financial and personal ruin is one of the least surprising stories of the past couple of weeks. He plays the victim's role better than anyone in the history of the NFL, and so it's predictable he would blame his issues on everyone else, including the media. Owens announced Tuesday he was...
My how things change. A few weeks after saying he had parted ways with longtime agent Drew Rosenhaus, Terrell Owens announced that he has found new representation. T.O. has signed with Jordan Woy of Willis & Woy Sports Groups with the goal of returning to the NFL for the upcoming season. "I am making changes in my life so I can continue my career as a professional football...
This NFL offseason has been rough for veteran wide receiver Terrell Owens. Owens appeared on the Dr. Phil show and was simply hammered. He found himself being cut by an indoor football team, with the team forcing him out of the home they provided for him along with the team provided Jeep Wrangler. But the worst part of this offseason for Owens has been the fact he is garnering no...
'NEXT QUESTION'
The wide receiver announced on his website that he is "making changes in his life" and that apparently includes severing ties with his longtime agent, Drew Rosenhaus.
When news came out that Terrell Owens had left agent Drew Rosenhaus in favor of Jordan Woy, an agent based out of Dallas, I had a couple of thoughts. First, Drew Rosenhaus is probably thrilled that he doesn't have to represent Terrell Owens anymore. Rosenhaus can't exactly make a lot of money when his client isn't getting any job offers. Frankly, if I was Rosenhaus, I...
Jamie Squire / Getty Images Throughout the Philadelphia Eagles' franchise history, there have been a number of players who've donned green and made us fans extremely proud. While other players like Terrell Owens have enjoyed tremendous success, they've also proved to be nothing more than a distraction and team cancer. However, this is more about the good than the bad. So with...
Terrell Owens announced Monday that he has ended his business relationship with longtime agent Drew Rosenhaus and has hired Jordan Woy. Woy, who is based in Dallas, also represents Cowboys outside linebacker Anthony Spencer, kicker Dan Bailey and defensive ends Jason Hatcher and Kenyon Coleman. "I am making changes in my life so I can continue my career as a professional football...
Most people are aware of Terrell Owens' recent struggles ranging from financial, to being cut by the Indoor Football League team, to not being able to land on an NFL roster. Owens has now reportedly fired long-time agent Drew Rosenhaus. "I am making changes in my life so I can continue my career as a [...]
Bengals News

Delivered to your inbox

You'll also receive Yardbarker's daily Top 10, featuring the best sports stories from around the web. Customize your newsletter to get articles on your favorite sports and teams. And the best part? It's free!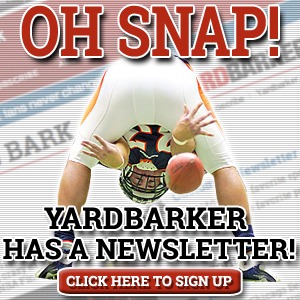 Latest Rumors
Best of Yardbarker

Today's Best Stuff

For Bloggers

Join the Yardbarker Network for more promotion, traffic, and money.

Company Info

Help

What is Yardbarker?

Yardbarker is the largest network of sports blogs and pro athlete blogs on the web. This site is the hub of the Yardbarker Network, where our editors and algorithms curate the best sports content from our network and beyond.