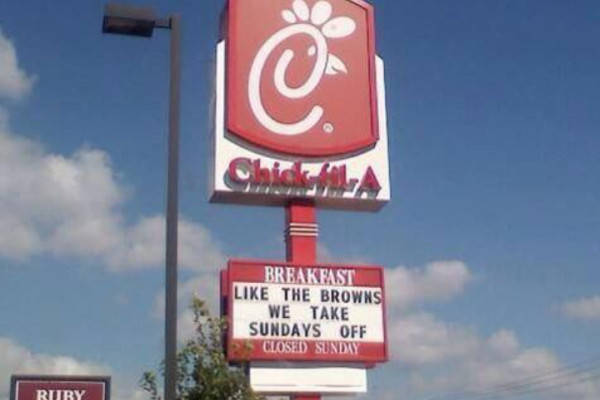 The restaurant chain Chick-fil-A closes all of its stores on Sundays, but one of their owners used that fact and turned it into a clever joke about the Cleveland Browns. The sign outside the store was changed to read "LIKE THE BROWNS, WE TAKE SUNDAYS OFF". No word yet if this restaurant was located near Pittsburgh, or whether this sign represents the views of the entire Chick-fil-A chain. H/T Sports Pickle. Visit us at holdoutsports.com and follow us on Twitter @HoldoutSports.
Read the rest of this story...
MORE FROM YARDBARKER

NFL News

Delivered to your inbox

You'll also receive Yardbarker's daily Top 10, featuring the best sports stories from around the web. Customize your newsletter to get articles on your favorite sports and teams. And the best part? It's free!