Found July 22, 2013 on Fox Sports Kansas City:
PLAYERS:
Andy Reid
,
Eric Fisher
,
Tony Moeaki
,
Donnie Avery
,
Shaun Draughn
,
Romeo Crennel
,
Scott Pioli
,
Jovan Belcher
,
Clark Hunt
,
Alex Smith
,
Knile Davis
TEAMS:
Philadelphia Eagles
,
Kansas City Chiefs
,
Green Bay Packers
ST. JOSEPH, Mo. -- The Kansas City Chiefs began arriving on the campus of Missouri Western for their first training camp under coach Andy Reid on Monday, toting into the dorms everything from flat-screen TVs to box fans to combat the heat and humidity. Rookies and quarterbacks were due in ahead of the full squad, which will begin practice in earnest on Friday. But absent from the trail of players trickling in was Eric Fisher, the No. 1 overall pick in April's draft and the presumptive starter at right tackle. Fisher still has not signed a contract, even though a rookie wage scale put in place in the latest collective-bargaining agreement takes much of the drama out of the negotiations. Reid said that general manager John Dorsey and Fisher's agent, Joel Segal, are talking but that he doesn't know when the former Central Michigan standout will report to camp. "I'd expect that to progress here and we'll see how it all works out," Reid said. "I can't really give you a time. I'm really not going to talk about contracts. That's just not what we do. But they are working through it, and that's important. There's communication." Fisher attended the Chiefs' entire offseason program in Kansas City, including a three-day rookie minicamp, and said at the time he wasn't concerned about when a deal would get done. "You'd love him tonight, that's what you'd love, but I understand how these things go," Reid said. "I don't worry too much about it. I try to concentrate on the guys who are here, and we go with it. And listen, as long as there's communication going on, I know it'll get done." Reid said several players who were dealing with injuries during the offseason program - among them tight end Tony Moeaki, wide receiver Donnie Avery and running back Shaun Draughn - checked into camp along with the rookies and quarterbacks and will be on the field. Each of them has passed a physical and will be allowed to practice. "We're looking forward to getting started," Reid said. "Get them on the field tomorrow and have a short practice, and then a walk-through in the afternoon, and then meetings in between. We'll do that for three days. We have selected vets in, that means the quarterbacks are here, and injured players. ... There are a few of those here." There's little time to waste in Reid's first training camp with the Chiefs. The franchise is coming off one of the most abysmal seasons in NFL history, one that resulted in a 2-14 finish and the dismissals of coach Romeo Crennel and GM Scott Pioli. Along the way, the team weathered an ugly fan revolt and a grisly murder-suicide involving linebacker Jovan Belcher, who killed the mother of his child before shooting himself at the team's practice facility. Not long after the season ended, Chiefs chairman Clark Hunt swiftly overhauled the entire organization, promising to take a more hands-on role in the franchise founded by his father. He hired Reid just days after he was let go by the Eagles, and then plucked Dorsey from the Green Bay Packers, where he had helped build one of the most stable franchises in the league. Together, the new brain trust rebuilt a roster that featured six Pro Bowl players but enough holes to finish in the bottom of the AFC West. They traded for quarterback Alex Smith, signed a slew of veteran free agents, and then used the No. 1 overall pick in the draft on Fisher. It's time now to see the product they put together on the field. "Look at the coach, the first pick last year. The NFL is the best of the best," said running back Knile Davis, the Chiefs' third-round draft pick. "Anything can happen, and we're only looking at good things happening in Kansas City." The Chiefs will practice primarily in the mornings, a departure from the past, in an attempt to beat the heat and humidity of St. Joseph. The afternoons will be reserved for walk-throughs and meetings as the team tries to jell ahead of its preseason opener Aug. 9 at New Orleans. Their first regular-season game is Sept. 8 at Jacksonville. It can't come soon enough, either. "The entire locker room is hungry. Expectations are high and I think that's a good thing," said Smith, wiping a bit of sweat off his brow while standing in the shade of Scanlon Hall. "The fun thing now is that we'll put the pads on and get to playing real football."
Original Story:
http://www.foxsportskansascity.com/nf...
THE BACKYARD
BEST OF MAXIM
RELATED ARTICLES
The Kansas City Chiefs hit the ground running practicing their 'hurry up' offense. According to Randy Covitz of the Kansas City Star, quarterback Alex Smith led the practice which was passing only. Smith looked good connecting to various receivers and tight ends. The Chiefs' first full-squad practice of training camp is Friday Covitz writes 'The Chiefs ran their hurry...
The Kansas Chiefs now have a proven coach and quarterback in Andy Reid and Alex Smith in the two pivotal spots for any NFL team. Kansas City sent six players to the Pro Bowl and having that kind of talent needs a coaching staff that knows how to utilize it. There's good players to work with on defense, and Reid and Smith should bring leadership to an offense that can be built...
ST. JOSEPH, Mo. -- The round hole arrived at the sweatbox around 2-ish, followed not long after by the square peg, who sported a nifty beard, a long-sleeved shirt and black pants, all fairly bad ideas for St. Joe in late July. "Camp is camp," Alex Smith said. And heatstroke is heatstroke. But we digress. Because no matter how you slice it, the Kansas City Chiefs'...
ST. JOSEPH, Mo. -- Kansas City Chiefs safety Sanders Commings fractured his left collarbone in his first practice of training camp when he landed on it while trying to defend a pass. The fifth-round draft pick jumped to defend tight end Tony Moeaki and landed hard on one of the practice fields at Missouri Western State University on Tuesday. Commings immediately walked off the field...
The Kansas City Chiefs are still talking with the agent for No. 1 overall pick Eric Fisher, but the right tackle has yet to sign a contract and has not reported to training camp. Rookies, quarterbacks and injured players reported to the Chiefs' camp headquarters on the campus of Missouri Western on Monday, giving them a few days of extra work before the full squad reports on...
The Kansas City Chiefs have restructured their player engagement department less than a year after one of their players was involved in a murder-suicide near Arrowhead stadium. Kirsten Krug, the Chiefs' vice president of administration, will oversee the department. She will work alongside B.J. Stabler, who has experience in crisis management. Last season, Chiefs linebacker...
The first pass that Alex Smith threw on Tuesday was to Tony Moeaki, who might have a hard time making the Kansas City Chiefs after an injury-plagued start to his career. Then came passes to Tyler Shoemaker, Rico Richardson and Junior Hemingway. It was about as modest of a start as you could get to Smith's first training camp with the Chiefs - a bunch of throws to wide receivers...
The thousands of fans heading north on Interstate 29 to catch some of the Kansas City Chiefs' training camp the next few weeks would be wise to bring along an updated roster. There's a new quarterback in Alex Smith being protected by a new right tackle in Eric Fisher, the first overall pick in April's draft. Wide receiver Donnie Avery and tight end Anthony Fasano were...
From the Bucs communications department: The Tampa Bay Buccaneers announced today the signing of running back Peyton Hillis to a one-year contract. Hillis (6-2, 250) enters his sixth year in the NFL, having played in 65 games with 33 starts, totaling 597 rushes for 2,470 yards (4.1 avg.) and 21 touchdowns, while catching 111 passes for 867 yards and three touchdowns. Hillis ranked...
Jenna Laine of Sports Talk Florida reports that the Buccaneers will bring in free agent RB Peyton Hillis for a workout on Tuesday. Hillis, 27, signed a one-year deal with the Chiefs last year, but wound up seeing very little playing time. He finished the year with 85 carries for 309 yards and a single touchdown. There has been almost no buzz surrounding Hillis this offseason...
Formerly of the Chiefs and Browns, RB Peyton Hillis was considered a fantasy breakout candidate in 2011 after carrying the ball for Cleveland 270 times for 1,177 yards and 11 scores in 2010. A Madden-cover birth did no favors for Hillis as he skid between injuries and only found the end zone 3 times in 2011 and only once in 2012 (KC).Hillis is likely a benefactor of the NFC arms...
NFL News

Delivered to your inbox

You'll also receive Yardbarker's daily Top 10, featuring the best sports stories from around the web. Customize your newsletter to get articles on your favorite sports and teams. And the best part? It's free!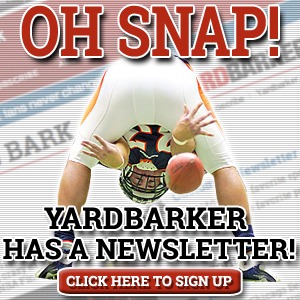 Latest Rumors
The Backyard

Today's Best Stuff

For Bloggers

Join the Yardbarker Network for more promotion, traffic, and money.

Company Info

Help

What is Yardbarker?

Yardbarker is the largest network of sports blogs and pro athlete blogs on the web. This site is the hub of the Yardbarker Network, where our editors and algorithms curate the best sports content from our network and beyond.