Found January 28, 2013 on Purple Jesus Diaries:
Literally RIGHT after I finished writing this blog post title, I thought to myself, "Wait, what the hell is Chris Kluwe doing in Hawaii during the Pro Bowl? He wasn't a Pro Bowl selection. He's not even playing in the game!" And this is all true. I guess that was part of Blair Walsh being one of the coolest people since Sinatra when he decided to bring Cullen Loeffler to Hawaii because of his own Pro Bowl selection. Maybe he decided not only to bring his long snapper, but also his holder. If so, how nice of him. And because of it, woo hoo! We get a Shirtless Chris Kluwe on a Monday! I don't really know or have any context for any of this. All I know is that Kluwe shared pictures of himself and his wife on Twitter while they were chillin' out maxin', probably relaxing really cool-like in Hawaii this past weekend. If you go check his Twitter feed, you see that he was experimenting with lots of sexy island drinks, which including probably too much fruit for the typical testosterone pumping football fan, but god dammit if they aren't delicious. More importantly though, Kluwe shared a picture of his bicep: Which he alluded to being super beefy thanks to his 36 hour marathon of playing Final Fantasy 7. Wondering how playing tons of video games gives you massive biceps? So is ever other nerd in the world. The other picture is the one you saw at the beginning, of Chris Kluwe and his wife posing with a bunch of Disney mascots. It's both equal parts adorable and frightening. Kluwe said he took the picture for his kids, but I suspect lies. Won't his kids just be jealous that their mom and dad got to take pictures with Goofy and Mini Mouse while they sat at home with a babysitter? ****, I would be. Also, it looks like Kluwe's wife is primed up to hit Mini in the FUPA if she tries any charm moves on Chris. Smart lady. Anyway, Pro Bowl. Something happened, nobody cared. Here we are. Be thankful for what we have in shirtless pictures. The end. [follow]
Original Story:
http://www.purplejesusdiaries.com/201...
THE BACKYARD
BEST OF MAXIM
RELATED ARTICLES
Rule #1 of the internet: Never, ever, trust it or anyone hanging out on it. Especially those participating in message boards and chats. NFL commissioner Roger Goodell missed this memo, as Minnesota Vikings punter Chris Kluwe clowned on him in a Reddit discussion thread. Admit, you've been RickRoll'd. If you deny it, you probably won't admit to getting your butt whooped at least...
LOL, WUT. True story. Adrian Peterson loves orange peanuts, especially when they are for him. Then, he accepts you.  If any of that is confusing, then you need to watch the video after the jump - in it's entirety - and then this picture will become Exhibit A in why Adrian Peterson is the coolest sack of flesh and bones to ever grace the turf.  "An orange...
Donald Driver doesn't want to leave Green Bay, but football is a business and he knows it may be different colors he adorns in 2013. At 38, Driver still feels he can be a very productive receiver despite logging 77 yards and 2 touchdowns in 2012. The Minnesota Viking has a legitimate interest in the veteran, and they also have plenty of room for him to come in and play a key...
AN MVP FOR ME?
Minnesota Vikings running back Adrian Peterson is certain that he's won the NFL MVP award. He's likely battling Peyton Manning for it.
The Minnesota Vikings surprised the NFL world this year by reaching the playoffs. The Vikings did so however on the legs of Adrian Peterson, not on the arm of QB Christian Ponder. The quarterback play in Minnesota heads into the 2013 season with several question marks surrounding the position. One question surrounding the position next year might be, who will be the backup to Christian...
HONOLULU -- Shortly before halftime Sunday Kyle Rudolph cradled a lofted touchdown pass to the corner of the end zone. A couple hours later, Rudolph got his hands on a Pro Bowl MVP trophy. Rudolph highlighted the Minnesota Vikings contingent's night at the NFL's Pro Bowl Sunday, as he hauled in five receptions for 122 yards and one score to earn the game's top individual...
EDEN PRAIRIE, Minn. While the coaching carousel has been spinning feverishly in the NFL this month, there has been little news with the Minnesota Vikings coaching staff. For a team that has seen its share of turnover in recent years, the silence is probably being enjoyed. Other than interviews for special teams coordinator Mike Priefer and Mike Singletary, the co-linebackers coach...
Kyle Rudolph wasn't the only Viking that had a good Pro Bowl showing. Several Vikings made key contributions and promoted the theme of the night – that players were giving appropriate effort.
Tight end Kyle Rudolph highlighted a strong Vikings performance at the Pro Bowl. Rudolph had five catches for 122 yards and touchdown to win the MVP award.
Stiff competition doesn't happen too often at the Pro Bowl. But this year, with the two main contenders for the MVP award suiting up for opposite sides, the game has extra intrigue. Adrian Peterson and Peyton Manning both had solid years after coming back from injuries that appeared likely to limit — if not end — their careers. They're now the frontrunners for the league...
Former Eagles quarterback Donovan McNabb is adding a new role to his burgeoning media career.  After joining NFL Network in the fall, McNabb is now linking up with the upstart NBC Sports Radio as their "NFL lead analyst."  McNabb will also be a major part of a daily show that begins in April once the radio network launches full-time programming.  Details via NBC... ...
This time next week, we'll know who won the Super Bowl, and we can rightfully turn our attention to Kentucky Derby prep. So the Pro Bowl was a thing that actually happened yesterday. This may have been the worst game ever. Like a middle school game, actually. One other note on the Pro Bowl. Kyle Rudolph won the Pro Bowl MVP, which was the trophy the Vikings were going for this...
Vikings News

Delivered to your inbox

You'll also receive Yardbarker's daily Top 10, featuring the best sports stories from around the web. Customize your newsletter to get articles on your favorite sports and teams. And the best part? It's free!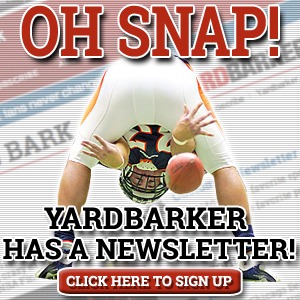 Latest Rumors
Best of Yardbarker

Today's Best Stuff

For Bloggers

Join the Yardbarker Network for more promotion, traffic, and money.

Company Info

Help

What is Yardbarker?

Yardbarker is the largest network of sports blogs and pro athlete blogs on the web. This site is the hub of the Yardbarker Network, where our editors and algorithms curate the best sports content from our network and beyond.