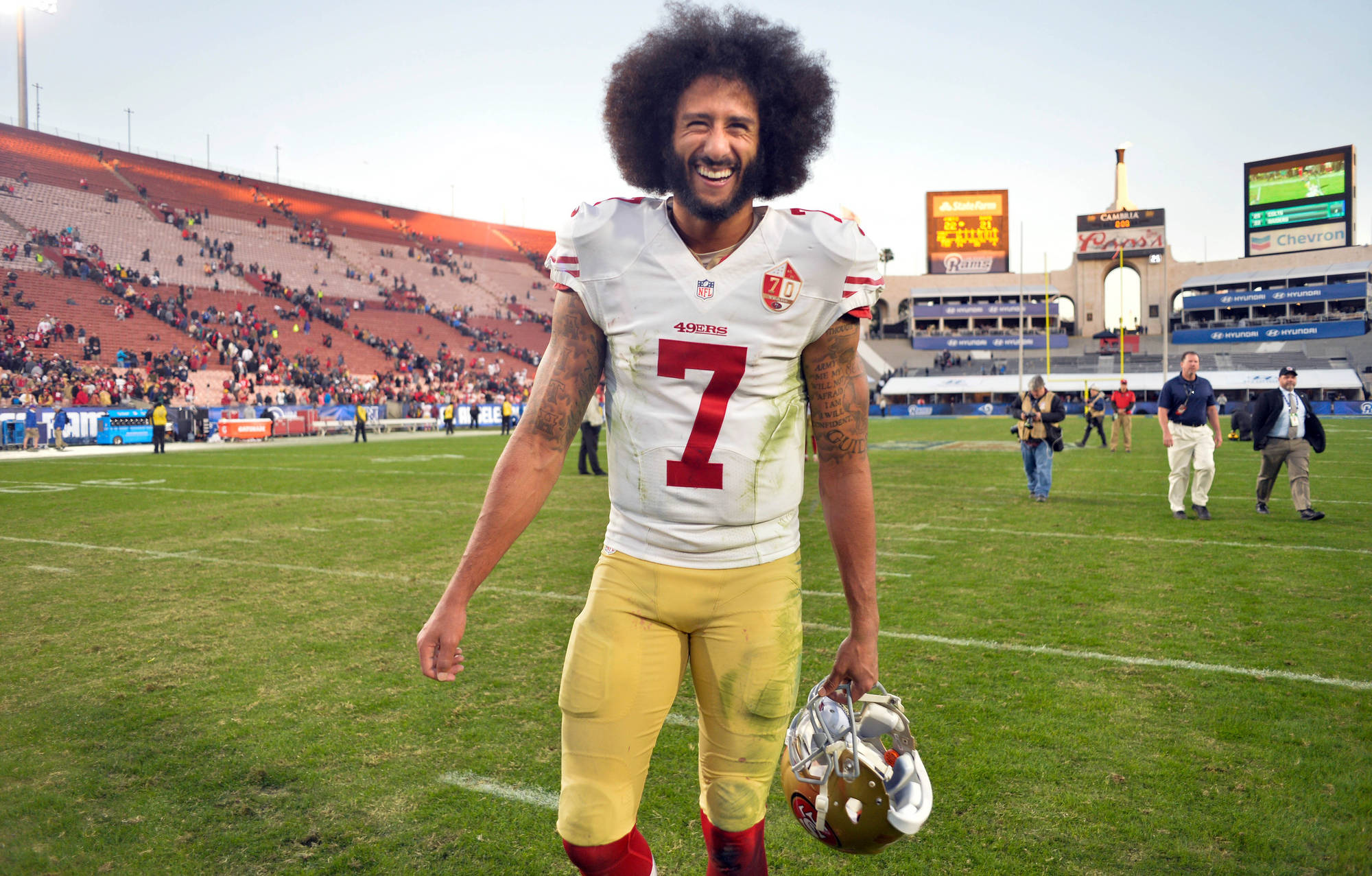 Dec 24, 2016; Los Angeles, CA, USA; San Francisco 49ers quarterback Colin Kaepernick (7) smiles after a 22-21come-from-behind win over the Los Angeles Rams at Los Angeles Memorial Coliseum. 
Robert Hanashiro-USA TODAY Sports
Colin Kaepernick's trainer is pushing back against the narrative that he doesn't really care about his NFL future.
Josh Hidalgo, who has been training the quarterback this offseason, gave a strong defense of Kaepernick, saying the free agent is still preparing as if he's holding down an NFL starting job.
"Colin has been there since January, training with me five days a week," Hidalgo told Peter King of the MMQB. "We have been getting ready for football as if he was a starting quarterback for an NFL team. When I read that people don't know if Colin wants to play football … this guy's been doing it five hours a day, five days a week, like he has a starting NFL job. And we don't take days off.
"This isn't a normal off-season, obviously. We are leaving no stone unturned. Working out, sleeping, eating, massages, getting ready to do it again the next day. Colin is not a guy at the clubs … He is in the gym. We knew he was going to be dissected. We knew any chink in the armor was going to be dissected, so there are no chinks in the armor. We knew this was the be-all, end-all for us. Colin came in around 220 pounds; he lost all that weight last year because he was recovering from three surgeries. And now he's 230, a solid 230, and he's eating perfectly. He is putting extremely clean nutrients in his body. He does not put any garbage in his body. He believes in clean fuel."
Hidalgo invited any NFL teams skeptical of Kaepernick's commitment to come watch him work.
Kaepernick has been dogged by rumors and whispers that he prefers activism to football. His trainer obviously thinks this couldn't be further from the truth. 
Recent reports have linked the former 49ers quarterback to the Seattle Seahawks, where he would be second string to Russell Wilson.
MORE FROM YARDBARKER
49ers News

Delivered to your inbox

You'll also receive Yardbarker's daily Top 10, featuring the best sports stories from around the web. Customize your newsletter to get articles on your favorite sports and teams. And the best part? It's free!