Found October 23, 2012 on 60 Max Power O:
By the off chance that you've been cryogenically frozen for the past seven weeks, here's a quick update on the Dallas Cowboys 2012 season. They dismantled the New York Giants in week 1, got manhandled by Seattle in week 2, won a not-as-close-as-it-looks game against Tampa Bay in week 3, got manhandled again by Chicago in week 4, and then were able to wrestle defeat from the hands of victory against the Baltimore Ravens in week 6. 
Going into week 7, the Dallas Cowboys faced a must-win early season game against the dismal Carolina Panthers. As long as Dallas could march into Charlotte and stomp on the feeble kitties of Carolina then they'd be just fine, back to .500 and ready to start the season anew. Strangely enough, that's not exactly what happened.
Look familiar? (Ron Jenkins/ MCT)
Well yes, they did manage to win the game and get their record back to 3-3. And yes, they did so with an efficient and turnover-free game from their quarterback. And sure, they finally forced a few turnovers and played stout defense for the majority of the afternoon. But look at the big picture! This game wasn't easy, and so the Dallas Cowboys have been tossed to the scrap heap by the local media.
Fire Jason Garrett! Cut Felix Jones! Trade Dez Bryant! If you didn't know better, you'd think that a raucous mob with torches and pitchforks would be descending upon Valley Ranch like a hoard of zombies from the show "Walking Dead". But today, we urge you to relax and remember the one simple truth that the NFL of 2012 has to offer: It's never easy.
There are a grand total of 7 teams in the NFL that have less losses than the Dallas Cowboys. 14 teams have more losses than them. In the 8 divisions, the Cowboys record would have them in 1st place in one of them (AFC West) and 2nd place in 5 of them, including the NFC East. Parity rules the NFL today more than it ever has, and the records prove it. Sure, Carolina is a bad team. But we're willing to bet that the Falcons (30-28 W) and the Seahawks (16-12 W) were both happy to beat the Panthers by less points than we did. 
And let's take a look at the 3 Dallas losses this year. First off, a loss to Seattle in Seattle. The same place, mind you, that teams like the Green Bay Packers and the New England Patriots have lost games this year. Okay, so maybe a little leeway on that one. And then there was Chicago. The Bears have lost a grand total of one game this year. Oh, and the current ESPN headline at the time of this article asks the question: Are the Bears the best team in the NFL? Okay, so maybe another pass on that one. And finally, Baltimore. Sometimes, the way you lose games is so much worse than actually losing them. When the schedule came out last winter, did anyone out there look at that game and say "Yes! There's a Cowboys win!"? No. It would've been fantastic to pull that one out, but the team was really no worse off for dropping that one than they were before dropping it. 
So here we are in week 8, the defending champion New York Giants coming to town. Go ahead and believe what ESPN and "Ben and Skin" say when they tell you we're going to get shelled if you choose. But you won't find that talk here. This incarnation of the Dallas Cowboys was built with one vision in mind: Beat the New York Giants. All of the money spent on the secondary was spent to stop Hakeem Nicks and Victor Cruz. The high draft pick of Tyron Smith was done to stop the likes of JPP, Osi, and Justin Tuck. The Cowboys have yet to beat the Giants in their new palace; do you think that's going to be on their minds this week?
And one last thing. The Giants are not invincible. They've looked great in two games this season, against the 49ers and against those sad, sad Panthers. The other 5 games? Well they lost to the (apparently atrocious) Cowboys, were forced to make frantic comebacks against the Bucs and Redskins, lost to the Eagles, and fell behind by two touchdowns in the opening quarter against the Browns. Does that sound like an unbeatable squad? No. No it doesn't. Go ahead and write off the Dallas Cowboys if you want. We're not ready yet.    
Check out other great articles at Sports Media 101.
Original Story:
http://www.60maxpowero.com/patriots/c...
THE BACKYARD
BEST OF MAXIM
RELATED ARTICLES
SWITCHING SIDES
Washington Redskins coaching legend Joe Gibbs visited the Dallas Cowboys at the team's hotel in Charlotte on Saturday and gave the team a motivational pep talk.
Dallas Cowboys running back Felix Jones wasn't on the field at the end of yesterday's win over the Panthers because of a bruised knee.  He also suffered a neck strain earlier in the game.Phillip Tanner came in for Jones when he went down, but only gained four yards on three carries.The Cowboys and running back DeMarco Murray (foot0 are hopeful that he'll return  in time for...
BUCK UP, DOUBLE-J!
Cowboys owner Jerry Jones is worried about his team's upcoming match-up with the New York Giants because of injuries, saying, "we wanted all hands on deck."
It is difficult to find trends of success through 6 games from this Cowboys' offense. In week 1, they did many things very well and looked balanced and competent. Since then, the Garrett-Romo offense has been anything but consistent, with a horrendous performance in Seattle, near absence against Tampa Bay, a turnover machine versus Chicago, and then a power-running team against...
Dallas Cowboys linebacker Sean Lee is facing surgery on his right big toe. According to several reports Tuesday night, including one on the team's own website, Lee has ligament damage in his toe that will require surgery and could end his season. Lee, the team's leading tackler with 58 stops, got hurt in the second half of Sunday's win at Carolina. He was on crutches...
The Dallas Cowboys now have a chance to make a significant move in the NFC East. After an imperfect win at Carolina, the Cowboys (3-3) play four of their next six games against division opponents. That stretch starts Sunday at home against the NFC East-leading New York Giants, who have won four of five games since their season-opening loss at home to Dallas. Linebacker DeMarcus...
Demarco Murray isn't quite ready to play. According to reports the Cowboys lead back will be given another week to recover from the foot injury sustained in week 6. That means that Felix Jones should start vs. the Giants and Philip Tanner will play a role as well.
TweetThe New York Giants (5-2) and Dallas Cowboys (3-3) meet week 8 of this 2012 season for an NFC East showdown. New York comes into this game in sole possession of first place and with an opportunity to really hurt the Cowboys. A win would be the GMEN's second divisional win but it would also [...]
Safety Antrel Rolle says the Giants will be looking for revenge against the Cowboys this week after losing to them back in week 1. "Obviously Dallas beat us the first … Continue reading »
Cowboys News

Delivered to your inbox

You'll also receive Yardbarker's daily Top 10, featuring the best sports stories from around the web. Customize your newsletter to get articles on your favorite sports and teams. And the best part? It's free!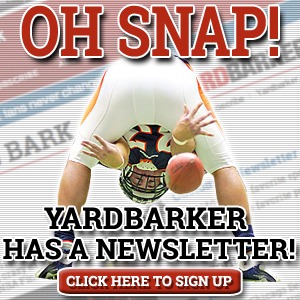 Latest Rumors
Best of Yardbarker

Today's Best Stuff

For Bloggers

Join the Yardbarker Network for more promotion, traffic, and money.

Company Info

Help

What is Yardbarker?

Yardbarker is the largest network of sports blogs and pro athlete blogs on the web. This site is the hub of the Yardbarker Network, where our editors and algorithms curate the best sports content from our network and beyond.