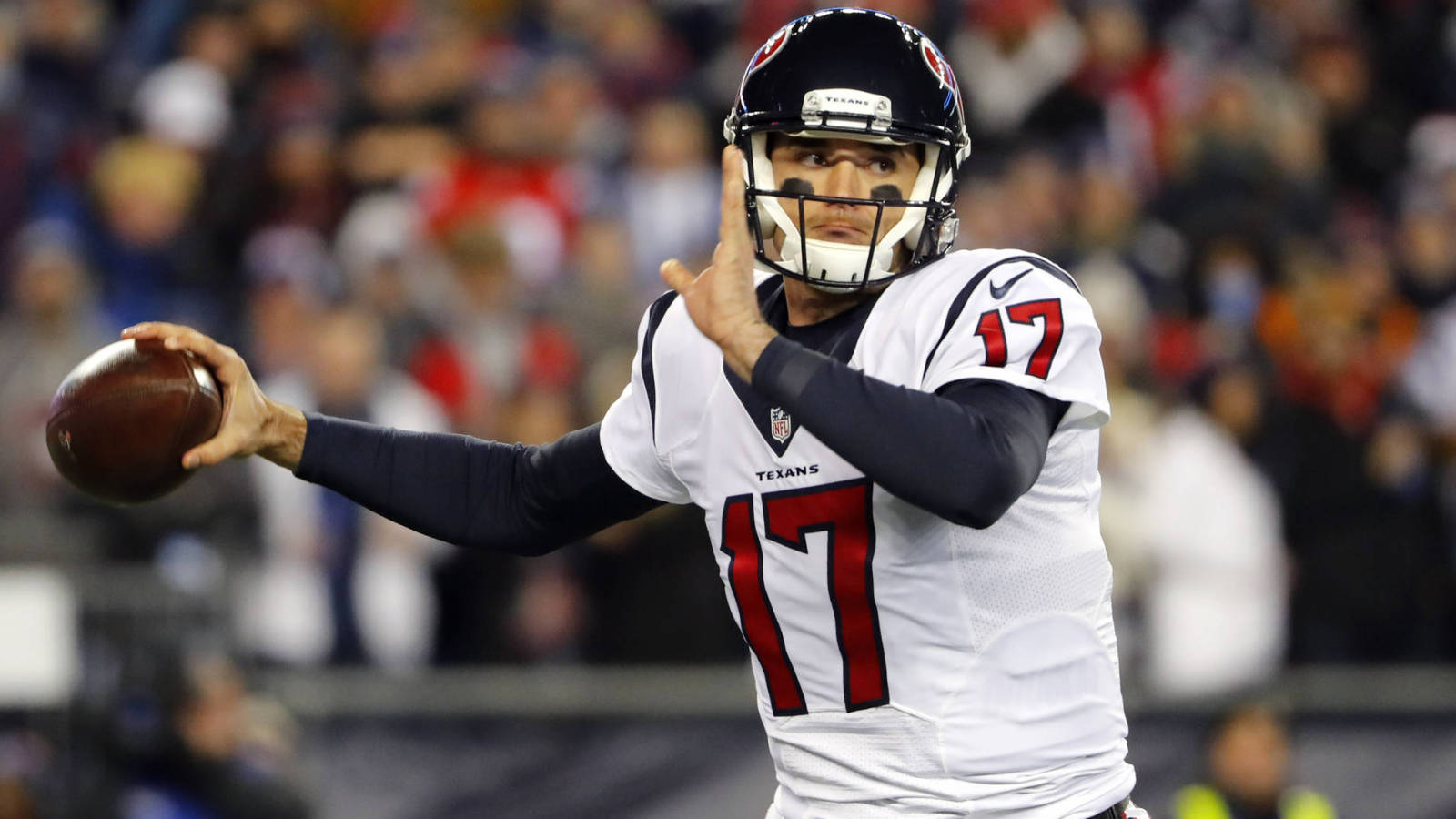 Jan 14, 2017; Foxborough, MA, USA; Houston Texans quarterback Brock Osweiler (17) drops back to pass against the New England Patriots during the first half in the AFC Divisional playoff game at Gillette Stadium. 
Winslow Townson-USA TODAY Sports
Brock Osweiler's one-season stay with the Houston Texans was cut abruptly short when the team traded him to the Cleveland Browns last Thursday.
Becoming the latest member of the Texans Quarterbacks Alumni Association, Osweiler has since met up with NFL Network analyst and former Texans quarterback David Carr.
Sharing some of his thoughts after that exchange, Carr gave his opinion on Osweiler's rocky one-year tenure.
"Gary Kubiak's system in Denver was so different," Carr said, via David Barron of chron.com. "It was completely different than what Bill (O'Brien) was asking him to do in Houston with the option routes and young receivers. There wasn't enough time.

"I look at the guys they've had in Houston (during O'Brien's tenure) and they haven't been given a lot of time. I don't know how you get much continuity at the position by rotating guys in so much, especially with the offense you're running. There is a comfort level involved, and you can't match that in 10 months."
Carr didn't exactly give the details of his direct conversation with Osweiler. But he did admit during the short time Osweiler was in Houston he "didn't play his best." Carr also said that "there is nothing wrong with Bill's system."
The problem simply could have been poor chemistry between a quarterback and coach. Things went terribly south towards the end of the 2016 season when in Week 17 an argument between O'Brien and Osweiler reportedly got a bit physical. Osweiler and O'Brien are said to have been restrained by teammates and coaches that day.
Osweiler's future is anything but solid in Cleveland or wherever he does land. As for O'Brien's Texans, Tom Savage is is the No. 1 quarterback on the team's depth chart followed by Brandon Weeden.
There are reports that indicate the Texans could possibly pursue Tony Romo, which would make this offense much better if he could stay healthy.
The hope for Texans fans, regardless of what happens next, would be to see more harmony between O'Brien and whoever is behind center in 2017.
MORE FROM YARDBARKER
NFL News

Delivered to your inbox

You'll also receive Yardbarker's daily Top 10, featuring the best sports stories from around the web. Customize your newsletter to get articles on your favorite sports and teams. And the best part? It's free!