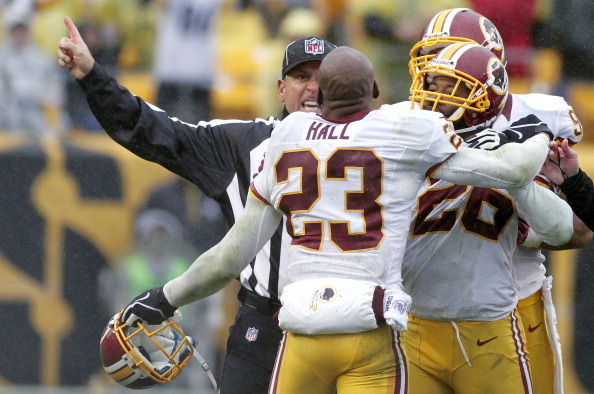 Last week Washington Redskins cornerback DeAngelo Hall was kicked out of the game against the Pittsburgh Steelers for an incident with official Dana McKenzie. Hall will not be suspended just fined for the incident, reports Jason La Canfora of CBS Sports. Redskins CB DeAngelo Hall looking at fine/warning and not a suspension for his interactions w/an official Sun that resulted in his ejection — Jason La Canfora (@JasonLaCanfora) November 1, 2012 NFL Commissioner Roger Goodell was not happy with Hall and how he treated the officials in the game.  Hall is lucky to be only fined and not suspended. "Well, I think that's the point of our rules here," Goodell told host and NFL.com columnist Adam Schien. "There's respect for the people who are playing the game, coaching the game and officiating the game, and it is critical that we have that. And it is not only respect for the game and the people who are involved, but also sportsmanship. And we want to make sure that we maintain that. "That's not what football is about. We're not suggesting that everyone is going to agree with every officiating call on the field, but there's a way to do that and there's a way not to do it. And we have very strong rules in this area, and we're going to enforce them aggressively." Hall said during a radio interview that the official "was equally at fault" and added this via The Washington Post: "It's not a system in place where… they're the good cops and we're the criminals. It has to be an even playing field, a level playing field. If they want us to go out there and respect them, they have to do the same thing. They have to give us the same kind of respect that I feel like we've been giving them as players and as referees that ultimately control some of the calls in these games. Nobody is going out there trying to bully the referees and likewise, they shouldn't be out there trying to bully us." Hall will be eligible to play in the Redskins matchup against the Carolina Panthers at FedEx Field.
Read the rest of this story...
MORE FROM YARDBARKER
NFL News

Delivered to your inbox

You'll also receive Yardbarker's daily Top 10, featuring the best sports stories from around the web. Customize your newsletter to get articles on your favorite sports and teams. And the best part? It's free!