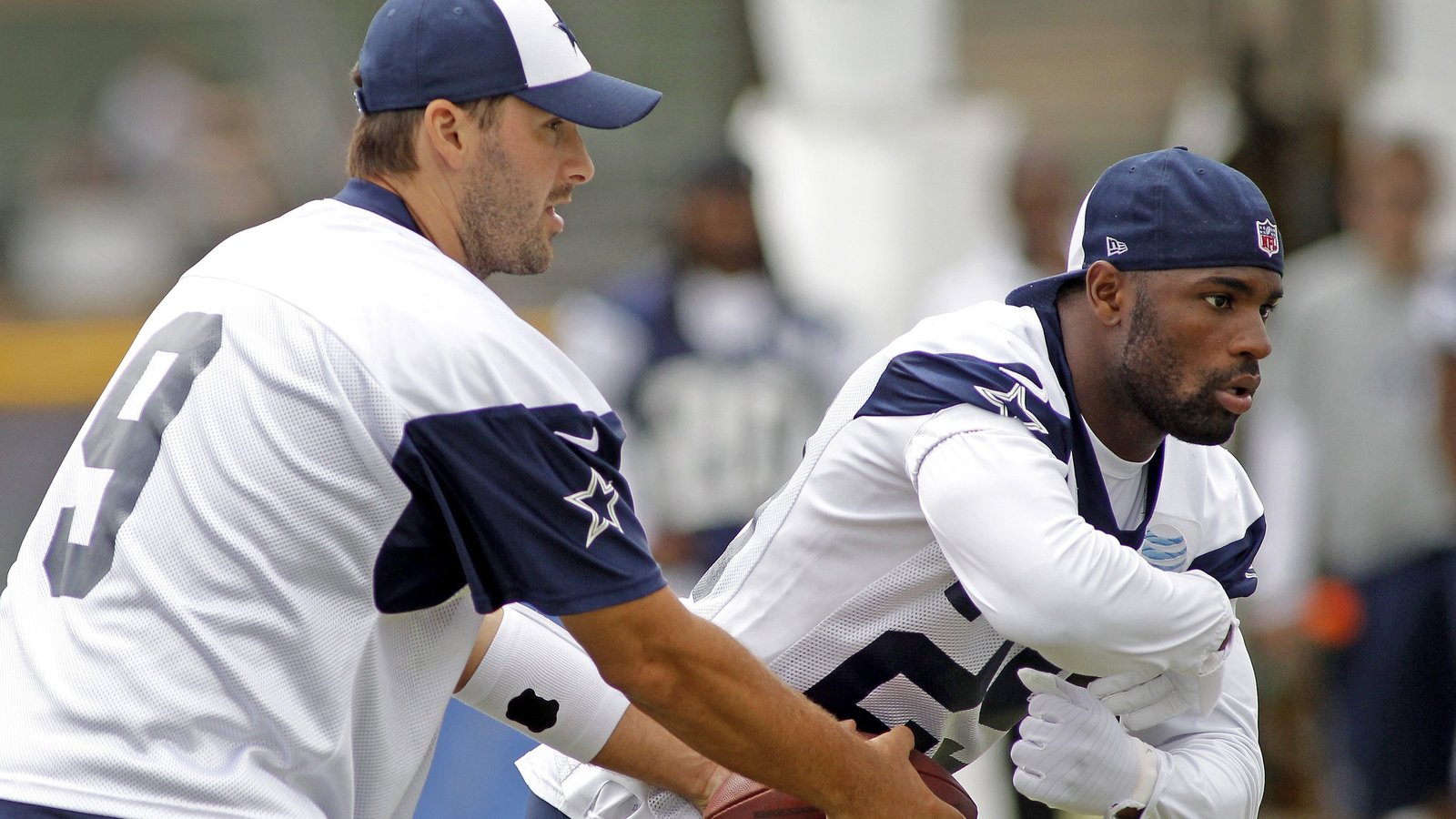 Cowboys quarterback Tony Romo (9) fakes a handoff to running back DeMarco Murray during morning walkthroughs on Wednesday, July 24, 2013.
Paul Moseley/Fort Worth Star-Telegram/MCT via Getty Images
The line of people who think Tony Romo can still play in the NFL at a high level is quite long.
By now, even casual fans know Romo left football after Dak Prescott took his job with the Dallas Cowboys, joining CBS as a color commentator. In fact, as the top color commentator, a sign of confidence from the folks in charge.
While admitting Romo will probably be great at his new job, former Cowboys running back DeMarco Murray noted Romo can probably still be great at his old job, per the Tennessean's Jason Wolf:
"I think he'll do great. I think he'll do fine," Murray said Monday after the Titans reported for the first day of voluntary offseason workouts. "He's a guy who obviously had a great career in Dallas, and I know he still has something left in the tank, but I think he made a good decision for him and his family, and we'll see what happens."
Murray played with Romo for a few years in Dallas before moving on to the Philadelphia Eagles and then the Tennessee Titans, where he led the AFC in rushing last year. He's familiar enough to know where Romo is at as a football player, so it's a notable comment.
Romo has remained adamant he won't leave the broadcast booth now that he's there. But as the saying goes, crazier things have happened. It takes one injury to a starter on a championship team for him to get a call. And if a shot at a Lombardi Trophy is there, odds are strong Romo would answer.
MORE FROM YARDBARKER
NFL News

Delivered to your inbox

You'll also receive Yardbarker's daily Top 10, featuring the best sports stories from around the web. Customize your newsletter to get articles on your favorite sports and teams. And the best part? It's free!