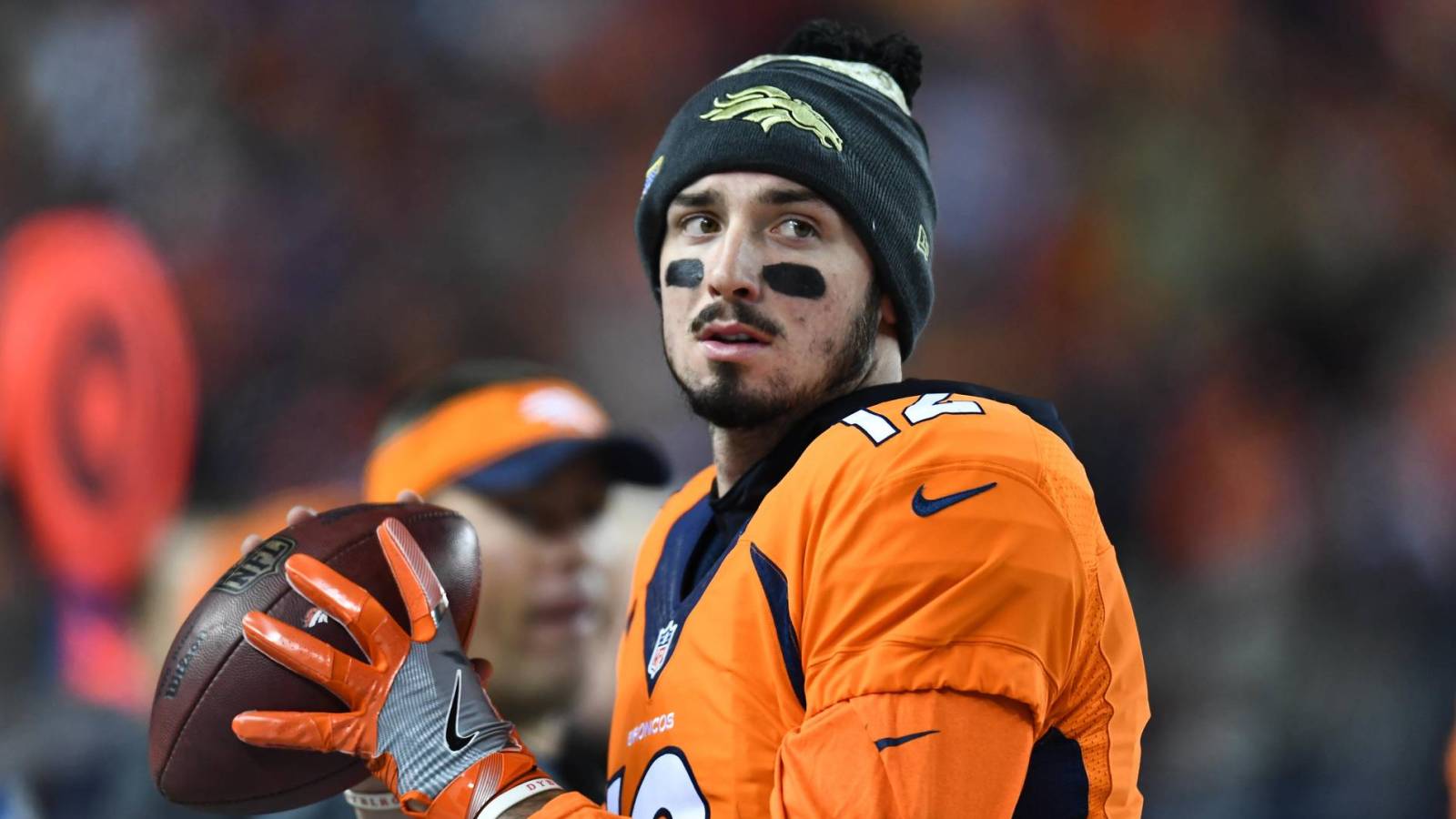 A local reporter has come to the defense of Paxton Lynch.
Ron Chenoy-USA TODAY Sports
Paxton Lynch has a great opportunity to win the starting quarterback job for the Denver Broncos in training camp this season, but one report claims the former Memphis star is not putting in enough work. Although, one person who knows the the team well says that report is completely false.
Former NFL scout Bryan Broaddus, who now writes for DallasCowboys.com, told the Shan and RJ show on 105.3 The Fan recently that Lynch's work ethic is becoming an issue in Denver.
"I talked to some guys in Denver; they're having a problem with Paxton Lynch right now because they can't get him to buy into the things like Dak Prescott bought in, where early in late out, that kind of thing," Broaddus said.
The remarks were made more in passing when discussing how there are no sure things at quarterback in this year's draft, but Mike Klis of 9 News in Denver seemingly took offense to them. Klis insisted on Sunday that there are no issues with Lynch and questioned Broaddus' credibility.
Even if true about Lynch's work ethic how would DAL web guy know? We all know Cowboys wanted Lynch. Now they're crowing. Joke. #9sports

— Mike Klis (@MikeKlis) April 16, 2017
Broaddus quickly saw someone come to his defense, as ESPN's Ed Werder — who is typically pretty plugged in with Cowboys matters — called out Klis.
Well the person you're dismissing as a "Dallas web guy" is a former NFL scout who does extensive film study and is extremely well connected https://t.co/M42F7mzVe2

— Ed Werder (@Edwerderespn) April 16, 2017
It appears we have an old-fashioned Easter Sunday media war.
Broncos president of football operations John Elway has expressed confidence in both of his young quarterbacks (see his comments here), so it will be interesting to see if Siemian or Lynch wins the job. The Broncos used a first-round pick on Lynch last year, so they would probably prefer if he came out on top.
MORE FROM YARDBARKER
Broncos News

Delivered to your inbox

You'll also receive Yardbarker's daily Top 10, featuring the best sports stories from around the web. Customize your newsletter to get articles on your favorite sports and teams. And the best part? It's free!