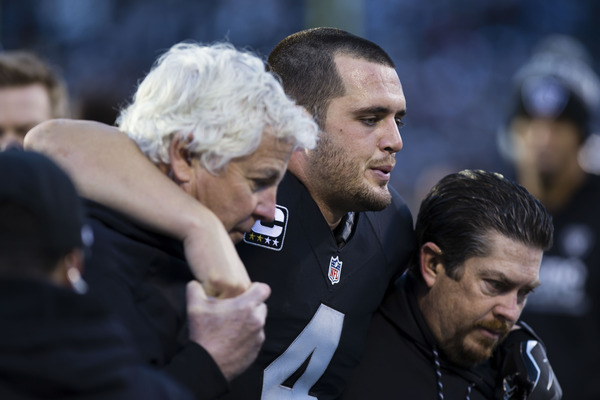 Raiders quarterback Derek Carr wonders if going down easier on the play he was injured would have prevented things.
Kelley L Cox-USA TODAY Sports
If only Derek Carr had a time machine, the Oakland Raiders quarterback feels there is something he could have done differently in order to ensure he'd be with his teammates for the playoff run — go down easier.
During his weekly radio show on 95.7 The Game this week, Carr spoke about how difficult it was to watch his team lose to the Denver Broncos in Week 17. It will be even more heartbreaking to not be on the field for the postseason. Had Carr gone down easier when Indianapolis Colts defender Trent Cole hit him, he thinks he'd still be playing.
"In hindsight, as soon as he grabbed me I would've went down," Carr said, as transcribed by Scott Bair of CSNBayArea.com. "Nothing bad happened until I tried to fight for more, but that's who I am. That's in me. Those types of things are going to happen. It's as violent a sport there is out there.
"I don't want to say I would've done something different, but I obviously wish I did. Being in a boot and on crutches isn't too fun. But I'm never going to stop fighting. That's who I am, and that's what got me here."
It's normal to have regrets, but Carr was simply trying to make a play. While you can criticize a quarterback for being careless and absorbing an open-field hit instead of sliding, the video of Carr's injury shows there wasn't a whole lot he could have done.
With Matt McGloin battling a shoulder injury, the Raiders announced Wednesday that rookie Connor Cook will start this weekend's playoff game against the Houston Texans. That will likely be agonizing for Carr to watch.
MORE FROM YARDBARKER:
How to fix the San Francisco 49ers
MORE FROM LARRY BROWN SPORTS:
MORE FROM YARDBARKER
Raiders News

Delivered to your inbox

You'll also receive Yardbarker's daily Top 10, featuring the best sports stories from around the web. Customize your newsletter to get articles on your favorite sports and teams. And the best part? It's free!