Found October 25, 2012 on Waiting For Next Year:
I've admittedly struggled with my criticisms of Cleveland Browns coach Pat Shurmur. I am more than happy to critique individual decisions along the way, but frequently the desire of the fans is to reach conclusions as soon as humanly possible. I like to take my time reaching conclusions because, as they say, timing is everything. That's why I said that I thought the Browns needed to reach a conclusion on Tom Heckert right away. For a general manager who is leading up to the draft in April, the Browns, in my estimation, shouldn't wait until after the season in February to decide if they're making a change at GM. They need to know ASAP. I don't really feel the same way with the head coach in the middle of the season. The conflicting ideas are between best practices and when exceptions need to be made. For example, I truly believe that a first-time head coaching candidate is probably not going to reach his individual ceiling as a coach until probably his third or fourth season. Year one everything is new. Year two things should be more familiar, but some of the game situations might still surprise a guy. Year three he should really be as good as he's ever going to be and depending on one's view of the roster he has to work with, you should be able to judge accordingly. That being the case, I have real philosophical difficulties concluding on a guy this early in his tenure even if my eyes tell me that the verdict is in. My conclusion today is that even though I'm skeptical about Pat Shurmur's future as head coach with the Browns, I don't think there's any reason to replace him in-season even if the powers that be decide they won't continue with him past this season. I know as we get to the bye week and as everyone continues to study the body language of Jimmy Haslam and Joe Banner, it will be very easy to suggest going to an interim coach among those who have given up on Shurmur. We all know the Browns have at least three guys in the building 1 who have "interim coach" written all over them. And while a move such as that might alleviate a fourth and one call or a two-point conversion decision somewhere in the second half of the season, that hardly seems like a worthwhile reason for the level of team disruption that is caused by firing the head coach. For all my criticisms of Pat Shurmur up to this point (and there have been many,) and despite all the losses, I still don't get the sense that the team is off the rails in terms of practice, preparation and effort on Sundays. If you asked me today if Pat Shurmur should be the coach here next year, I probably wouldn't really give you an answer. I know a lot of criticism I take as a writer stems from this fact. Let's just say based on his performance so far, it wouldn't surprise me one bit if he was fired, but I'm always hesitant to take my decidedly outsider's perspective and reach a conclusion. The people who are going to make this decision (if they haven't already) are talking to players and seeing all the practices and talking to all the supporting coaches. I haven't been around the team since training camp. Without seeing him interact with players daily and seeing the body language of his team coming in and out of drills, etc. it's very tough to feel like I have an informed opinion. Maybe it is just as simple as looking at the record and some questionable in-game decisions, but if I was making the decision, I'd want access to more info. Plus, the ultimate question when you fire a guy is "who is going to replace him?" Without knowing a short list to answer that question, I generally choose not to call for a guy's firing. I'll stick to criticizing along the way and let those details float into space more times than not. Plus, there's the whole question of timing. I think everyone would agree that the best time to make a change at head coach is after the season as long as you can afford to wait. It seems to me that the Browns can afford to wait at this point. In the end, I think the Browns should keep Shurmur the rest of the year barring some kind of catastrophe that I can barely even imagine. We'll see how the Browns decide to proceed next season, and my suspicion is there will be some additional frustrations with Pat Shurmur's decisions in the second half, but there's no reason at this point to not let him make his own case for the full year. We'll find out shortly if Joe Banner and Jimmy Haslam stay true to their word about not making changes. ___________________________________ Not Mike Holmgren. I said IN the building. Burn!
Original Story:
http://www.waitingfornextyear.com/201...
THE BACKYARD
BEST OF MAXIM
RELATED ARTICLES
The Browns are the worst team in the league and probably have the least amount of talent on either side of the ball. Here's a look at their remaining schedule, predictions and a look at their division. SD - Loss Baltimore - Loss @ Dallas - Loss Pittsburgh - Loss @ Oakland - Loss KC - Loss Washington - Loss @Denver - Loss @ Pittsburgh - Loss...
Cleveland Browns running back Trent Richardson appears on schedule to play to play Sunday against San Diego, though head coach Pat Shurmur refused to make any promises. "I think today was his third good day of practice," Shurmur told reporters Friday. "He's better this Friday than he was last. I can't tell you exactly what's going to happen Sunday, but...
Browns starting linebacker Scott Fujita will be placed on injured reserve with a neck injury, ending his stormy season -- and perhaps his football career. Fujita, one four players suspended by NFL Commissioner Roger Goodell for his role in the New Orleans Saints' bounty scandal, was inactive the past two games. He last started on Oct. 7 in a game against the New York Giants...
While I have not seen official reports from the Browns or any television networks, I have received word from someone close to the situation that the Browns will soon be starring in what is described as a "Hard Knocks Type" reality series.  The special is rumored to be airing on the Travel Channel and filming is scheduled to start next week. From what I understand, it will...
BEREA, Ohio (AP) -- Browns starting linebacker Scott Fujita will be placed on injured reserve with a neck injury, ending his stormy season -- and perhaps his football career. Fujita, one four players suspended by NFL Commissioner Roger Goodell for his role in the New Orleans Saints' bounty scandal, was inactive the past two games. He last started on Oct. 7 in a game against the...
Andrew and Craig discuss Mike Holmgren's press conference with the media. More specifically, how is Holmgren's legacy defined today, and how could it change in the future? How much of everything is Randy Lerner's fault? How much credit should Holmgren get if this roster produces wins down the road? What about Holmgren's mistakes? Giving Mangini an extra year Hiring Pat...
Browns running back Trent Richardson doesn't expect to miss any games despite being limited by rib injuries the past two weeks.Fantasy Spin:This report comes from Nate Ulrich of the Akron Beacon Journal. Even if Richardson does play he won't be at 100 percent. Backup running back Montario Hardesty has gotten 22 carries the past two weeks and could be in for another heavy...
The Cleveland Browns officially belong to Jimmy Haslam. His $1.05 billion purchase of the NFL franchise from Randy Lerner was closed Thursday, just nine days after the sale was approved by the league's owners. Haslam now owns 70 percent of the team, and the truck stop magnate will get the other 30 percent from Lerner in four years. Haslam watched practice and spent several...
When Mike Holmgren agreed to become the President of the Cleveland Browns back in 2010, he called the endeavor his "last great adventure." Two years later and an earlier than anticipated exit on the horizon -- thanks to new Browns owner Jimmy Haslam -- Holmgren may have one more adventure in him after all.Holmgren, who was the head coach in Green Bay and Seattle for a combined...
The guys at GV Art and Design are at it again. This time they have teamed up with former Brown Eric Metcalf on a really cool design. The former Texas Longhorn spent six seasons with the Browns. There are likely two things you remember about Metcalf. One is former coach Bill Belichick running the diminutive back into the middle of the line, and the most important is the two punt return...
San Diego Chargers (3-3) at Cleveland Browns (1-6) I normally hate taking teams that are heavily publicly backed, but that's exactly what I'm doing by taking the Chargers this week. I'm also taking a West Coast team on the road in the Eastern Time Zone at 1 PM, a situation that is normally bad for [...]
Browns News

Delivered to your inbox

You'll also receive Yardbarker's daily Top 10, featuring the best sports stories from around the web. Customize your newsletter to get articles on your favorite sports and teams. And the best part? It's free!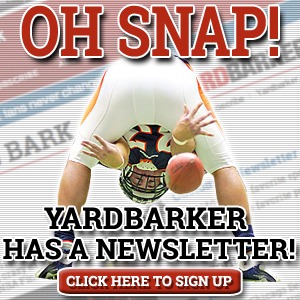 Latest Rumors
Best of Yardbarker

Today's Best Stuff

For Bloggers

Join the Yardbarker Network for more promotion, traffic, and money.

Company Info

Help

What is Yardbarker?

Yardbarker is the largest network of sports blogs and pro athlete blogs on the web. This site is the hub of the Yardbarker Network, where our editors and algorithms curate the best sports content from our network and beyond.