Found January 12, 2013 on Bush League Chronicle:
Many have voiced their opinion regarding the handling of Washington Redskins quarterback Robert Griffin III. The Redskins quarterback suffered damage to both his ACL and LCL in his right knee during the NFC playoffs against Seattle. On Wednesday, Griffin had successful surgery to repair both ligaments and is expected to take six to eight months to fully recover.Dr. Neal ElAttrache joined The NFL Today on Saturday to offer his thoughts on the injury and the rehabilitation process. He even goes as far as saying that a possible change in playing style may be in the works for Griffin.When CBS host James Brown asked ElAttrache if he thought RG3 would be the same when returns to the field, this is what he had to say:"I think that you'll see a mobile, pro-style quarterback rather than a run-first type of quarterback," ElAttrache said. "I don't know that the longevity that he would have...would be what you'd want to center your franchise around." When asked what Griffin can expect during rehab:"This lateral ligament repair is going to require some protection early on on the front end. It's going to delay that aggressiveness of the physical therapy that would normally occur with an ACL reconstruction. And so, on the back end, it'll remain to be seen how quickly he'll be able to come back if he's ready for the beginning of the season."Should Griffin had been playing at all last Sunday?"That's a decision that purely needs to be made...by an interaction between the player and his medical staff," the doctor said. "The availability for him to play is made by that interaction, that examination, that history." Some have directed the burden of the blame for Griffin's injury on head coach Mike Shanahan. Does the doctor agree with them?"I think it's impossible to affix blame in that kind of a way," said ElAttrache. "There's the issue of availability to play. That's purely based on the medical staff's decision -- with the player -- and the player has to report all the necessary things that go into making that decision. Then they determine if he's available to play. After that, it's a coaching decision." You can view video of the interview here.Via CBS Sports.
Original Story:
http://www.theblcblog.com/2013/01/doc...
THE BACKYARD
BEST OF MAXIM
RELATED ARTICLES
In the past, it has seemed as though the only way to deal with the Washington Redskins was to pick someone, or something, to direct your anger at and blame for why the team wasn't able to find success. Likewise, there have always been easy scapegoats, deserving or not, readily available. Often times the quarterback serves this purpose, with some more deserving than others. The...
WASHINGTON — The NFL players' union does not plan a formal investigation into how the Washington Redskins medical staff handled Robert Griffin III's knee injury. The NFL Players Association said Friday that they were satisfied with a report received from the Redskins detailing the procedures used by team physician James Andrews and other staff on the sidelines. Griffin had...
It was initially reported that Redskins quarterback Robert Griffin III had his ACL and LCL repaired.  But it also looks like Dr. James Andrews repaired his medial meniscus. According to Dr. Mark Adackes of FOXSports.com, Dr. Andrews also had to operate on his healthy left knee to get a graph of his patellar tendon to repair the ACL in his injured right knee. Because Robert's patellar...
The Washington Redskins have announced that rookie quarterback Robert Griffin III has been voted rookie of the year by Pro Football Weekly and the Pro Football Writers of America. Griffin put together an amazing rookie season after throwing for 3,200 yards, 20 touchdowns, 5 interceptions and rushing for 815 yards and 7 touchdowns. As Rich Campbell of ESPN 980 mentioned, the last...
During the past week I found myself apart of and very amused by my colleague and pal James Fitzgerald's article and debate, claiming a case could be made for RG3 to be given this season's NFL MVP award.  To his credit, he made several key points to support his argument, but I have details to better support my being the yin to his yang. Robert Griffin III, or by his fan preferred...
Washington Redskins QB Robert Griffin III has several months of rehabilitation ahead of him after successful knee surgery on his torn ACL and LCL.  Griffin seriously injured his knee playing hurt in Washington's Wild Card playoff loss to the Seattle Seahawks.  It's too early to know whether or not Griffin will be ready to return for the start of the 2013 season with an...
According to ProFootballTalk.com, a league source has told them that the Washington Redskins are very concerned about the long-term health of quarterback Robert Griffin III's knee. Per a league source, there is much greater concern regarding Griffin's knee than anyone connected to the Redskins or Griffin has publicly conceded. Now that Griffin has suffered two serious knee injuries...
The NFL Players' Association has decided against pursuing a formal investigation into the handling of Washington Redskins quarterback Robert Griffin III's knee injury in last Sunday's NFC wild-card playoff game. Griffin appeared to suffer the injury in the first quarter but remained in the game. Redskins coach Mike Shanahan said the rookie requested that he continue...
Wow, how the mighty stay average. "America's Team" once again finishes .500 and has their season end with a resounding thud at the hands of rookie sensation Robert Griffin III and the Washington Redskins. It could not get any worse. Not only do you lose out on going to the playoffs, but to add insult to injury, to watch your Dallas Cowboys lose a winner take all divisional...
We've all heard by now how bad the grass really was at FedEx Field last Sunday for the wild card round matchup between the Washington Redskins and the Seattle Seahawks. The field, which looked dangerous from the get-go, proved to be harmful. Redskins quarterback Robert Griffin III reaggravated a knee injury that led to surgery, and the Seahawks moved on to the divisional round...
It was clear in the 2012 NFL draft who the top quarterbacks were with Andrew Luck and Robert Griffin III taken with the top 2 selections. Brandon Weeden was also taken in the first round along with Russell Wilson in the third round.USC quarterback Matt Barkley started the 2012 season off looking like he was gonna be the top overall pick this season only to miss his last two games...
For many, the Rob Parker saga may seem like a trilogy; he arrived on the national scene with appearances on a variety of ESPN platforms while saying controversial things about stats and other topics, took controversy to new heights with "cornball" comments about Washington Redskins quarterback Robert Griffin III, and then was suspended for his Griffin comments and...
Redskins News

Delivered to your inbox

You'll also receive Yardbarker's daily Top 10, featuring the best sports stories from around the web. Customize your newsletter to get articles on your favorite sports and teams. And the best part? It's free!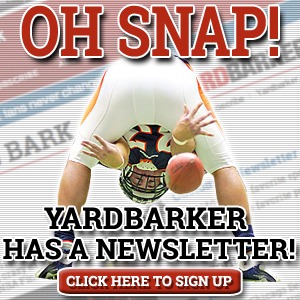 Latest Rumors
Best of Yardbarker

Today's Best Stuff

For Bloggers

Join the Yardbarker Network for more promotion, traffic, and money.

Company Info

Help

What is Yardbarker?

Yardbarker is the largest network of sports blogs and pro athlete blogs on the web. This site is the hub of the Yardbarker Network, where our editors and algorithms curate the best sports content from our network and beyond.