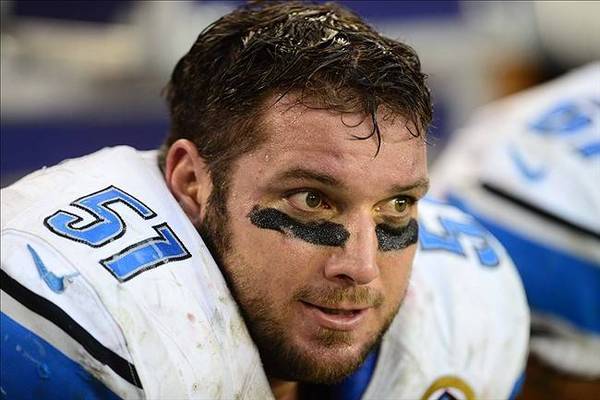 USA Todsy Sports Some disturbing yet not-so-surprising news filtered out Monday morning from Sunday's Lions-Packers game.  The 22-9 Packers win should no longer be center-stage for the Lions.  Comments that their meathead center allegedly made to members of the University of Wisconsin band who was performing at Lambeau Field Sundsy should be. Tom Melton, of TomMeltonScouting.com, was told by numerous members of the marching band that Lions center Dominic Raiola verbally assaulted them prior to the game and following their halftime performance.  The 13-year veteran reportedly said the following to band members: "As the band was preparing to play the National Anthem another band member told me Raiola was yelling at him, saying such things such as "Hey fat guy, you want a hot dog?" When this band member did not acknowledge him, he continued to yell at other band members within earshot of him until the band began to play. A third band member told me Raiola was calling a band member near him a "fat fu**" prior to their pregame performance as well." Zach York, a different Wisconsin band member posted the following to his Facebook page: "Dominic Raiola is literally the worst person I have ever had the fortune to encounter. After marching down the field awaiting the national anthem, He went off on a verbal tirade, among other things, questioning my sexuality (as a band member) and then continued on to bring my sister and my recently deceased mother into the conversation. After I refused to give him the satisfaction of turning to look at him, he switched targets to a trombone ranting at him calling him overweight and saying he can't play a real sport. After our halftime show, the same fine gentleman called a female member of the band the "c" word." Melton also wrote that Lions safety Louis Delmas apologized to the band members and told them that he spoke with Raiola about his comments. Later Monday, Lions president Tom Lewand called the school to apologize according to a statement released by the university.  The Lions issued an official statement early Monday: "We are aware of the reports involving Dominic Raiola and the University of Wisconsin Marching Band. Those reports are extremely inconsistent with the standard of behavior we expect from our players and from every member of our organization.  We currently are gathering more information and will respond further when appropriate." This wouldn't be Raiola's first hurrah with fans.  He was fined $7,500 during the team's winless 2008 season when he gave Lions fans a one-finger salute after a loss that dropped Detroit to 0-13.  In 2010, Raiola was fined $15,000 for a verbal altercation with a fan in Miami that also included an obscene gesture. In related news, Dominic Raiola is a big jerk.
Read the rest of this story...
MORE FROM YARDBARKER

NFL News

Delivered to your inbox

You'll also receive Yardbarker's daily Top 10, featuring the best sports stories from around the web. Customize your newsletter to get articles on your favorite sports and teams. And the best part? It's free!