Found July 31, 2013 on Larry Brown Sports:
New Orleans Saints quarterback Drew Brees should not have to take time out of his busy training camp schedule to explain how he spends his money, but he obviously cares about his image. Earlier this week, gossip site The Dirty posted the photo you see above above of a dinner receipt that allegedly belonged to Brees. [...]
Original Story:
http://larrybrownsports.com/everythin...
THE BACKYARD
BEST OF MAXIM
RELATED ARTICLES
Drew Brees is fighting back, and disputing the claim that he's an awful tipper. Brees, who is one the richest athletes in professional sports, caught some flak on Tuesday after reportedly leaving a $3 tip on a $74 bill.    Brees was having none of that, and took to Twitter to defend himself.  Brees made it known that his order was take-out, and had he dined in, the tip would...
First, it looks like THE DIRTY is about to get the waitress fired. I want to make it every clear to management at Del Mar Rendezvous that Carissa DID NOT submit this receipt of cheapo Drew Brees. Contacts at the restaurant have told me you will be meeting with her tonight to discuss termination. Drew Brees is the 3 dollar tipper, don't fire her because of his actions.- nik Secondly...
Drew Brees says he's amazed his $3 tip on a $74 takeout order last month has become a talking point on national television and the Internet. The quarterback was in the locker room at Saints headquarters Thursday morning when he noticed a discussion on a network morning show about tipping on takeout orders, referencing a photograph of his takeout receipt that was circulated online...
Drew Brees isn't a cheapskate. A couple of days ago, a website posted a photo a receipt from a dinner the Saints quarterback had at an establishment in Del Mar, Calif. And as the photo above illustrates, Brees tipped $3 on a $74.41 bill. Not quite 20 percent. But wait, hold everything. Brees took to Twitter on Wednesday to clear up the issue: In case anyone still cares about...
Nik Richie, of TheDirty.com fame, does not discriminate when it comes to outing the lowlifes of America. This includes beloved Saints quarterback Drew Brees, who Richie confirmed left a $3.00 tip on a $74.41 tab at Del Mar Rendezvous in Del Mar, California, earlier this month. Based on reports of the waitress being fired for publicly outing Brees' stinginess, Richie released a...
Drew Brees may donate millions to charity and host fundraisers for cancer patients, but apparently stiffing one California waitress is enough to overshadow all those pesky good deeds and earn him the label of "cheap bastard", according to one absurd website. The Dirty posted a receipt leaked by someone from Del Mar Rendezvous restaurant, which claims to show Brees left a $3...
We can all breath a sigh of relief. Drew Brees is a good tipper. The infamous bill indicating otherwise was for a take-out order.
Follow @HookTSB   I can't believe this is still a thing, or was even a thing in the first place, but Drew Brees caught some flack yesterday for leaving a $3 tip on a $74 bill about a month ago.  Some ass-hat who works at a the  Del Mar Rendezvous Chinese fusion restaurant in California snapped a picture of the receipt and posted it on Reddit, but failed to mention the receipt...
Rest-assured, Saints fans. Everything we always thought we knew about Drew Brees turns out to be totally true. There was a mini-uproar this week when a waitress claimed Brees stiffed her on a tip for a $75 bill. A copy of the receipt was posted on the website, "The Dirty." Turns out, it was only part of the story. The bill was actually for a takeout order, which means even...
The Atlanta Falcons are using stats and rivalry to promote green living. Wonder how Drew Brees feels about recycling right about now?
Hate ARod? Today should be your day to rejoice because Bud Selig is ready to use his special super-secret commissioner powers to prevent …
Saints News

Delivered to your inbox

You'll also receive Yardbarker's daily Top 10, featuring the best sports stories from around the web. Customize your newsletter to get articles on your favorite sports and teams. And the best part? It's free!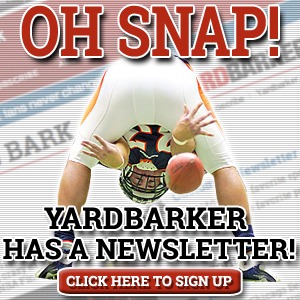 Latest Rumors
Best of Yardbarker

Today's Best Stuff

For Bloggers

Join the Yardbarker Network for more promotion, traffic, and money.

Company Info

Help

What is Yardbarker?

Yardbarker is the largest network of sports blogs and pro athlete blogs on the web. This site is the hub of the Yardbarker Network, where our editors and algorithms curate the best sports content from our network and beyond.