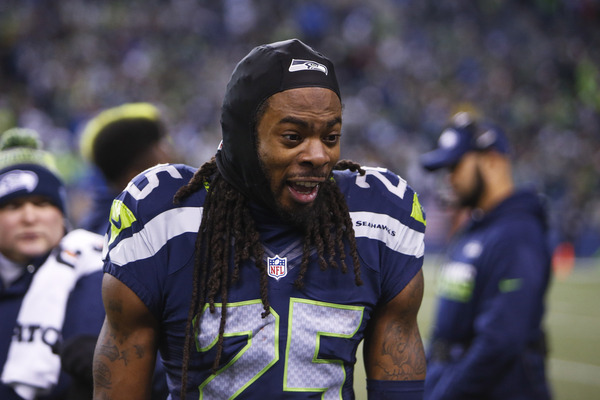 Richard Sherman's close relationship with Ed Werder created some awkwardness.
Joe Nicholson-USA TODAY Sports
Richard Sherman decided recently that he no longer wanted to speak with the media, but he made an exception for ESPN's Ed Werder. After the Seattle Seahawks defeated the Detroit Lions in the opening round of the playoffs Saturday, that unique relationship created a bit of a problem for Werder.
Sherman, who actually ended his media boycott and took the podium, spoke with Werder on the field before heading to the locker room. At the end of the interview, Werder told Sherman he would see him in two weeks at the NFC Championship Game. Atlanta Falcons fans were not pleased.
In order to reach the NFC Championship Game, the Seahawks would have to defeat the Falcons, who had a first-round bye, on the road next week. Werder's comment made it look like he was being biased and rooting for Sherman, and he later apologized on Twitter.
Being professional, fair and objective important to me. If I owe Falcons an apology for having some fun with Richard Sherman, they have it

— Ed Werder (@Edwerderespn) January 8, 2017
Intended point to Richard Sherman was I'm covering Cowboys playoff game next week so whether I cover Seahawks again depends on them winning

— Ed Werder (@Edwerderespn) January 8, 2017
Sherman left Werder in an awkward position by granting him exclusive access, so it's not a surprise that something like that happened. Between Sherman's two-week media boycott and the infamous threat he made toward a radio host recently, you could argue the All-Pro has created some unnecessary distractions for his team.
MORE FROM YARDBARKER:
How to fix the San Francisco 49ers
MORE FROM LARRY BROWN SPORTS:
MORE FROM YARDBARKER
NFL News

Delivered to your inbox

You'll also receive Yardbarker's daily Top 10, featuring the best sports stories from around the web. Customize your newsletter to get articles on your favorite sports and teams. And the best part? It's free!