Found December 18, 2012 on 5TH QUARTER MAGAZINE:
Incase you haven't heard Rob Parker (soon to be formerly of ESPN) made some disparaging remarks about Redskins Quarterback Robert Griffin III earlier this week.  I don't even disagree with them for the reasons you might think.  Rob Parker is an idiot.  A clown.  All of us know this guy.  These guys come in White, Black, Hispanic, Latino, Asain, makes no difference, he never really got it.  Intelligent. Articulate. But never really one of the "cool kids". I never met him, but it took me about 2 episodes of ESPN First Take with him on it to figure it out. Rob Parker is the kind of guy that'd come up to you while with your wife and say to his wife "Oh my god babe this guy used to get all the girls, remember man how they used to be on you??" and you would look at him like is this guy serious? Tries way too hard to be down. Frankly, I'm sick of people like this. Everyone sees your Rob, say something thought provoking about the game, pass it to Skip, and make it to the next episode. He has made a career of saying off the wall and controversial things to athletes and getting attention for himself in the process.  My issue with Rob Parker is why would you pretend that because you are engaged to a white woman that makes you less black? "I don't think Redskins quarterback Robert Griffin III is authentically black because, among other things, Griffin is engaged to a white woman" "He's black, he kind of does the thing," Parker said. "But he's not really down with the cause. He's not one of us. He's kinda black, but he's not really like the guy you really want to hang out with because he's off into something else." Or speaking without using slang while talking to media makes you less black? Or because he'd rather go jock ride at an Alan Iverson party then hang out with RGIII that makes him less black.  Rob Parker is the problem with black people not RG3.  In the words of the great Mobb Deep "Thug aint a look it's a way of life".  Rob Parker probably doesn't know **** about RG3 but he gets on tv calls him out for having a white jawn, tries to embarrass the kid and in the meantime makes himself look nutty as hell. Being black is about representing yourself and your family to the best of your ability no matter what career or hairstyle or person you chose.  It's not the music you listen to, or whether every other word out of your mouth isn't a real word or slang. Rob Parker has a lot to learn about being black and what that means to the new generation of black people.  We don't need to prove our blackness to anyone.  We are exceeding the expectations clearly of over the hill disconnected journalists who just lost their jobs trying to keep make his self look cool while keeping us feeling segregation for the next 10 generations and that part of the game is over. We don't have to fight white people, we just have to continue to do what we've been doing getting educated and making our families proud. Don't trip RG3, not everybody would rather go to Iverson's party than yours.
Original Story:
http://www.5thquartermag.com/2012/12/...
THE BACKYARD
BEST OF MAXIM
RELATED ARTICLES
After calling Robert Griffin III "kind of black, but not really" because he is engaged to a white woman, ESPN's Rob Parker has apologized today (Credit: AP Photo) Last Thursday, while on ESPN's First Take, columnist Rob Parker said Redskins quarterback Robert Griffin III was "black, but he's not really," because Griffin is engaged to a white woman. The company went...
Washington Redskins rookie QB Robert Griffin III practiced fully on Wednesday and told reporters he's ready to play against the Philadelphia Eagles this Sunday. The Redskins square off against their divisional opponent this week in a very important game which holds playoff implications for Washington. Despite proclaiming himself healthy, Griffin still has not been cleared medically...
Robert Griffin III has bigger things to worry about this week as he attempts to come back from a sprained right knee, but the Washington Redskins quarterback was socked with a $10,000 fine Wednesday by the NFL's clothing police. According to the Washington Post and CSN Washington, the fine was issued because Griffin wore clothing adorned with the adidas logo during his press...
Washington Redskins quarterback Robert Griffin III fully practiced today after missing this past Sunday's game with a knee injury. Full practice today for @rgiii, which makes it look promising for him to start Sunday vs. Philadelphia. — Adam Schefter (@AdamSchefter) December 19, 2012 If I had to guess right now whether Griffin will play or not this week against the Eagles, I'd...
If you thought Robert Griffin III could do no wrong, well, you're still mostly right. The NFL announced Griffin was fined $10,000 on Wednesday, but it wasn't for anything he did on the gridiron. Griffin wore an Adidas sweatsuit and t-shirt to the Redskins' Week 14 news conference, which the NFL considers unauthorized apparel. That's because the NFL has an official deal...
Washington QB Robert Griffin III didn't play against Cleveland, but is likely to return to face Philadelphia in Week 16.Fantasy Spin:The Redskins' other rookie quarterback, Kirk Cousins, was impressive in his first NFL start, throwing for 329 yards in a 38-21 win over the Browns, but RGIII is not in danger of becoming Wally Pipp.
Robert Griffin III The Redskins continued their strong push for the playoffs behind their rookie quarterback. However, it wasn't the former Heisman winner behind center but instead a guy taken 100 picks later. Kirk Cousins threw for 329 yards and two touchdowns filling in for the injured RGIII and could be in line for a second straight start. RGIII did not play after spraining...
According to ESPN's Ed Werder, there's a chance Redskins quarterback Robert Griffin III could be ready to play in this week's game against the Eagles, but nothing is certain at this point. After speaking with an orthopedic surgeon that told him Griffin has a three-week injury, Werder isn't sure the Redskins will allow him to play.  With head coach Mike Shanahan relying on...
With Robert Griffin III stealing all of Tim Tebow's ESPN attention, the New York Jets quarterback has found a way to land himself back in the headlines. Tebow, who has only started for the Jets once this season, will reportedly request a trade or to be released if he doesn't get the chance to start over Greg McElroy in the final two games of the season. Since his tenure with...
Heading into this third season with the Washington Redskins, head coach Mike Shanahan had acquired an overall record of 11-21 and, once again there were concerns about the future of the Redskins. There were questions raised about the handling of players, the quality of play of the field and his use of the draft in recent years. Now however, the Redskins find themselves in the thick...
Redskins News

Delivered to your inbox

You'll also receive Yardbarker's daily Top 10, featuring the best sports stories from around the web. Customize your newsletter to get articles on your favorite sports and teams. And the best part? It's free!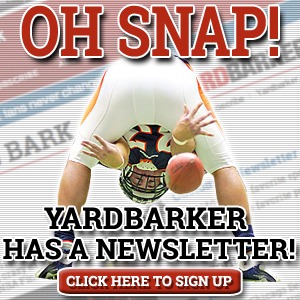 Latest Rumors
The Backyard

Today's Best Stuff

For Bloggers

Join the Yardbarker Network for more promotion, traffic, and money.

Company Info

Help

What is Yardbarker?

Yardbarker is the largest network of sports blogs and pro athlete blogs on the web. This site is the hub of the Yardbarker Network, where our editors and algorithms curate the best sports content from our network and beyond.