Found September 27, 2012 on Extra Pine Tar:
Dear Replacement Refs, That didn't go quite as planned, huh, guys? I mean how am I supposed to hold any leverage in negotiations when you're making calls so bad that the talking puppets on ESPN actually spoke out against something that didn't involve the lack of playing time Tim Tebow has been getting? We almost had them fooled. After the first week I heard a whole lot of "Hey, they weren't THAT bad" or "As long as they don't make any calls that directly influence the outcome of a game we can deal with it." But Jesus Christ you idiots tried your hardest. Giving out extra timeouts and ******** down your leg every time you had to announce to the crowd what the call was. And that was if you actually knew what the call was, or the correct way to stand and face the crowd. I guess maybe I should have expected this when I hired a bunch of scabs. Refs that were so bad the only work they could find was 7 on 7 high school games. Didn't a couple of you get fired from the Lingerie Football League? Like what the ****, guys? I didn't even know that was possible. The only excuse for that would be if you were sexually harassing the players during the game. You know, a little "Hey baby… you know what you've gotta do for the first down." Stuff along those lines I could at least wrap my mind around, but getting fired for incompetence at that level is just mind blowing. Still, I didn't think there was any way you could mess up this badly. Do you have any idea how hard it is to lie about player safety after the fiasco that this past slate of games? I sure as **** do, because I had to do it today. As you all know, I'm one of the biggest scumbags going. But even I have my limits, and covering for you idiots was really starting to take its toll on whatever semblance of a moral code I still have. People have been asking me, "Big Rog, why would it take so long for negotiations to conclude when the money you were fighting over was chump change in the grand scheme of the juggernaut cash cow that the NFL has become?" You know what I tell them? It's not easy running a totalitarian dictatorship the likes of which the world hasn't seen since Nazi Germany. Seriously, it's not easy. I'd like to see any of you jump through as many hoops as I do on a daily basis to make sure that I am completely autonomous. Just ask Jonathan Vilma. He tried to step to me, and even got a judge to back him and his little merry band of bounty hunters. Guess what though? Jonathan hasn't set foot on the field yet – and he won't – because I have so many little rules at my disposal that fall under the "safety of the game" parameters that if I wanted to I could keep that loud mouth off the field for the rest of his natural born life. But I won't do that. Underneath this greasy scumbag exterior, I'm just a guy who loves the game of football. You know how in Madden they have "Career Mode" where you can be either a player or coach, and help develop your character and watch them grow until their career is over? Well imagine if they had "Emperor Mode", because that's what my life is like. Actually, I can explain a lot of my actions as commissioner through Madden. All of my player safety rules and the countless fines I dole out for big hits – I'm just doing my best to turn injuries "off." Who wants to watch Shaun Hill throw the ball to Calvin Johnson? Not this supreme ruler. My only hope of saving any face in this situation is if the refs come out this weekend and nail it. So I've got Hochuli on so many testosterone boosters and HGH that I'm a little worried his head might explode. Also, each ref will be given a script for 60mg of Adderal a day. Too much? I say not enough. I can't stress enough how much this needs to go off without a hitch after the *********** you scabs created. Trust me, I'm not going to take any of the blame for this. That's not my bag, baby. I guess the only thing I could really thank you guys for was showing up. Of course once you did show up you yelled at players to perform better because they were on your fantasy team, didn't understand the rule book, got bullied in to calls by coaches and players, tried to take out receivers with your hat, openly rooted – and worked – for teams you were supposed to be reffing for and brought an overall stench of unprofessionalism that won't be washed off any time soon if the Packers find themselves fighting for a playoff berth down the stretch. I'm just happy this whole mess is over and we can all finally move on. As the commissioner I need to focus on more important things. Like the fact that James Harrison might be returning after the Steelers bye week and he hasn't been fined all year. Peace out, *******. Autonomously yours, Big Rog  
Original Story:
http://www.extrapinetar.com/2012/09/2...
THE BACKYARD
BEST OF MAXIM
RELATED ARTICLES
It's no surprise to see NFL players kicking away at Roger Goodell, an attack by Twitter, mostly. If you've seen enough prison movies, then you know how it goes: The warden portrays himself as righteous, but really is just making sure the prisoners are broken into submission to help him get what he wants. You can't wait for the comeuppance. Goodell is no Warden Norton...
It was nice waking up this morning knowing that the NFL was back in the hands of real referees and everything in the world order was back in place.  A nice added touch from the league was when I received a letter from Roger Goodell via email apologizing for the lockout and more excuses for the inconvenience of putting  amateurs on a professional field. That's a good start...
Roger Goodell is known as the most powerful man in sports. Being the commissioner of the most popular sport in the United States will give you that title, but it also comes with a lot of criticism. Goodell has often said his job in relation the National Football League is to act as the "protecting shield", meaning his job is to protect the integrity of the game of football and...
The NFL and the NFL Referees Association agreed to the terms of a new eight-year collective bargaining agreement Wednesday night.  The officials will return to action beginning tonight for the Browns-Ravens game. NFL Commissioner Roger Goodell lifted the lockout prior to being ratified by the NFLRA members in order to have the officials work tonight matchup between the Cleveland...
NFL commissioner Roger Goodell wouldn't say outright that the Green Bay Packers should have been awarded an interception, a determination that would have avoided Monday night's fiasco in Seattle.
Protect the shield.  It's the number one mission of Roger Goodell's NFL.  Well... that and an evil plan to control the world's water supply.  (Probably.)  The NFL will do any and everything to protect the NFL shield.  Fine players, suspend coaches, shout from the mountaintops about their hypocritical commitment to player safety, conduct a questionable investigation...
As the NFL season enters its fourth week now its time to get back to business. Late Wednesday night the NFL came to terms with the regular referees. The NFL's regular crews will be back on the field starting Thursday night for the Baltimore Ravens and Cleveland Browns game along with the full week four slate. The replacement referees will all be removed from their temporary positions...
Fail Mary?  The Inaccurate Reception?  A Game Winning Touchception?   Those are some of the descriptions used after the Hail Mary pass that allegedly won the game for the Seattle Seahawks Monday night….and a great idea for a Snickers 'Wanna Get Away' commercial. Wisconsin State Senator Jon Erpenbach was so upset with the call that he tweeted out NFL commissioner Roger Goodell's...
In the wake of the latest and most public gaffe made by the NFL's replacement officials, we've heard lots of things about what NFL players can or might do to protest not just the call that decided the Green Bay-Seattle game but the plethora of questionable calls we've seen in the first three weeks. Late Monday night or early Tuesday morning, depending on where you were...
Welcome Back Officials Early Thursday morning the NFL and the NFLRA reached an agreement on a new 8-year agreement.  The new pact is expected to be ratified on Friday by the union. Commissioner Roger Goodell in the meantime has lifted the lockout of the officials and that paves the way for them to be on the field this evening in Baltimore for the Browns-Ravens game and then for...
And video that had NFL commish Roger Goodell pissing on people while dressed as an emperor AND destroys Skip Bayless + Stephen A. Smith is worth a view. Still think the LFL release is a scam... Full story at Bob's Blitz ~ http://www.bobsblitz.com
According to Judy Batista of the New York Times, even though Monday night's football game was a complete mess when it came to how the replacement officials handled the game, "the NFL owners are dug in and opposed to further compromise." Both the NFL and the officials union have been meeting and working on getting everything worked out, but it looks like we've hit another...
NFL News

Delivered to your inbox

You'll also receive Yardbarker's daily Top 10, featuring the best sports stories from around the web. Customize your newsletter to get articles on your favorite sports and teams. And the best part? It's free!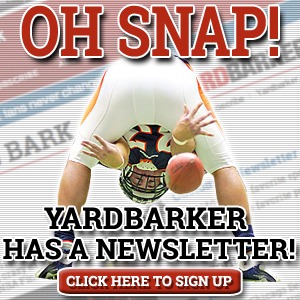 Latest Rumors
Best of Yardbarker

Today's Best Stuff

For Bloggers

Join the Yardbarker Network for more promotion, traffic, and money.

Company Info

Help

What is Yardbarker?

Yardbarker is the largest network of sports blogs and pro athlete blogs on the web. This site is the hub of the Yardbarker Network, where our editors and algorithms curate the best sports content from our network and beyond.