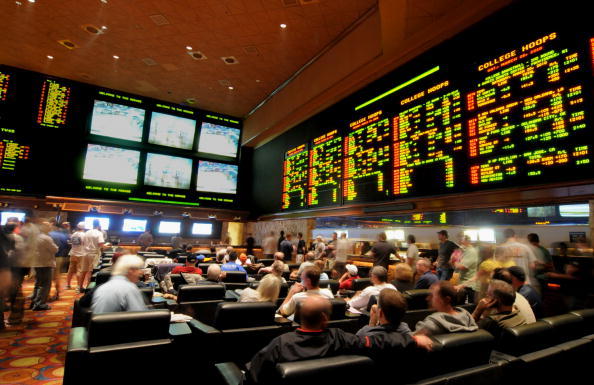 Everyone loves an underdog, but sometimes it pays to play the favorites. A gambler who places wagers through BetOnline.ag was apparently feeling lucky last week, but in a way he could make the argument that he was simply playing the odds. According to Beyond the Bets, this risk-taker decided to place $100 on a 23-team football parlay with a potential payout of $25,772. He won. Anyone who gambles on sports can tell you how difficult it is to win a parlay. Whether it be two teams or 10 teams, there's a reason the payouts are so large. However, this gambler apparently decided that there's also a reason certain teams are favored in Las Vegas. He included 21 college football favorites, one NFL favorite and one college football underdog in his wager. The lone underdog was Kansas State on the road against West Virginia, where the Wildcats pulled off an upset and destroyed the Mountaineers by a score of 55-14. The only NFL team included was the 49ers, who the mystery bettor apparently felt confident in at home against the Seahawks. The list of the other 21 NCAA favorites can be seen here. The favorites are favored for a reason, and one person is now more than $25,000 wealthier because of it. That being said, the people who have hit it big with all the crazy sports bets we've featured over the years here at LBS are tough to come by. That certainly isn't a coincidence. H/T The Big Lead
MORE FROM YARDBARKER:
Cult of Sport: Before there was Ezekiel Elliott, there was Eric Dickerson
MORE FROM YARDBARKER
NFL News

Delivered to your inbox

You'll also receive Yardbarker's daily Top 10, featuring the best sports stories from around the web. Customize your newsletter to get articles on your favorite sports and teams. And the best part? It's free!