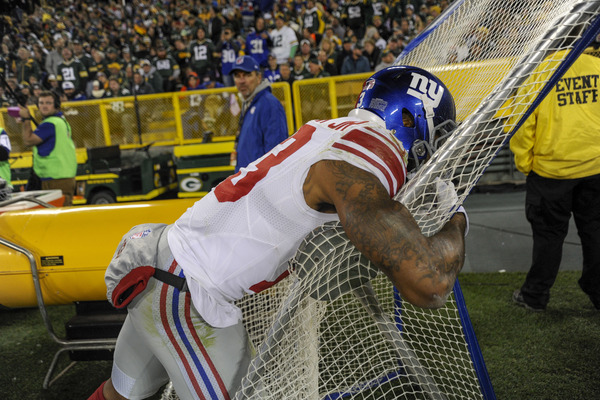 Three months ago when the Giants last visited Green Bay, Bechkam had a moment with the field goal net in much warmer temperatures.
Benny Sieu-USA TODAY Sports
Temperatures at Lambeau Field are expected to bitterly cold for Sunday's NFC Wild Card game between the New York Giants and Green Bay Packers, but the Giants don't seem at all worried about the conditions playing a factor in the outcome.
"Who cares," receiver Victor Cruz said, via Jordan Raanan of ESPN. "It's a playoff game. We don't care about the weather. We're going out there to play a football game and to win. Keep our chances of winning a Super Bowl alive. The weather isn't anything we're concerned about."
The current forecast predicts the high temp in Green Bay to be around 15 degrees on Sunday. Temps could dip into the single digits by kickoff.
Receiver Odell Beckham Jr. said it'll be "perfect football weather."
The Giants franchise has history with winning in the cold in Green Bay. New York beat the Packers in freezing temperatures in January of 2012, ending Green Bay's 15-1 season. Four years earlier, the Giants advanced to the Super Bowl with a win at Lambeau Field when the wind chill was -23 at kickoff. It was one of the coldest postseason games in NFL history.
The Giants aren't the only team prepping to play in the cold. The Packers have practiced outside this week to prepare for the conditions.
"We'll go outside. It's a normal Thursday winter practice for us," head coach Mike McCarthy said, via the team's official site. "We'll do all the work indoor that we need to (first). We need the field space (in the Don Hutson Center) to do all individual drills and fundamentals and special teams work. We'll go outside for the team, field goal, field goal block, and ball drills."
The Packers played twice in freezing conditions over their final four games, including a win in Chicago with the temp at 11 degrees at kickoff.
The coldest game the Giants played in 2016 came during an early December win over the Dallas Cowboys, when the temp was 32 degrees.
The Packers and Giants kick off from Lambeau Field at 4:40 p.m. ET on Sunday.
MORE FROM YARDBARKER:
How to fix the San Francisco 49ers
QUIZ: Name the winning starting quarterback from every Super Bowl
Who is going to Disneyworld/land? Can you name the NFL starting quarterbacks that lead their teams to a Super Bowl win?
MORE FROM THE SPORTS DAILY:
MORE FROM YARDBARKER
NFL News

Delivered to your inbox

You'll also receive Yardbarker's daily Top 10, featuring the best sports stories from around the web. Customize your newsletter to get articles on your favorite sports and teams. And the best part? It's free!