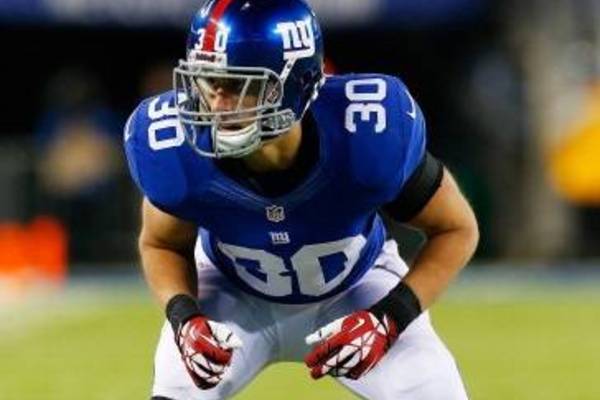 A New York Giants player found a way to cash in on the Super Bowl even though he won't be playing in it.Rookie Cooper Taylor is renting out his New Jersey condo with roof-deck views of MetLife Stadium — because it will be too depressing to stick around for the madness, he told the N.Y. Post.The defensive back and his girlfriend, real-estate broker Susan Carlson, are offering up their 2-bedroom, 2-bath Rutherford apartment for $9,000 during Super Bowl week."We thought it would be the best time to get out of the city and go on vacation because that week will be a madhouse," said the 23-year-old Taylor. "I am definitely disappointed that we are not playing in it. It would make it a lot more fun."The couple opted not to mention Taylor's NFL career in their Craigslist and AirBnB ads — but did drop some subtle hints."We are big fans of a local team here and unfortunately will not be attending this year," they wrote in a Craigslist pitch for the space.The 1,000-square-foot apartment is outfitted with a 70-inch TV, a pair of comfortable couches, and a pile of freshly washed NFL-player-used linens — all within one mile of MetLife Stadium. The Manhattan skyline is an added bonus.The couple rent their furnished apartment month-to-month for $2,700.A late-round draft pick who was unsure if he would even make the team this year, Taylor pulls in a relatively modest $450,000 annually and said he could use a quick Super Bowl cash  payout to finance a mini-vacation.No Jets fans allowed.
Read the rest of this story...
MORE FROM YARDBARKER

Giants News

Delivered to your inbox

You'll also receive Yardbarker's daily Top 10, featuring the best sports stories from around the web. Customize your newsletter to get articles on your favorite sports and teams. And the best part? It's free!