Found September 12, 2012 on Fox Sports Midwest:
PLAYERS:
Brandon Gibson
,
Steve Spagnuolo
,
Jonte Green
,
Sam Bradford
,
Chris Givens
,
Brian Quick
,
Jeff Fisher
,
Brandon Lloyd
,
Josh Mcdaniels
,
Mark Clayton
,
Nick Miller
,
Dominique Curry
,
Danario Alexander
,
Greg Salas
,
Austin Pettis
TEAMS:
St. Louis Rams
,
Detroit Lions
,
New England Patriots
,
Philadelphia Eagles
,
Washington State Cougars
ST. LOUIS Brandon Gibson is oblivious to the tectonic shift around him, and that might be good for a guy tossed into the pressure cooker of having to prove himself again. Clean slate. No memories. Just play. I try not to worry about it, said Gibson, in his fourth season as a St. Louis Rams wide receiver, when asked about job-security risks as a Billy DevaneySteve Spagnuolo holdover with a new regime. They watched film before. I think they saw a few things that could help. Does that film have insights into other future fortunes? Powerball numbers? Keno drawings? Because the Rams struck gold with a newborn Gibson on Sunday, when the 6-foot, 205-pound Washington State product cradled four catches for 51 yards and a touchdown in a loss to the Detroit Lions. Im all for getting help and getting coached, Gibson said. And so I want to make sure I can do whats best for the team. Heres what was best for the Rams in Week 1: Gibson chopping his feet for extra yards near the first-down marker like his cleats were flaming coals, showing more spirit in one afternoon than he did throughout most of a ho-hum 2011 season, extending his body like a flying squirrel past cornerback Jonte Green to snag a 23-yard touchdown pass from Sam Bradford that gave the Rams a seven-point lead early in the fourth quarter. Clean slate? No memories? Just play? Just produce, baby. He comes in everyday and works his butt off, rookie wide receiver Chris Givens said. Hes a technician. Thats the biggest thing I learned from him just how technical to be with my routes so that on game day things are a little bit easier for me. Thing is, life got harder for Gibson when Givens and first-year wide receiver Brian Quick arrived. Coach Jeff Fisher and general manager Les Snead handpicked the pair, so that meant a stronger squeeze on anyone who packed a corner stall at Rams Park last fall. Pro Bowl wide receiver Brandon Lloyd led the corps with 683 yards and five touchdowns last season, but he jetted to the New England Patriots in March with former coordinator Josh McDaniels. There was more turnover within the group than a 5-an-hour job hawking value meal No. 3. Mark Clayton? Declared as a free agent in March and wasnt resigned. Nick Miller? Cut in March. Dominique Curry? Cut in May. Danario Alexander? Cut in August. Greg Salas? Traded to the Patriots earlier this month. Austin Pettis? Forced to miss the first two games without pay for violating the NFLs policy on performance-enhancing substances. I guess we all have a fresh start this year, Gibson said. Thats all I can really go off of. Coaches came in. Obviously, they watch film and try to put guys in good positions to be successful. I think thats what were doing here. Gibson was in the right position against the Lions, and thats Step 1 in proving his staying power to the bosses. Consider last year, when he earned 50 or fewer receiving yards in 11 games played. And in two of his previous NFL seasons, he never hauled in more than one touchdown catch. Those numbers would get you a January flight to Hays, Kan., instead of Honolulu. Still, Sunday wasnt without a smack-your-forehead moment. Those are career crushers if youre not a Fisher Guy. Gibson was flagged for a 15-yard unnecessary roughness penalty late in the first quarter, snuffing a possible scoring drive. He redeemed himself with the Ringling Brothers touchdown catch in the fourth quarter, but his wrists were red from a stinger of a slap. He bounced back off the penalty and made the catch, Fisher said. (He) made a couple good catches, so that was good to see. But he knew he did it (the penalty). Right away, we had a little visit on the sideline and assured it wouldnt ever happen again. But in all, Fisher wouldnt mind seeing Sunday happen again for Gibson. Multiple times. Little about Rams Park is the same compared to when the wide receiver arrived from the Philadelphia Eagles in 2009. Sometimes, change can be the flame to inspirations fuse. Clean slate? No memories? Just play? Just do enough. Then do more. You can follow Andrew Astleford on Twitter @aastleford or email him at aastleford@gmail.com.
Original Story:
http://www.foxsportsmidwest.com/09/12...
THE BACKYARD
BEST OF MAXIM
RELATED ARTICLES
After an exciting but tragic loss to the Detroit Lions, the St. Louis Rams will head home to take on the media frenzied Washington Redskins. The Edward Jones Dome in St. Louis will play host to Robert Griffin III and the revitalized Redskin offense. Coming off a 40 point opener, and a big win against the New Orléans Saints, Washington is favored against an injured Rams team. ...
Mike Clay today on twitter put out a tweet saying that the Rams rookie WR Brian Quick played just three snaps in Week 1 versus the Lions. Brandon Gibson (46-of-58 snaps) was the surprise starter opposite Danny Amendola, pushing Steve Smith (23 snaps) into the third receiver role. Rookie Chris Givens was on the field for 18 snaps as the designated deep threat. Outside of Amendola...
Last week: 12 (+0) Record: 0-1 And here's the other half of the controversial prediction. On one hand, I nailed the Rams/Lions game. The Rams showed they were a better team than last year on both sides of the ball. On the other hand, my prediction of the Rams in the playoff only makes sense if the 49ers don't prove me wrong. If Alex Smith improbably becomes a true franchise quarterback...
In a minor move this morning, the Rams have agreed to terms with quarterback Kellen Clemens on a non-guaranteed contract, upgrading their depth at the position and pushing rookie Austin Davis back to the third string spot. Clemens previously held the primary backup spot behind starter Sam Bradford, but with his previous deal calling for a $700,000 salary, St. Louis elected to release...
After watching two offensive lineman go down and seeing quarterback Sam Bradford get sacked on three occasions, it did not take long for the St. Louis Rams to make a roster move to accommodate the risk of carrying just two quarterbacks behind a shaky and injury riddled offensive line. The Rams have brought back quarterback Kellen Clemens.  The Rams now have three quarterbacks...
ST. LOUIS (AP) -- St. Louis Rams offensive tackle Rodger Saffold had very limited duty in practice Wednesday, three days after being carted off the field with a significant neck injury that landed him in a Detroit hospital. That was enough for worried teammates. "It's great to see him out there," quarterback Sam Bradford said. "It's extremely scary anytime...
Beware, adjective overload to follow shortly. The St. Louis Rams played one of their most inspired, passionate, hard-nosed games fans have seen in a while in Motown this past Sunday. The final two minutes not withstanding. However, the defense of the St. Louis Rams made a statement that should not be ignored .  The defense was in midseason form against Detroit. This...
ST. LOUIS Sam Bradford refuses to let this be about him. He chooses not to hear the chatter. He tunes out comparisons to rookie Robert Griffin III, the unwanted static, because failing to do so would be a distraction. He says he doesnt pay attention to the media as he faces a scrum after practice. The statement shows his scars. Its Wednesday afternoon in the locker room at Rams...
Losing in the final seconds at Detroit could have been another blow to the downtrodden St. Louis Rams and their beat-down fan base. It was actually a huge step forward. The Rams lost for the 66th time in their last 81 games. But it has not dimmed the Rams' newfound competitive fire under first-year coach Jeff Fisher. In 11 of their 14 losses last year, the Rams faced double...
So close and yet so far is the recurring nightmare of the St. Louis Rams, who lost a nail biter at Ford Field in Detroit on Sunday.  The Rams appeared to be on the cusp of victory against the heavily favored Detroit Lions, but eight minutes before the game was over, the Rams completely ran [...]
The St. Louis Rams put up a hard fight during the season opener to the Lions. The game even started off with a field goal kick by the rookie Greg Zurelein who had a total of three field goals. During the second quarter corner back Cortland Finnegan intercepted Matthew Stafford for a touchdown taking the Rams to halftime with a one point lead.Roger Saffold was injured during the fourth...
NFL News

Delivered to your inbox

You'll also receive Yardbarker's daily Top 10, featuring the best sports stories from around the web. Customize your newsletter to get articles on your favorite sports and teams. And the best part? It's free!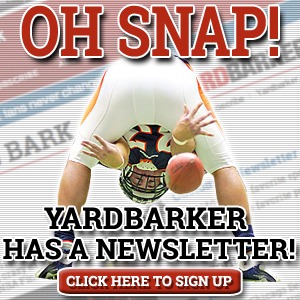 Latest Rumors
The Backyard

Today's Best Stuff

For Bloggers

Join the Yardbarker Network for more promotion, traffic, and money.

Company Info

Help

What is Yardbarker?

Yardbarker is the largest network of sports blogs and pro athlete blogs on the web. This site is the hub of the Yardbarker Network, where our editors and algorithms curate the best sports content from our network and beyond.