Posted April 19, 2013 on AP on Fox
PLAYERS:
Ted Thompson
,
Aaron Rodgers
,
Clay Matthews
,
Bryan Bulaga
,
Derek Sherrod
,
Nick Collins
,
Greg Jennings
,
B.J. Raji
,
Ryan Pickett
TEAMS:
Green Bay Packers
,
Minnesota Vikings
,
New England Patriots
(Eds: With AP Photos.) Ted Thompson played one season of baseball at Southern Methodist in 1975, so he knows a little about the game. He also knows a bit about swinging and missing. The Green Bay Packers general manager used a baseball metaphor Thursday as he talked about next week's NFL draft and his philosophy about trading. He credited retired Packers GM Ron Wolf in his explanation. ''It's like Ron always said: `It's kind of like baseball, you're not going to get a hit every time you go to the plate, but if you have more swings you have a better chance at getting a hit,''' said Thompson, who has eight selections overall. ''I think as a general philosophy, I'd rather have more than less. But at the end of the day I'd rather have more quality than anything. But quality and quantity both is a nice thing.'' For the most part, Thompson's previous eight drafts have had both. He has picked 75 players overall, and when the season ended with a 45-31 loss to the San Francisco 49ers in the playoffs, 27 of the 53 players on the active roster were Thompson draft picks, starting with quarterback Aaron Rodgers in 2005. He used to only trade backward, to get more ''swings,'' but is a bit harder to pigeonhole this year. ''(You trade up) when you think it's when you think you see value. That's the reason sometimes we'll go backward, (too) - when we see value later in the draft and numbers at positions where we think there's value,'' Thompson said. ''You know that you're giving up something if you trade up and you know that you're giving up something in terms of an opportunity to take a particular player in you go backward.'' In his first three drafts as Packers GM, Thompson executed nine draft-day trades, all of them to accumulate more picks. The trend stayed that way until 2009, when Thompson gave up a second-round pick and two third-round picks to acquire the New England Patriots' first-round pick (No. 26) that he used on linebacker Clay Matthews, who has been to four straight Pro Bowls. Last year, Thompson traded up three times. And armed this year with eight picks - only the fifth-round compensatory pick cannot be traded - Thompson could again be on the move. The Packers do have some obvious needs despite winning their second straight NFC North title and a three-year regular-season record of 36-12. Even though they used their 2010 and 2011 first-round picks on offensive tackles (Bryan Bulaga, Derek Sherrod), the offensive line remains a need. There are only three outside linebackers currently on the roster, the Packers need a replacement for three-time Pro Bowl safety Nick Collins and receiver Greg Jennings is gone. Defensive linemen B.J. Raji and Ryan Pickett are entering the final years of their contracts and Thompson could be looking for a running back, too. But one thing is certain: Because of their adamant draft-and-develop approach to team-building, Thompson and his reconfigured scouting staff can't afford to swing and miss very often. ''We believe in drafting and developing players. We think that is the best way to build your team over the long term,'' Thompson said. ''That doesn't mean we won't sign free agents or do different ways of acquiring players and going to college free agency and that sort of thing, but we do believe that continually every year you need a new class of players and young men to join your team in order to sustain over the long term the ability to win and compete in the NFL.'' Does that put greater pressure on Thompson to be right, as he tries to keep the Packers a Super Bowl contender during star Rodgers' prime? ''Pressure's what you make it,'' the 60-year-old Thompson replied. ''I'm a single guy, I don't have children to worry about. It's not that much pressure. But you want to do right. I'm not trying to make light of this. It's important. And we gnash our teeth over it and we try to do the best we can to make the right decisions. But at the end of the day, we don't worry about things.''
Original Story:
http://msn.foxsports.com/nfl/story/GM...
THE BACKYARD
BEST OF MAXIM
RELATED ARTICLES
Before I start, I want to state that I am a huge Clay Matthews fan. Who doesn't love him in the Fathead commercials and his sack celebrations? With that being said, sports contracts shouldn't be about how much you like a player. At the end of the day, franchises are businesses and players should be viewed as assets/liabilities.Matthews signed his new contract with $69.77...
Green Bay made Clay Matthews the highest paid LB in the NFL on Wednesday by signing him to a 5-year, $66 million extension.  The deal locks up a huge piece to the Packers' puzzle and retains an integral part of a defense that has at times lacked consistency. On a team where the number one concern is the lack of a pass rush, paying arguably the NFL's best linebacker over $13...
Lost in the news of the Clay Matthews deal, the Green Bay Packers breathed a sigh of relief on Friday Night when the deadline for teams to sign restricted free agents to offer sheets passed because it means cornerback Sam Shields is almost guaranteed to return to the team for the 2013 season. According the PackersNews.com, which cites an NFL source, Shields did not sign an offer...
Do you remember Rich Campbell?Packer fans do! And Tony Mandarich, Brent Fullwood, Terrell Buckley. All the swings and misses that came along before Ron Wolf, Mike Holmgren and Brett Favre.Like every franchise Green Bay has had some great moments in the NFL draft. And some not so great moments. Either way they make a compelling profile worth remembering as we approach the 2013 draft...
According to ESPN's Adam Schefter, free agent running back Cedric Benson is drawing some interest from teams around the league.Free-agent RB Cedric Benson is getting closer to 100 percent — and he is on teams' radars.utexas.box.com/s/njdommo9fssf…— Adam Schefter (@AdamSchefter) April 18, 2013I would think that any team that's at least looking for a short yardage back...
While almost everyone else with cap space has spent the offseason trying to upgrade on the free-agent market, the Green Bay Packers have stayed off of the market while focusing instead on taking care of their own key cogs. Quarterback and top offensive weapon Aaron Rodgers is fully expected to sign a long-term extension at some point this offseason, and now top defensive player Clay...
For all those Green Bay Packer fans who have criticized Ted Thompson for being a cheapskate over the years, the five-year $66 million deal given to Clay Matthews yesterday should prove once and for all that he's not -- it also proves that he knows how to build a winner. Thompson, who enters ninth-year as Packers general manager isn't a lavish spender by any means but he...
In a kind hearted gesture, Packers TE Jermichael Finley tweeted today that he will donate $500 to One Fund Boston this season for each pass he drops and each touchdown he records. I'll b donating $500 4 every dropped pass this season 2 One Fund Boston. Now fans can cheer & boo me @ the same time! Also giving $500/TD! — Jermichael Finley (@JermichaelF88) April 18, 2013...
Yes! The 2013 regular season NFL schedule has just been released, and it brings with it the sixth most difficult schedule for the Green Bay Packers based upon strength of opponent. The Pack opens at San Francisco on Sept. 8 and closes the season at Chicago on Dec. 29. The schedule also has something this season that has been fairly unusual in recent years for the Packers: an early...
According to Tom Silverstein of the Milwaukee Journal-Sentinel, the Green Bay Packers will be playing the Detroit Lions on Thanksgiving day.According to NFL source, #Packers are playing #Lions on Thanksgiving Day this year.— tom silverstein (@TomSilverstein) April 18, 2013 Need NFL Tickets?
We examine the Packers' depth chart, their draft history under general manager Thompson and the first-round possibilities at wide receiver, which is a position of need with the losses of Greg Jennings and Donald Driver.
NFL News

Delivered to your inbox

You'll also receive Yardbarker's daily Top 10, featuring the best sports stories from around the web. Customize your newsletter to get articles on your favorite sports and teams. And the best part? It's free!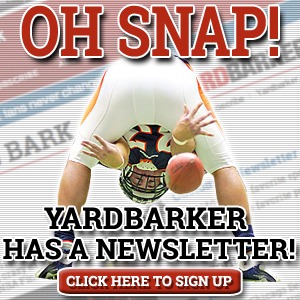 Latest Rumors
The Backyard

Today's Best Stuff

For Bloggers

Join the Yardbarker Network for more promotion, traffic, and money.

Company Info

Help

What is Yardbarker?

Yardbarker is the largest network of sports blogs and pro athlete blogs on the web. This site is the hub of the Yardbarker Network, where our editors and algorithms curate the best sports content from our network and beyond.