Found June 27, 2013 on isportsweb.com:
Brett Favre (Photo Credit: AP) Almost five years ago, one of the greatest quarterbacks of all time was traded to the New York Jets.  The divorce between Brett Favre and the Green Bay Packers has been well documented.  The Packers had Aaron Rodgers as the future of the franchise and were tired of Favre's constant indecision about retirement.  In 2007, Favre and the Packers had a magical year. Favre broke Dan Marino's career touchdown record, and broke John Elway's career win record.  The Packers finished the regular season 13 and 3, and reached the NFC Championship game against the New York Giants.  As we all know by now, Favre's last pass as a Packer was intercepted by Corey Webster, and the Giants went on the win the Super Bowl. During the previous four years, Favre had hinted that he might retire after each year, only to come back after training camp.  After the 2007 season, Packers General Manger Ted Thompson did not want to deal with the retirement circus.  He gave Favre until the 2008 NFL draft to decide whether to return or retire.  Favre decided to retire.  The Brett Favre era in Green Bay was over, and the Aaron Rodgers era was set to begin.  But in the beginning of July, Favre changed his mind and decided he wanted to come back.  The Packers said no and traded him away to the Jets.  The trade rocked the football world.  When you thought of the Packers, you thought of Brett Favre.  It didn't seem right to imagine him playing on any other team.  Not only that, but the relationship between Favre and the Packers was over and has not been fixed since. After the 2010-2011 season, in which Rodgers and the Packers won the Super Bowl, Favre decided to retire, for good.   In three years from now, Favre will be eligible for the Pro Football Hall of Fame.  That is the main reason why the Packers and Favre should make amends and have Favre retire his Packers jersey.  In the past few months, the signs of a reunion have started to emerge.  Packers CEO Mark Murphy has said the team wants Favre to come back to Green Bay.  Favre has admitted that the break up between himself and the Packers was his fault.  Favre has also said that he expects Aaron Rodgers to break all of his passing records.  If that doesn't sound like a guy who wants to mend ways and come back to his family, I don't know what does. It is time for Favre to come back to Green Bay.  Favre coming back would heal the wound that was left after he was traded.  It would also make for a heartwarming story.  Maybe Favre and his favorite wide receiver Donald Driver, who retired after this last season, can retire their jerseys during the same game.  Whether that happens or not, I know one thing for sure: Brett Favre should be in the Packers Hall of Fame before he is in the Pro Football Hall of Fame.  All it takes is cooperation between Favre and Thompson, and Favre will be back home where he belongs.
Original Story:
http://feedproxy.google.com/~r/isport...
THE BACKYARD
BEST OF MAXIM
RELATED ARTICLES
AND A-RODG AIN'T HAPPY
The sports world was all over the news out of Massachusetts yesterday regarding Aaron Hernandez.  The Patriots TE was finally arrested early in the morning, then he was released by the team less than an hour later.  Finally, in the afternoon it was revealed Hernandez would be charged with murder and not merely obstruction of justice as had been previously conjectured. NFL stars...
And I don't mean a "Killer of Vikings fans hopes and dreams" or anything like that, I mean a real life, shooty-shooty, stabby-stabby (not like THAT kind of stabbing though ... I don't think), kill kill kill, kind of murderer.  At least according to Jeremy Schaap and ESPN. ESPN said - ON AIR - in a recent interview, that Aaron Rodgers was likely tied...
Aaron Rodgers took to his Twitter account after he was confused for accused murderer Aaron Hernandez during a live segment on ESPN Wednesday. Reporter Jeremy Schaap referred to Aaron Hernandez as Aaron Rodgers during a breaking newscast. Rodgers' dismayed tweet: Not funny ESPN — Aaron Rodgers (@AaronRodgers12) June 27, 2013 Reportedly, it was Rodgers'...
Not many people are going to think Aaron Rodgers' name has really been sullied by all of this, but, as the Packers quarterback put it so eloquently Wednesday, "Not funny, ESPN." ESPN was up to its elbows reporting on the Aaron Hernandez investigation Wednesday, and everything was going swimmingly until Jeremy Schaap checked in from the courtroom to update viewers on the case...
Live TV is harder than it looks. It is even harder when you dealing with a serious issue like a NFL player being charged with 1st degree murder, so cut Jeremy Schapp a little slack here in this video provided by The Big Lead. Aaron Rodgers was not amused. Not funny ESPN — Aaron Rodgers (@AaronRodgers12) June 27, 2013
Some of the biggest news in the NFL in a long time came Wednesday that former New England tight end Aaron Hernandez was being charged with first degree murder eleven.  While coving Hernandez's arraignment, ESPN's Jeremy Schaap, made a crucial error and confused Hernandez with current Green Bay Packers quarterback Aaron Rodgers. "Certainly based on what we heard there is a...
Aaron Hernandez and Aaron Rodgers have very few things in common, but obviously their first name is one of them. Given the fact that Hernandez has been arrested and charged with murder, you can understand why Rodgers would not want to be associated with him an any way. Unfortunately, a slip of the tongue from [...]
The spring and summer of 2013 should be renamed the Seasons of Favre. Over the past six months, the seemingly tumultuous relationship between the former quarterback and his former employer has gone from a Defcon 1 state of war to a Defcon 3. Not the huggy kissy relationship some would like the two sides to have, but progress from the declaration of war that was signed when Favre...
So, have you heard the news about former Patriots TE Aaron Hernandez, who's in all sorts of trouble now that he's been a) charged with murder in the death of Odin Lloyd, b) cut by New England following his arrest, and c) is now being investigated for a double homicide in Boston last year? Yeah, to say things aren't looking so rosy for Aaron Hernandez would be an epic misfire...
Player Ryan Fowler Joel Beall Adam Meyer John Halpin Avg 1. Aaron Rodgers (GB - QB) 1 1 2 1 1.3 2. Drew Brees (NO - QB) 2 3 1 3 2.3 3. Peyton Manning (Den - QB) 3 4 3 5 3.8 4. Cam Newton (Car - QB) 6 5 4 2 4.3 5. Tom Brady (NE - QB) 7 8 5 4 6.0 6. Matt Ryan (Atl - QB) 5 9 8 6 7.0 7. Colin Kaepernick (SF - QB) 4 11 6 8 7.3 8. Russell Wilson (Sea - QB) 11 2 9 9 7.8 9. Matthew Stafford...
Packers News

Delivered to your inbox

You'll also receive Yardbarker's daily Top 10, featuring the best sports stories from around the web. Customize your newsletter to get articles on your favorite sports and teams. And the best part? It's free!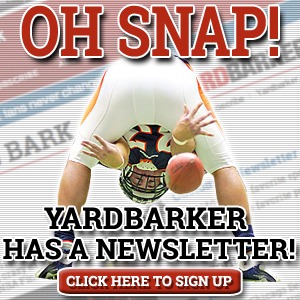 Latest Rumors
Best of Yardbarker

Today's Best Stuff

For Bloggers

Join the Yardbarker Network for more promotion, traffic, and money.

Company Info

Help

What is Yardbarker?

Yardbarker is the largest network of sports blogs and pro athlete blogs on the web. This site is the hub of the Yardbarker Network, where our editors and algorithms curate the best sports content from our network and beyond.