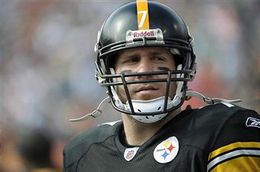 It's no secret that we here at Steeler Addicts are big proponents of the defense. We want to see the big hits on the defense, the huge blocks, power runs, and everything that goes along with the physicality of the NFL. That's not to say that we don't like seeing Ben Roethlisberger hit a 50 yd pass to Mike Wallace for a TD either though, points are points in the league so you get them any way you can. Still though we've always been enamered with the huge, wicked, knock your head off hits that the NFL has been famous for up until recently. At least Marc and myself feel that way, the masses in the SA Forums are diverse in their thinking but one thing is clear, everybody loves the physical NFL and we love our Steelers above all else. One of the biggest hitters and nastiest players to ever come through the halls of the Steelers facility is linebacker Greg Lloyd. Recently, while at a charity golf tournament for Bengals head coach Marvin Lewis, Lloyd spoke to WXIX-TV in Cincinnati on the state
Read the rest of this story...
MORE FROM YARDBARKER
NFL News

Delivered to your inbox

You'll also receive Yardbarker's daily Top 10, featuring the best sports stories from around the web. Customize your newsletter to get articles on your favorite sports and teams. And the best part? It's free!