Found November 13, 2012 on New York Sports-Kings:
PLAYERS:
Tom Coughlin
,
Eli Manning
,
Drew Brees
,
Matt Ryan
,
Michael Vick
,
Nick Foles
,
Robert Griffin III
TEAMS:
New York Giants
,
New Orleans Saints
,
Philadelphia Eagles
,
Washington Redskins
,
Millikin Big Blue
To say that the New York Giants played a bad game on Sunday would be an understatement.  Watching that game, many would think that this was the worst game the Giants have played in recent years. After watching that game, it was hard to tell if the team that was just on the TV was the Giants or if it was a misprint and everyone just watched the Jets. Despite the horrendous game and the inconsistencies the last few weeks, the Giants are arguably in the exact position that they love to be in.  They historically struggle in November under Tom Coughlin but as they enter the bye week, they will have two weeks to prepare for the homestretch, a time when Big Blue normally thrives. Eli Manning has struggled over the last few weeks and as his play has dropped, so has the play of the entire team. PHOTO COURTESY: ANDREW THEODORAKIS/NY DAILY NEWS The Giants have done more than just struggled over the last three weeks.  Although they were able to grind out a big win against the Cowboys, their offense has sputtered over the last two games.  The Giants struggles could have a lot to do with Eli Manning's tired arm as he only has one touchdown over his last four games. During this stretch, Manning has a quarterback rating of 58.6 and has a touchdown to interception ratio of 1:6.  He is far from where he was in the beginning of the season when people were starting to think he was better than his older brother Peyton. Manning's struggles should not come as that much of a surprise to many people as the quarterback has often struggled in the month of November.  Over his career Manning has compiled a 13-19 record in the November and this month has been seen as the "midseason lull" for the Giants. However, the biggest thing that is now happening to the Giants is that people are starting to underestimate them; again.  For the first two months of the season, the Giants were seen as arguably the best team in the NFL.  A second straight trip to the NFL was easy prediction. After they were embarrassed by Cincinnati, people are beginning to doubt them again which has been a trademark for this team under Coughlin and Manning.  They are always seen as good, never great and right when you think they have no chance, they prove the doubters wrong. Just remember what happened last year.  After a dismal November that included a 49-24 drubbing by the Saints on Monday Night Football, the Giants ended the year winning three of their last four and making yet another improbable run to the Super Bowl. This is why the Giants are in the perfect situation to thrive again. The difference this year though is that the Giants remaining schedule is brutal to say the least.  After they host the Packers in two weeks, their five remaining games are as follows:  at Washington, home against New Orleans, at Atlanta, at Baltimore and home against the Eagles. To put it in other words, they have to play their final six games against Rogers, Robert Griffin III, Drew Brees, Matt Ryan, Joe Flacco and Mike Vick/Nick Foles. By the end, there is no doubt that the Giants will be praying for Foles.  Unfortunately for the Giants, with that schedule ahead of them, that final game might be irrelevant for both teams. The upside of this is that if the Giants do survive and make it to the playoffs, they will be probably the most battle tested team in the NFL.  Every game for the rest of the season will have the intensity of a playoff game and with one more magical run in December, the Giants could find themselves fighting for the Lombardi Trophy one more time. Follow us on Twitter – @NYSportskings Contributor – Dave Ragazzo – @Dragazzo_Sports The post How the New York Giants Are in the Perfect Situation…Sort of appeared first on New York Sports Kings.
Original Story:
http://nysportskings.com/how-the-new-...
THE BACKYARD
BEST OF MAXIM
RELATED ARTICLES
With the New York Giants off to a 6-2 start and holding a big lead in the NFC East, two-time Super Bowl MVP Eli Manning was a legit MVP candidate. Not anymore. After two straight losses and some pathetic offensive play, Manning is now hearing the other side of the equation from fans and critics. His golden arm looks tired and his play is reminiscent of his rookie season when teams...
CAN'T SPELL ELITE WITHOUT ..
CBS commentator Phil Simms was somewhat critical of Eli Manning recently, saying the Giants quarterback isn't an elite player.
    It's been a rough month for Eli Manning. Other than his rookie season in 2004, it's probably been the toughest three-week stretch of the Giants' quarterback career. Still, with the media jumping all over Manning's back, the New York Giants struggles, on both sides of the ball, shouldn't be shouldered to the two-time super bowl MVP. Instead, the bulk of the Giants...
We're seeing something this season very similar to what we have over the last five years in the quality of play from Tony Romo and Eli Manning during the month of November. For some odd reason, the performances over the last five years or so of these two elite quarterbacks have been closely compared but in November they seem to end up on opposite ends of the field. It turns out...
Per a report for the New York Daily News Gary Myers, New York Giants head coach Tom Coughlin was so frustrated with his 2-time Super Bowl MVP quarterback Eli Manning that he used "terrible" and "foolish" to describe instances where Manning should have protected the ball better versus trying to make a play. Coughlin typically generalizes his criticism publicly, rarely singling...
During an appearance on CBS Sports Network's NFL Monday QB show, former Giants quarterback and CBS analyst Phil Simms said that he doesn't believe Eli Manning is an elite quarterback. "No, he is not one of the elites," Simms said in quotes distributed by CBS, via the New York Daily News. "Because when I hear the word elite, I'm thinking about guys that can make unbelievable...
NY Daily News"No, he is not one of the elites," Simms said. "Because when I hear the word elite, I'm thinking about guys that can make unbelievable plays on the field by themselves. There are very few quarterbacks in that category."So yes, Eli has been a tremendous team player. He has been MVP of the Super Bowl twice. I know that. But the way I look at it...
The word "elite" get thrown around in football a lot, but no one really knows what it refers to. Does it mean that player is currently Top 5 among their position? Does it mean they're Top 10 at their position all time? Or does it mean that they're a future hall of famer? To Phil Simms, it may be an even higher honor. Simms created some controversy on Monday when he said that...
Eli Manning: The Bye week is coming at the right time for the Giants as they are on a two game losing with a 6-4 record in first place in the NFC East division. The Giants will rest Eli Manning from throwing passes this week and will wait until next Monday before their next game against the Packers. He has a tired arm according to Greg Cosell of NFL films and Ron Jaworski of ESPN...
I'm a bad man at this game Juan… Jonathan Stewart grabbed his copy of Black Ops II today, did you?  I wasn't standing in line at midnight or calling out from work to play it today, but I stopped by Target on my lunch break.  Since I typing this right now, I haven't had time to crack it open, but Juan Jr and I will log some hours this weekend. Buy Low: Eli Manning Pick Him Up: Nick Foles
Former Giants legend Phil Simms believes Eli Manning of the New York Giants isn't an elite quarterback in this league despite he has won two super bowls. The current NFL analyst on CBS said this past Monday said Eli Manning is a tremendous player, but he is not up their with Tom Brady, Peyton Manning, Aaron Rodgerts, etc. His reason is that Eli Manning isn't the type of...
Obviously the Patriots defense has been a hot topic after it got demolished but came up with a key stop.The next day, I saw this awesome breakdown on Reddit. It is a run down of all of the Patriots game winning defensive stops. Basically this looks at the Patriots defense when placed in your typical "clutch" situation. Game on the line. All of the below are chances the...
NFL News

Delivered to your inbox

You'll also receive Yardbarker's daily Top 10, featuring the best sports stories from around the web. Customize your newsletter to get articles on your favorite sports and teams. And the best part? It's free!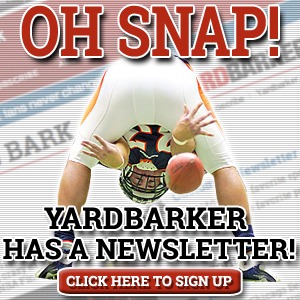 Latest Rumors
The Backyard

Today's Best Stuff

For Bloggers

Join the Yardbarker Network for more promotion, traffic, and money.

Company Info

Help

What is Yardbarker?

Yardbarker is the largest network of sports blogs and pro athlete blogs on the web. This site is the hub of the Yardbarker Network, where our editors and algorithms curate the best sports content from our network and beyond.