Found March 08, 2013 on Patriots Life:
Contract negotiations between Wes Welker and the New England Patriots have gone to opposite sides of the spectrum and everywhere in between in a matter of days. I have ridden the Welker Contract Roller Coaster now for two offseasons in a row, and I have spent hours wondering about his future. I live and think like someone living in the modern Western world, so I think in terms of either/or because that is the thought process we have been raised to think in. We simply do not like gray areas, we frown upon being lukewarm. Therefore, I waffle from being extremely pro-Welker to vehemently against signing Welker (those who read what I have written in the past month are nodding their heads). After all of the endless pondering I have reached a conclusion, if the Patriots do not sign Wes Welker then it will be a disaster for everyone involved and the blame lies completely on the Patriots. The Patriots relationship with Welker is mutually beneficial, there is no way around that. The Patri...
Original Story:
http://www.nepatriotslife.com/2013/03...
THE BACKYARD
BEST OF MAXIM
RELATED ARTICLES
Patriots are aware that the noise about Wes Welker — and other free agents — soon could get louder -...
Wes Welker, WR, Free Agent (2012-13 Team: New England Patriots) Player Profile Height/Weight: 5-9/185 Birthdate: 5/1/1981 School: Texas Tech FANTASY FOOTBALL ANALYSIS Wes Welker turned in yet another.. er.. ppr studded season. He hauled in a whopping 118 catches for 6 touchdowns. While Julian Edelman was nipping at his heels during the early portion of the season, Welker, in the...
The National Football League free agency period has begun and the top wide receivers are already getting a lot of attention. Wes Welker, Mike Wallace and Greg Jennings are a few of the big names that are receiving a lot of of coverage so far with Welker being the most interesting of the bunch. There were early reports that Wes Welker and the Patriots were close to finalizing...
The Miami Dolphins went into 2012 barren at wide receiver. Chad Johnson couldn't even make it through training camp and Brian Hartline did an admirable job during the season, but it was obvious Miami needed to upgrade the position. The Dolphins have already re-signed Hartline, they're considered the front runners for Mike Wallace and now they're interested in Wes Welker, according...
Once again, introducing the wit and vitriol of my friend Al Bedrosian. Al's hobbies include riding dirt bikes, collecting guns, shooting bows and arrows, drinking cheap but not light beer and watching youtube videos of engines starting up. When he gets a spare moment, he also watches the Patriots. Back by popular demand, here's what he thinks of them. With just three days...
With Adam Schefter reporting that Wes Welker was going to test the Free Agency and Greg Bedard claiming that Brandon Lloyd has an inconsistent attitude and is likely to get released, the gaping hole that is the New England Patriots wide receiving corps has been shoved into the limelight. Their depth chart, if they don't have retain Wes Welker, Deion Branch, and Brandon Lloyd...
With so much of the attention surrounding Wes Welker in recent days, the future of the Patriots other Pro Bowl receiver has been kicked to the back burner. At this time last year, rumors were swirling about Brandon Lloyd's potential addition to the Patriots' receiving corps. Just one so-so season later, though, it appears the team might be in the process of parting ways with...
So, have you been wondering who will be the top-bidded free agents this offseason? Well, I know I was pretty curious.Therefore, I decided that I would share with everyone who your team could get to improve.I will be naming 10 different players that will be heading into the free agency pool this off season. Everything from QB to RB, and WRs also.I'll list them all. Now, if you...
Not really any sudden or surprising news here, but the possibility of free agent WR Danny Amendola becoming a New England Patriot seem more and more likely. So this has been considered almost a gimme for a while now, but with Wes Welker deciding to test the market, Amendola could be a factor in Welker's contract negotiations. Writer Mike Florio of ProFootballTalk.com says that...
Before we get too crazy, NFL.com's Marc Sessler made it very clear that there is a difference between 'interest' and actually making moves to acquire a player. Anyways, an NFL source recently said that the Patriots "have some interest" in the top free-agent WR Mike Wallace. Sam Reilly wrote a convincing argument as to why the Patriots need a guy like Wallace...
It's been a while since we've posted on Foxboro Blog.  You can blame part of that on the fact that the gap between the Super Bowl and the start of free-agency is the dullest time of the NFL calendar, unless you happen to be a combine nut.  The other part is pure busyness as I've been working my tail off on a project that will redefine Foxboro Blog as well as the rest...
NFL News

Delivered to your inbox

You'll also receive Yardbarker's daily Top 10, featuring the best sports stories from around the web. Customize your newsletter to get articles on your favorite sports and teams. And the best part? It's free!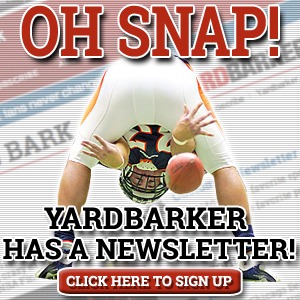 Latest Rumors
Best of Yardbarker

Today's Best Stuff

For Bloggers

Join the Yardbarker Network for more promotion, traffic, and money.

Company Info

Help

What is Yardbarker?

Yardbarker is the largest network of sports blogs and pro athlete blogs on the web. This site is the hub of the Yardbarker Network, where our editors and algorithms curate the best sports content from our network and beyond.