Found September 23, 2012 on Turn On The Jets:
PLAYERS:
Darrelle Revis
,
Reggie Bush
,
Antonio Cromartie
,
Kyle Wilson
,
Ellis Lankster
,
Quinton Coples
,
Demario Davis
,
Aaron Maybin
,
Rex Ryan
,
Tim Tebow
,
Shonn Greene
,
Bilal Powell
,
Joe McKnight
,
Mark Sanchez
,
Jeff Cumberland
,
Stephen Hill
,
Santonio Holmes
,
Jeremy Kerley
,
LaRon Landry
TEAMS:
New York Jets
,
Miami Dolphins
Today was one of those wins that wasn't very easy to enjoy. Let's start with this reality, it appears likely that Darrelle Revis tore his ACL. We won't find out for sure until tomorrow but any educated fan understands what a season ending injury means to the quality of the Jets defense. A Jets defense that already is not very good. It certainly isn't elite. It certainly isn't great. I'm not even sure if it is fair to classify it as good. When you allow a rookie quarterback to drive up and down the field on you with his second and third string running backs and the collection of receivers Miami has, you have nothing to puff your chest out about. If Reggie Bush doesn't get hurt, the Jets might have lost by 10-14 points today.
The Jets have no pass rush, no speed at linebacker and cornerbacks in Antonio Cromartie, Kyle Wilson and Ellis Lankster who play the ball poorly in the air and are susceptible to double moves. Quinton Coples and Demario Davis have brought nothing to the defense so far. Aaron Maybin is a non-factor and the tackling for the entire unit is below average. This defense has a ton of room to improve and Rex Ryan must start finding a way to manufacture a pass rush.
On offense, it is painfully apparent the New York Jets had no well defined plan on how to use Tim Tebow coming into this season. So far his primary use this year has been as a slot receiver, who can't catch the football (sadly, I'm serious). The Jets have been awful in short yardage and around the goal-line. If Tebow can't get on the field on the 1 yard line on any of the Jets attempts down there, why is he on this team?
At running back, Shonn Greene needs to be put on the bench. I have battled with readers of this site the past few weeks about Greene but the numbers and production don't lie. 19 carries for 40 yards? 2 yards per carry? How could you defend this guy as the starting running back? Don't talk about the offensive line not opening up holes because Bilal Powell had 10 carries for 45 yards or 4.5 yards per carry. It is time to make Powell the starter, Joe McKnight (the Jets aren't good enough on offense to keep somebody with his speed on the bench) the 3rd down back and relegate Greene to 7-10 carries per game off the bench. He isn't even reliable enough in short yardage to make him a speciality back for that. Greene is painfully slow and has no ability to break tackles or make people miss.
Mark Sanchez did not play well at quarterback today. Simply put, he needs to complete a higher percentage of his passes and improve his decision making. His interception in the red-zone was awful, regardless of the poor route from Jeff Cumberland. Yes, there were dropped passes. Stephen Hill dropped an easy touchdown and had an overall poor game. Bilal Powell had a key third down drop. Regardless, Sanchez supporting cast is weak. We knew that coming into the year. It is a reality that isn't going away. He needs to find a way to elevate his play and the play of those around him.
Now to the positives because there were a few – Santonio Holmes as Mark Sanchez eloquently put it "played his ass off." Despite coverage being rolled to him, Holmes racked up 9 catches for 147 yards and the key catch in overtime. Jeremy Kerley is turning into a reliable playmaker and the Jets must do a better job of the getting the ball in his hands more. LaRon Landry had a pick six and has been a substantial upgrade at safety. Sanchez deserves credit for driving the Jets for the go ahead touchdown and the game winning field goal and throwing for over 300 yards with the collection of receivers and tight ends he had on the field.
The Jets aren't a very good team and have many things to improve on. Regardless, they are 2-1. 2-0 in the AFC East and currently in 1st place. A win is a win and we'll take it.
Original Story:
http://turnonthejets.com/2012/09/init...
THE BACKYARD
BEST OF MAXIM
RELATED ARTICLES
The Jets defense may have suffered a major blow as starting cornerback Darrelle Revis suffered a knee injury in the third quarter against the Miami Dolphins. He was sidelined for the remainder of the game. Revis, who was making a play away from the ball, was seen grabbing his left knee and appeared to be in major pain. Revis returned to action in Week 3 after missing the Week 2...
New York Jets Pro Bowl cornerback Darrelle Revis did not complete a single game before after returning from a concussion injury. Revis is due to undergo an MRI on Monday morning on his left knee, which twisted in an ugly fashion during Sunday's 23-20 overtime victory against the Miami Dolphins. Click Here To Read This Story
The New York Jets may have to find out what life is like without cornerback Darrelle Revis for an extended period of time. While many wide receivers will be thrilled that they will not have to visit Revis Island any time soon, the Jets fear that Revis suffered a torn ACL in Sunday's 23-20 overtime win over the Miami Dolphins. It could end his season if the MRI results confirm the...
As the New York Jets try to prepare for life without Darrelle Revis, the defensive coaching staff may have some scheme changes in store moving forward
It's not often that we comment on the defensive side of the ball but the season ending ACL injury to Darrelle Revis will have far-reaching fantasy impact especially for the passing games in the AFC East. Phillip Rivers owners should also rejoice as the Chargers face the Jets in the all important Championship week 16.
  Bad news for Jets Darrelle Revis. The Cornerback was injured during the third quarter of the Jets overtime win over the Dolphins Sunday.  Jets head coach Rex Ryan announced that Revis tore his ACL and will miss the remainder of the season. On the play, Revis fell awkwardly, reaching for his leg and covering [...]
The New York Jets were dealt a mighty blow to their AFC Championship loss aspirations, after cornerback Darrelle Revis went down with what is now being called a torn ACL. Revis is out for the remainder of the season, and less than reliable Kyle Wilson is slotted to move into his place. With the revelation [...]
It was only a concussion that kept Darelle Revis out of action last week, but going forward for the New York Jets it's much more serious. Revis is out for the remainder of the season. The Jets' fears were confirmed Monday after the team sent him for an MRI. Revis has a torn anterior cruciate ligament in his left knee that will require surgery, coach Rex Ryan announced Monday...
Life without cornerback Darrelle Revis is what the New York Jets will likely face for the remainder of the 2012 season.
The New York Jets look to rebound after a loss in the form of their long time division rival, the Miami Dolphins.  Darrelle Revis will play after missing the game against Pittsburgh with a concussion that took place Week 1.  Tight end Dustin Keller is questionable with a hamstring and fullback John Conner and linebacker Bryan Thomas are doubtful.The Jets look to bounce back from...
NFL News

Delivered to your inbox

You'll also receive Yardbarker's daily Top 10, featuring the best sports stories from around the web. Customize your newsletter to get articles on your favorite sports and teams. And the best part? It's free!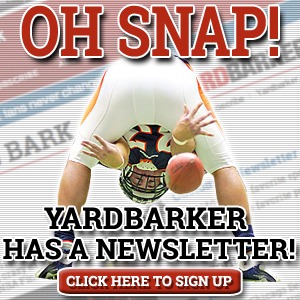 Latest Rumors
The Backyard

Today's Best Stuff

For Bloggers

Join the Yardbarker Network for more promotion, traffic, and money.

Company Info

Help

What is Yardbarker?

Yardbarker is the largest network of sports blogs and pro athlete blogs on the web. This site is the hub of the Yardbarker Network, where our editors and algorithms curate the best sports content from our network and beyond.