Found March 26, 2013 on The Bay Cave:
Using the soon to be trending hashtag on Twitter of "#RevisOrBust" from 98.7 The Fan's Justin Pawlowski, it seems that is what's going on when it comes to the Bucs and Darrelle Revis. After the 2012 season ended, Mark Cook of the Pewter Report wrote that the Buccaneers are not crazy about this offseason's crop of corners. So far, that has been exactly the case. Fans are also screaming out to the Bucs asking why they haven't been spenders this free agency. Aside from the Dashon Goldson signing, the Bucs have done little to bring in anyone else to sign. This shouldn't be a surprise to anyone if you would have read my article on the Bucs' salary cap and what it means for this offseason. (Which was not to expect much from them.) With all that said, the team is banking on the draft as well as their own guys. The potential extension of Mike Williams, Josh Freeman, and Gerald McCoy still exists. Granted they don't have to be signed to where it will affect this offseason's salary cap, but they are the primary reasons why the Bucs haven't tackled this offseason like they did last year's. And don't forget about the rookie contracts you have to leave room for. This leads us to Darrelle Revis. There is no question the Bucs want him on their sidelines. The question is and has been when will the trade happen. Having both Goldson and Revis in one offseason will be successful for Tampa Bay. However, if it does not happen, it can cause a major uproar like the one that may already be brewing all over sports talk radio and on social media. Many say the Bucs have no help in the secondary. Honestly, they do. Perhaps they are not names that will be on the back of jerseys for sale and fly off the racks anytime soon but the potential is there. Leonard Johnson, Anthony Gaitor, and Danny Gorrer have all been criticized countless times and rightfully so. At the same time, was it all there fault for the Buccaneers woes and struggles in 2012? No. Darrelle Revis is undoubtedly the biggest name Tampa Bay can acquire. Revis will make an immediate impact to their secondary and there is no way you can argue against that, whether he is coming off an injury or not. This offseason may be Revis or bust for the Buccaneers, but it won't be the end of the world if he is not in pewter and red next season.   The post It's Darrelle Revis or bust for the Buccaneers appeared first on The Bay Cave.
Original Story:
http://www.thebaycave.com/2013/03/26/...
THE BACKYARD
BEST OF MAXIM
RELATED ARTICLES
THE PASSION OF THE TIM?
New York Jets backup quarterback Tim Tebow has been offered a role in a faith-based movie by the film's executive producer via a letter to his agents.
The 2013 NFL Draft is a little less than one month away. Currently, the New York Jets have the 9th overall pick and then a pick in every round following. Obviously that could be subject to change if Darrelle Revis is traded in the next few weeks. There has rarely been a Jets off-season so well shrouded in radio silence than the current one being led by new GM John Idzik. A newly...
It's appearing more and more likely that the Patriots will only have to face Darrelle Revis once this year. The Jets cornerback is expected to be traded to the Buccaneers for two "high draft choices," according to Peter King of Sports Illustrated. New England plays the Bucs at Tampa Bay next season. The Jets owe Revis $6 million in 2013. Trading Revis won't save them any...
TJ Rosenthal kicks off another week of New York Jets coverage at Turn On The Jets with his weekly No Huddle - Make sure to give TJ a follow on Twitter on Turn On The Jets a follow on Facebook. Jets Are Rebuilding, Right? The John Idzik Jets are making changes. Lots of them. Personnel wise and schematically on offense. Can anyone honestly make a case for the notion that this...
As a long-time Tampa Bay Buccaneers fan I have seen my fair share of bad offensive lines. If you have been a long-time Colts, Steelers or Patriots fan, then you know the luxuries of not worrying if your quarterback is going to get his face smashed in the dirt every other play.My point is this: A good offensive line can make an offense great, a great offensive line can make an offense unstoppable...
Believe it or not Tebow is still a member of the Jets. At least for right now they have no plans on releasing or trading him, but no matter what they say, he isn't in the mix to be the starting quarterback. He has a lot of post career options, he will make a ton of money (already has) from speaking engagements, but maybe he can make a few more dollars acting. Producer David Dginguerian...
If the whole NFL quarterback thing doesn't work out for Tim Tebow, he has an offer for a second career. The Jets quarterback has been offered a starring role in a faith-based film by executive producer David Dginguerian. Dginguerian produced the 2012 religious film Crossroad (not to be confused with Crossroads, the 2002 film starring Britney Spears). "I would like to extend...
WICHITA, Kan. (AP) Wichita State University's men's basketball team got an unexpected new fan when they arrived home after their latest NCAA tournament victory. A plane carrying New York Jets quarterback Tim Tebow was refueling in Wichita when the Shockers' bus arrived Sunday after their upset win over top-seeded Gonzaga. Tebow's representative asked coach Gregg...
BY NICK ST. DENISThe New York Jets lost standout safety LaRon Landry to free agency, but they might keep it in the family.Gang Green hosted veteran safety Dawan Landry, LaRon's older brother, for a visit Wednesday, according to the NFL Network's Ian Rapoport.Landry, most recently of the Jacksonville Jaguars, is a perfect candidate for a team that is looking for wallet-friendly...
NFL News

Delivered to your inbox

You'll also receive Yardbarker's daily Top 10, featuring the best sports stories from around the web. Customize your newsletter to get articles on your favorite sports and teams. And the best part? It's free!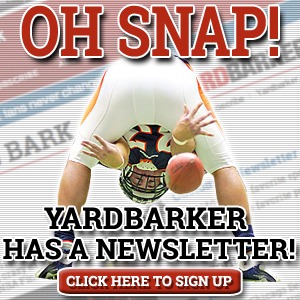 Latest Rumors
Best of Yardbarker

Today's Best Stuff

For Bloggers

Join the Yardbarker Network for more promotion, traffic, and money.

Company Info

Help

What is Yardbarker?

Yardbarker is the largest network of sports blogs and pro athlete blogs on the web. This site is the hub of the Yardbarker Network, where our editors and algorithms curate the best sports content from our network and beyond.