Found April 26, 2012 on Waiting For Next Year:
When arguably the greatest running back in the history of the NFL played for your franchise, it only makes sense to ask his opinion when the team is rumored to be leaning toward drafting a new running back. Most former athletes would give a boring, vanilla, vague nod of approval. But not Jim Brown. In an interview with ESPN radio, Jim Brown made it clear he doesn't think Trent Richardson is anything special.
"I'm not overwhelmed with it," Brown said of the idea that the Browns could take Richardson. "The problem is that he's ordinary. I think he's ordinary." Asked what about him is ordinary, Brown said, "the size, the speed, his moves." Asked if any running backs in this year's draft impress him, Brown said, "Not really. It's not a good year, obviously."
Brown would go on to say that today's NFL is a QB's game, and if you look at the QBs and RBs on many recent Super Bowl teams, it's a point hard to argue with. Still, with so many pundits saying Richardson is the best RB prospect since Adrian Peterson, it's going to be awfully hard for the Browns to pass on a potential franchise RB who can easy some of the offensive burden from Colt McCoy and the WR group. Perhaps that's a little counter intuitive to how the best teams do it today, but it just might be the best option the Browns have. [Related: The Relief of the Arrival of Draft Day]
Original Story:
http://www.waitingfornextyear.com/201...
THE BACKYARD
BEST OF MAXIM
RELATED ARTICLES
BEREA -- The Browns were bold, and they believe it'll be beautiful. That was the result of an aggressive Thursday night, as the Browns again celebrated in April after finishing round one of the NFL Draft with a new running back and quarterback. The guard has changed (again) -- at least on offense, and the folks who made the decisions were ebullient. "If you don't sense...
According to a tweet by Adam Schefter, the Saints and any team that has players involved in the New Orleans bounty program, might not know what discipline is to be handed down until after the draft. Text of the tweet- "An announcement on player discipline in Saints bounty scandal is "unlikely" for today. Again. have to wonder now if next week more likely" The Browns have...
The Cleveland Browns may have been better off selecting the late, great filmmaker John Hughes, rather than the defensive tackle. I did not have a draftable grade on John Hughes and, to be honest, did not even bother scouting him in depth. I saw him while studying teammate Derek Wolfe and absolutely nothing about his game stood out. I assumed Hughes would be picked up as a free agent...
I actually like the fact that the Cleveland Browns didn't feel compelled to draft a receiver simply because it's their most glaring need. However, they missed the boat with Mitchell Schwartz. Schwartz can be a reasonably effective starter, but he's the type of player you can find in free agency every year without having to break the bank. In essence, he's a younger Tony Pashos...
The Cleveland Browns got themselves a starting quarterback, but it sort of feels like a lateral move to me. I can't give them a failing grade because I do think Brandon Weeden can be a starter. However, he is much more of a developmental prospect than he's been made out to be. Being 28 years old doesn't make you NFL ready. He needs time to develop, and by the time he does,...
 Albert Einstein said that the definition for insanity is doing the same thing over and over again and expecting different results!  How is having a new starting quarterback every two to three years not insane!  Consistancy is the sign of greatness!  Look at the Patriots, Giants, Steelers, etc. Consistancy all the way down the board.  Owner, Team President, GM, Head Coach, quarterback...
Here is what we have learned from a year of repeatedly analyzing three dozen or so mock drafts: EVERYONE LOVES TRENT: Fans and Mock Drafters have coalesced on Trent Richardson as the Browns pick at 4 at about the same time. Richardson passed Mo Claiborne in mid-March and hasn't looked back. For all the buzz he got as a potential Cleveland Browns draft pick, Justin Blackmon was...
I really did feel like something of a dummy when the Redskins won the trade battle for the rights to draft Robert Griffin III. I bought into a player and knew that the Browns had the weapons to make the trade happen. When they failed to get it done, I was sad for myself even as I could see some positives for the Browns for not giving up as much as the Redskins did. I was almost more...
The good news is that there is nothing to talk about with regard to the Trent Richardson pick at three. The Cleveland Browns paid a price and they got a guy they absolutely wanted and needed to help kick-start a mostly dead offense from 2011. Yes, the Browns paid with some lower round picks to make it happen, but this is Heckert's M.O. to a large extent. It is a strategy that I...
How would it feel to not only leave tonight's NFL Draft slate with $500 in addition two more quality draft selections for your Cleveland Browns? As a "Last Call" reminder for WFNY's Fantasy Challenge — in our partnership with FanDuel — this free-to-enter salary cap game lasts one night and will net winners up to $500. As we mentioned earlier this week, it's a points...
2012 NFL Mock Draft Picks 22-32 by Justin 22.       Cleveland Browns: Kendall Wright, WR, Baylor The luxury of having two picks in the first round. He may be small but boy is he talented and versatile. He's a young Steve Smith . Too bad the Browns still don't have a QB to throw him the [...]Thanks for reading. Justin's 2012 NFL Mock Draft | 22-32 is a post from 2012 NFL...
Another one of our top 5 quarterbacks in the 2012 draft, Oklahoma State's Brandon Weeden, 6'4 218 lbs. Positives: The leader of Oklahoma State's explosive offense, he'll need to transition from a spread offense to a pro-style offense. The transition is the same Blaine Gabbert had/has to make, but with probably better results. Weeden can make all the throws; he...
Browns News

Delivered to your inbox

You'll also receive Yardbarker's daily Top 10, featuring the best sports stories from around the web. Customize your newsletter to get articles on your favorite sports and teams. And the best part? It's free!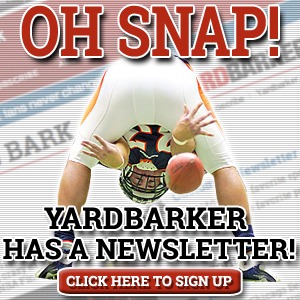 Latest Rumors
Best of Yardbarker

Today's Best Stuff

For Bloggers

Join the Yardbarker Network for more promotion, traffic, and money.

Company Info

Help

What is Yardbarker?

Yardbarker is the largest network of sports blogs and pro athlete blogs on the web. This site is the hub of the Yardbarker Network, where our editors and algorithms curate the best sports content from our network and beyond.