Found February 07, 2013 on Minus Twenty-Two:
We've concluded on this site that the no call on contact between Michael Crabtree and Jimmy Smith on the 49ers final offensive play in the Super Bowl was the right decision. Even Mike Pereira, one of the authoritative voices when it comes to officiating, concurred. We're now four days removed from the game, but some people evidently can't let things go. I'm talking about Jim Harbaugh. Here was Harbaugh in the immediate aftermath of the disputed play: Thanks, Jim. That was classic you. It was and is still hilarious. And here he was on Wednesday, speaking with 95.7 The Game, tackling the theory that no call happened because it was at the end of the game: "I would say it exactly like Bill Polian: A penalty is a penalty no matter when it occurs in a game. It could occur in the first play of the game. It could occur on the last play of the game, or any play in between. That's the rules of football. You let 'em play or let 'em get away with something. Which would you rather have? Let's p...
Original Story:
http://minustwentytwo.com/2013/02/07/...
THE BACKYARD
BEST OF MAXIM
RELATED ARTICLES
When on the MTRRadio.com Super Bowl Pregame show I heard radio personality James Flippin call the 49ers coach "An Insufferable Douche Bag".  At the time I thought it was a little harsh but not having any skin in the Super Bowl, I let it go thinking he was just over overstating his dislike a bit? A week later I realized that he was spot on. Super Bowl Winning Head Coach JOHN...
  There has been wide debate over the last play of the Super Bowl, in which it appeared Ravens cornerback Jimmy Smith was holding 49ers receiver Michael Crabtree. There was no penalty called on the play, and many are left wondering what might have been if there was. 49ers head coach Jim Harbaugh was adamant that there was holding on the play, and he recently elaborated on how...
If the Harbaugh brothers weren't such fierce competitors, they would not have been coaching against one another last Sunday. It has been nearly five full days since the Baltimore Ravens defeated the San Francisco 49ers in the Super Bowl, but fierce competitors hate losing. That would explain why Jim Harbaugh has still yet to speak to John Harbaugh. During an appearance on "The...
HE AIN'T HEAVY...
Ravens head coach John Harbaugh told David Lettermen that he hasn't spoken with his brother Jim since they met each other at midfield after the Super Bowl.
As a coach, I like Jim Harbaugh. He did a great job at Stanford and he's done a great job since being hired by the San Francisco 49ers. But let's face it...he's a cry baby. We've seen his antics on the sidelines and now he's continuing to complain about the "no call" the 49ers received, or didn't receive, in the red zone at the end of the Super Bowl...
During the last play of the game, corner back Jimmy Smith says the refs made the right call by not throwing a flag because Michael Crabtree ran into him (Credit: AP Photo) On the 49ers last drive of Super Bowl XLVII, some fans and players thought Baltimore Ravens corner back Jimmy Smith interfered with Michael Crabtree. The play was controversial enough that head coach Jim Harbaugh...
John Harbaugh sat down with David Letterman on "The Late Show" last night and revealed that he hasn't spoken to his brother Jim since the post-game handshake after his Baltimore Ravens narrowly beat the San Francisco 49ers in Super Bowl XLVII Sunday night. At the traditional midfield meeting, the winning coach lightheartedly admitted to Letterman that he told his steamed...
While the Super Bowl XLVII Champion Ravens and their fans were celebrating both their recent win and the career of soon to be retired 17-year veteran Ray Lewis at M&T Bank Stadium, the 49ers were back at home trying to gather themselves following the devastating loss this past Sunday. The 49ers were down by 22 points in the third quarter but were able to rally together and fight...
For the "greatest wide receiver of all-time," the self-acclaimed Randy Moss went from Super Bowl to Super Bummed in a matter of 3.5 days. He is now no longer a Niner. The San Francisco 49ers have ended the season with an aging Moss, who turns 36 next week. According to statistics researched by staff writer Eric Branch of the San Francisco Chronicle, Kaepernick heavily favored...
NFL.com has confirmed that current Viking linebacker coach, Mike Singletary, has interviewed for the Rams defensive coordinator position. Singletary has been wandering all over the league since his three year coaching stint with the San Francisco 49ers ended. Singletary has never held a job as a defensive coordinator before, but is a hall of fame line backer from that legendary...
On 4th and Goal, down by 5 points, San Francisco went for the win on a Colin Kaepernick attempted pass. While his pass was ultimately incomplete, there is unquestionably a ton of controversy on the call due to what appears to be an obvious holding penalty on Michael Crabtree by Ravens cornerback Jimmy Smith. What are your thoughts on the call? Putting your personal bias aside, would...
49ers News

Delivered to your inbox

You'll also receive Yardbarker's daily Top 10, featuring the best sports stories from around the web. Customize your newsletter to get articles on your favorite sports and teams. And the best part? It's free!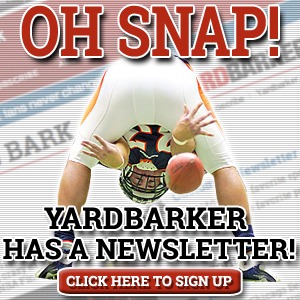 Latest Rumors
Best of Yardbarker

Today's Best Stuff

For Bloggers

Join the Yardbarker Network for more promotion, traffic, and money.

Company Info

Help

What is Yardbarker?

Yardbarker is the largest network of sports blogs and pro athlete blogs on the web. This site is the hub of the Yardbarker Network, where our editors and algorithms curate the best sports content from our network and beyond.