Found March 10, 2013 on BlackSportsOnline:
I am not surprised by this and I am sure more than few Ravens started to tune Ray Lewis out after awhile. No one is questioning that Lewis is a great leader, but there are only so many Creflo Dollar speeches you can hear before you start to laugh. Flacco has the ring and the cash, so he has no fear is saying how he really felt about Ray Lewis. "Oh, it's funny," Ravens quarterback and Super Bowl MVP Joe Flacco told USA TODAY Sports at a charity event Saturday. "His speeches come from the heart, but there's definitely times where I'm sitting there kind of chuckling to myself. It's all good. There's nobody that's more passionate about what he does than that guy. "So you just sit back and take it all in, but there's times where he says some stuff and you're like, 'Man I don't know what that meant, but I like how he said it.'" Flacco says while he respects the way Ray Lewis goes about being a leader, he does it in his own way and it has been effective for him. "I don't do what Ray does, but I'm the leader of the football team," he said. "I do it in my way. There are people that do it different ways and obviously we're able to do it pretty well." Once you have the ring, things become a lot easier. The monkey is off your back and the respect you get not just from your teammates, but around the league is very evident. You are no longer Joe Flacco of the Ravens, you are Super Bowl winning quarterback Joe Flacco of the Ravens. That's why Flacco's confidence is bursting at the seems, even when he is in the drive-thru at McDonald's. I think Joe Flacco will be even better with Ray Lewis gone, because now he is the undisputed leader of the team.
Original Story:
http://blacksportsonline.com/home/201...
THE BACKYARD
BEST OF MAXIM
RELATED ARTICLES
Former Baltimore Ravens linebacker Ray Lewis is either upgrading or somehow (I don't know how) must have gotten tired of Florida. Now that the man has retired and has time to hang out at his Florida mansion he's opted to sell it instead--for a cool $5 million. After you see the pics it might be pretty easy to understand why. Heck, just looking at the bathroom makes me...
It's time to make some changes now that retirement is here. Former Baltimore Ravens linebacker Ray Lewis is selling his beachfront house in Highland Beach, FL for a cool $5 million. Highland Beach is smack dab in the middle of Boca Raton and Delray Beach. If I had that kinda money lying around, I would probably pass. That was, until I learned that it has a bidet. I've always...
For over a decade, Ray Lewis was the unquestioned leader of the Baltimore Ravens' defense, giving countless speeches that rallied his troops around him. They were fiery, and they came from the heart, but they were also ridiculous, even for his teammates. "Oh, it's funny," Ravens quarterback Joe Flacco told USA Today Sports while talking about Lewis' passionate...
Photo by Keith Allison Baltimore Ravens quarterback Joe Flacco got quite a kick out of Ray Lewis' speeches at times.  He told USA Today Sports that he would some times laugh when the future Hall of Famer would address them in the locker room. "Oh, it's funny," said Flacco. "His speeches come from the heart, but there's definitely times where I'm sitting there kind...
PAY THE MAN
Joe Flacco wants the Ravens to keep Anquan Boldin, but he knows a little something about sticking to your guns during contract talks.
TEMPE, Ariz. Joe Flacco moved through the crowds at the Kurt Warner Ultimate Football Experience on Saturday like Gulliver wading through the Lilliputians. Clearly weary but never wavering, Flacco paused for autographs, stopped to snap every phone photo, chatted with children and smiled at every beaming face in this odd but enduring American fascination with celebrity. Lifes definitely...
Ravens star quarterback Joe Flacco believed in his talents, bet on himself, and cashed in after winning the Super Bowl last month. Flacco stuck to his guns, and now according to USA Today, the quarterback thinks wide receiver Anquan Boldin should do the same when it comes to the Ravens demanding he take a pay cut. "Without him, we don't win the Super Bowl. He's a huge part...
Priority No. 1 this offseason for the Ravens was to re-sign Joe Flacco to a long-term deal. The Ravens got that done. The second priority is to clear cap space so they can offer their restricted free agents tenders and play a role in free agency. Baltimore took a step toward freeing more cap space Friday afternoon. The team announced that they have released veteran offensive lineman...
On March 4th, fresh off a Super Bowl MVP award, Joe Flacco signed a six-year, $120.6 million deal (or three years... depending on whom you ask), not only the richest contract in Ravens', but NFL, history.  It marked a high point in what has been an often, unfulfilled journey in Baltimore's search for a franchise quarterback.  From the likes of Vinny Testaverde and Eric...
It was reported Saturday morning that wide receiver Anquan Boldin will likely be released by the Ravens after refusing to take a pay cut. At least one of his teammates is siding with the Baltimore wideout. Quarterback Joe Flacco told Craig Morgan of FOX Sports Arizona that he believes Boldin is making the right move after not being offered the contract he deserves. Joe Flacco on...
According to Aaron Wilson of the Baltimore Sun, the Ravens are expected to make a "significant" offer to linebacker Dannell Elerbe before free agency opens up this coming Tuesday. 'There's always a chance, and that's what I'm hoping will happen," Ellerbe said. "The Ravens are a perfect situation for me. Hopefully, it's a perfect situation for me to sign on the dotted...
Trade for Baltimore: I get that the Ravens were going to cut Anquan Boldin if they couldn't find a suitor via trade and given that it's good that they got something for him, but I question the logic of cutting him in the first place. He was just as big a reason why they won the Super Bowl as Joe Flacco and Flacco, who they just signed to a massive long-term deal, took Boldin's...
Ravens News

Delivered to your inbox

You'll also receive Yardbarker's daily Top 10, featuring the best sports stories from around the web. Customize your newsletter to get articles on your favorite sports and teams. And the best part? It's free!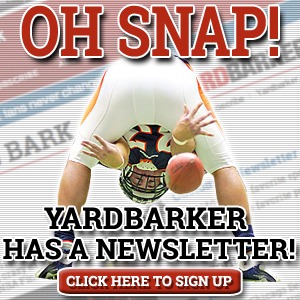 Latest Rumors
Best of Yardbarker

Today's Best Stuff

For Bloggers

Join the Yardbarker Network for more promotion, traffic, and money.

Company Info

Help

What is Yardbarker?

Yardbarker is the largest network of sports blogs and pro athlete blogs on the web. This site is the hub of the Yardbarker Network, where our editors and algorithms curate the best sports content from our network and beyond.